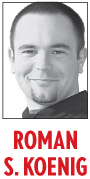 This season's election netted some interesting results, from the campaign for Encinitas' first elected mayor to the unseating of a longtime high school board trustee.
Are these contests — the mayor's seat and the San Dieguito Union High School District board — a sign of what's to come in terms of a local political tide? If so, the victors should keep some things in mind in the months and years ahead, from hearing the diverse voices in the community to minding their Ps and Qs, literally.
But first, some context.
If you break Encinitas down by political party, the numbers of registered Democrats and Republicans are almost equal, according to 2010 U.S. Census data broken down by censusviewer.com. With 36,449 registered voters in the city in 2010, 12,854 (35.27 percent) identified as Democrat and 12,209 (33.5 percent) identified as Republican. The third-largest group was nonpartisan, 9,323 (25.58 percent).
Generally, while the city and school board races in Encinitas are technically nonpartisan, there were clear distinctions between candidates and their supporters this year.
Despite the slightly larger number of registered Democrats in Encinitas, mayoral victor Kristin Gaspar won with the backing of more conservative elements, from glowing coverage in the conservative Seaside Courier newspaper to campaign donations from real estate and development interests and the Encinitas "bar lobby."
According to an accounting by the Encinitas Advocate newspaper, Gaspar's contributors included the California Real Estate Political Action Committee and three local bars/restaurants. The Encinitas Advocate noted that, overall, only half of Gaspar's contributors were from Encinitas.
Gaspar generally favors policies that are more favorable to development and has opposed stricter regulations of bars in town. Gaspar was also a vocal opponent of the city's purchase of the Pacific View school property in downtown Encinitas.
Gaspar's fellow conservative-leaning City Council member, Mark Muir, also opposed the Pacific View purchase as it was handled. Muir's wife, Maureen "Mo" Muir, was the top vote-getter in the San Dieguito high school board race Nov. 4. Her win, along with two incumbents who kept their positions in a three-seat race, effectively unseated longtime board member Barbara Switzer Groth.
What's interesting is that Muir already holds a school board seat in the same city, for Encinitas Union, an elementary district that's a feeder for the high school district. There has been no report as of Nov. 7 as to whether Muir intends to serve on both boards at the same time for the next two years. It's also interesting that this didn't seem to be a campaign issue.
Gaspar raised the most money in her race, Muir spent the most in hers, and they ended up being the top vote-getters. To be fair, the top vote-getter in the Encinitas City Council race, Catherine Blakespear, was also a top campaign fundraiser, with 70 percent of her contributions coming from within the city, according to the Encinitas Advocate. Blakespear actively supported embracing urban agriculture and the city's Pacific View purchase this year. So this season was not just a conservative fundraising rout.
Gaspar and Muir both received the endorsement of the county's Republican Party. According to the Encinitas Advocate's review of campaign finance reports, Gaspar contributed to Muir's campaign. The results of these two races are clearly intertwined.
Even though both have been active figures in local politics for some time, their wins are noteworthy because of the seats they now hold. The city's first elected mayor and the largely unexpected ouster of a 16-year school board trustee by another trustee in the same town are nothing to dismiss.
Because of these distinctions, Gaspar and Muir should keep a few things in mind as they approach the start of their terms.
When it comes to Kristin Gaspar, there's no question she has a devotion to the city she calls home, and she is a voice for conservative fiscal policies that the city should openly consider down the line, especially with an elected mayoral seat that can be used as a bully pulpit. She and Mark Muir also serve as a conservative counterweight to an overall more liberal City Council.
What Gaspar must remember, however, is that the mayoral seat is one that should be open to all of the diverse interests in the community. They deserve to be heard, and in some cases heeded, as issues boil up from this point on. This is not to say that Gaspar necessarily has a closed mind. It's essential not to lose sight of its importance.
On a City Council in general, it's often easy to represent specific interests over the larger civic picture. The mayor's post, while not a strong-mayor position, requires an open door to constituents most of all.
When it comes to Mo Muir, the issue is literally one of principals and principles.
It was disconcerting to find — after the election was over — that her campaign apparently was unclear as to the names of the very schools in the high school district.
There is no "San Diegueno" middle school, as the Muir campaign website states in one section.
More disconcerting is the campaign website's confusion over principals and principles. If a candidate is going to tout an extensive, legitimate resume of fiscal conservatism and devoted support for education — as Muir indeed does — it doesn't foster confidence when there is confusion as to which principal/principle is being identified for "San Diegueno" middle school.
To be fair, a type-o is likely just that — a type-o. But in a race for a board of education, it's not the kind of thing that looks so good.
Of greater debate — and perhaps concern depending on your reading of Muir's win — is the idea of one trustee serving on two school boards within the same city at the same time. This consideration takes on added importance given the fact that her husband, city Councilman Mark Muir, had to tackle the issue of the Pacific View school property sale with the Encinitas Union district, of which his wife was already a board member at the time.
Is there an overall conflict of interest? It's tough to say right now. Does it seem appropriate? That, too, is an open question.
According to the Encinitas Union district's website, Mo Muir's term on that board doesn't expire until 2016. That will give her two years on both boards at the same time.
Muir's dedication to educational causes is not at issue. Assuming she keeps both posts, what's important in this unusual circumstance is that she manage her time well and strike a balance of representation between the unique interests of elementary and high school education. If she opts to keep both seats, time will tell if her decision ends up being an overcommitment.
Welcome to the next era of politics in Encinitas.
Roman S. Koenig is editor and publisher of the North Coast Current. Columns are the opinions of the writer and do not necessarily reflect the opinions of North Coast Current ownership. Comment below or submit letters to the editor at [email protected].