Education Matters: Scorning the public's right to be heard
The San Dieguito Union High School District, at its May 14 virtual board meeting, chose to limit the number of speakers to 10, selected at random, thus prohibiting all 30 members of the public who asked to speak from addressing the board.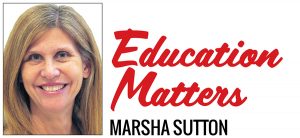 The district has chosen to continue with the same questionable practice for the May 21 board meeting, even after questions were raised about the legality of this policy.
By violating the basic rules of California's Brown Act in its ill-advised attempt to control the number of public speakers, the school board has taken away the public's right to address its elected officials.
Although the school board has a limit of 20 minutes maximum for public comment, that 20-minute limit has nearly always been waived previously by board vote to allow everyone to speak.
Yes, it would have taken quite a bit of time. Hearing from 30 speakers might have been a tedious inconvenience. But if that's how long it takes, then so be it. Such is the duty of elected officials.
At a recent Carlsbad Unified School District virtual meeting, 14 public comments, some taking up to five minutes, were read aloud to the board by a district administrator. And at the last Del Mar Union School District virtual board meeting, public comment took three hours.
The system for public speakers at San Dieguito's May 14 meeting was marred by technical difficulties for the first two speakers. After hearing from the following eight, board President Beth Hergesheimer circled back to hear the first speaker, but the second speaker was not available.
Another speaker, who would have been the 10th, began speaking but was unceremoniously cut off mid-sentence.
This grotesque move to silence a constituent by muting her microphone was a direct affront to common sense principles in our laws that ensure the public's basic right to address elected officials at public meetings.
In Executive Order N-25-20, California Gov. Gavin Newsom proclaimed a state of emergency on March 4. One item in this order states that public meetings must be accessible "telephonically or electronically to all members of the public seeking to attend and to address the local legislative body or state body."
In another section, the order states that the conduct of public meetings should be held "in order to maximize transparency and provide the public access to their meetings."
The announcement on the district's website explaining how to address the board at its May 21 virtual meeting reads the same as before:
"Public comments for regular board meetings are restricted to only action items and to the public comment/non-agenda item on the agenda before the Board of Trustees. Members of the public who wish to address the Board of Trustees may do so by submitting a request using this form.
"This form will be available beginning at 5:00 p.m., May 19, 2020, and will close at 5:00 p.m. on May 20, 2020. Public comment will be limited to two (2) minutes per speaker and a total of 20 minutes per item.
"If there are more than 10 requests for any action or the public comment/non-agenda item, there will be a random selection of speakers made prior to the meeting on May 21, 2020 that will be video recorded. Speakers will be notified of selection in the afternoon prior to the start of the meeting.
"Written comments will be limited to 350 words (2,100 characters) or less. Comments will be shared with all trustees and posted online with the agenda for the public to see."
Public agencies do not have the authority to select, randomly or otherwise, some public comments to be heard and others not. But apparently San Dieguito has disdain for this basic right.
---
Marsha Sutton is a local education journalist and opinion columnist and can be reached at suttonmarsha[at]gmail.com.
Columns represent the views of the individual writer and do not necessarily reflect those of the North Coast Current's ownership or management.

encinitas current, cardiff current