Education Matters: Advocating for transgender rights
No one may have been more surprised by the recent 6-3 Supreme Court decision that protects gay and transgender rights than the LGBTQ community and its supporters.
Coming just days after President Trump revoked transgender health protections, rights formerly guaranteed under President Obama's administration, this new ruling by the highest court in the land may provide strong ammunition to undo Trump's shameful health care order.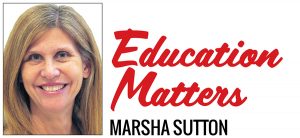 The American Civil Liberties Union has said it intends to sue the Trump administration over the new Health and Human Services ruling issued June 12, which states, according to Medical News Today, that the HHS will return "to the government's interpretation of sex discrimination according to the plain meaning of the word 'sex' as male or female and as determined by biology."
"The new rules released (on June 12) are hateful and cruel and will keep people from being able to get the care they need to live happy, healthy, and productive lives," said Mara Keisling, Executive Director of the National Center for Transgender Equality, as quoted in the article.
The June 15 Supreme Court decision now provides strong ammunition to overturn the HHS ruling, and other organizations besides the ACLU are expected to challenge in the courts the HHS's revocation of transgender health care rights.
The Supreme Court ruling has far-reaching implications, said Kathie Moehlig, Executive Director of TransFamily Support Services, a nonprofit based in San Diego.
"This puts the trans military ban on shaky ground, and the fight around Title IX and (access to) the restrooms (in schools) on shakier ground as well," Moehlig said.
Title IX bans sex discrimination in public education.
The Supreme Court decision prohibits workplace discrimination because of sexual orientation or gender identity, under Title VII of the 1964 Civil Rights Act, which bans discrimination based on sex, race, color, religion or national origin.
The majority opinion reads, in part, that "an employer who fires an individual merely for being gay or transgender violates Title VII."
Trump wants gender defined as the "assigned sex at birth" — a notion contrary to transgender identity, which is that one's gender is defined by how they regard themselves, not by their genitalia.
Trump and his conservative supporters have been working for years to undo the minimal progress that the transgender community and its supporters have managed to achieve.
Despite Trump's efforts, understanding is growing that sexual orientation and gender identity are different — and that being gay or transgender is not a lifestyle choice but rather a trait like eye color that cannot be changed.
As more information circulates about the struggles and challenges of transgender people, it becomes harder and harder to justify denying them basic human rights and liberties afforded to all Americans. The recent Supreme Court decision makes it harder still.
Ground zero
Transgender youths, in particular, suffer not only from peer bullying but from systemic discrimination in schools.
Perhaps no school district understands this better than Arcadia Unified School District, located in east Los Angeles County.
At last December's California School Boards Association conference in San Diego, Arcadia Superintendent David Vannasdall, Chief Communications Officer Ryan Foran and school board member Lori Phillipi held a session titled "Advocating for Transgender Students and Changing the Negative Narrative Through Media Relations."
Arcadia has the dubious distinction of being the first school district in the country to have a complaint filed against it by the U.S. Department of Justice for discrimination of a transgender student.
According to news stories, the Department of Justice received complaints in 2011 that the district did not allow one of its students, a transgender boy, to use boys' restrooms and locker rooms — and that at a school-sponsored overnight camp, the boy was not allowed to stay in a cabin with other boys and was instead required to stay in a cabin apart from all his classmates.
The boy was in sixth and seventh grades during this time.
An investigation was initiated jointly in 2011 by the Civil Rights Division of the Department of Justice and the U.S. Department of Education's Office for Civil Rights.
In 2011, Arcadia school officials had no roadmap on how to handle the needs of a transgender student.
Doing what they thought was their best to resolve the situation, the student was given a separate cabin at overnight camp. This was perhaps a compromise, and a concession to disturbed parents of the other children, but educators did not understand how setting him apart from his classmates stigmatized him.
"We all have a lot more information now than we did then," Vannasdall said.
AB 1266, the California law that protects transgender and gender-nonconforming K-12 public school students from discrimination, did not pass until 2013.
Vannasdall said the first mistake for any district confronted with similar issues is to lose focus on the student.
"I was dealing day to day with a real person, trying to give him the best education possible," he said.
With attorneys on both sides involved in the process, Vannasdall decided to ask the lawyers to leave him alone with just the family.
Getting the attorneys out of the room was a "game changer," he said, and allowed him to ask the family what they wanted for their child. This brought them together.
Two years later, an agreement was reached and the investigation ended.
Arcadia in 2011 was "ground zero," Arcadia's Foran said, but today it may be one of the most progressive school districts in the state regarding transgender student rights, having learned firsthand from this experience.
The district's website now includes a link for Transgender Resources and AB 1266.
"What happened in 2011 wouldn't even be an issue today," Vannasdall said.
"It's all about educating kids," he said, with schools, kids, families and community involved — "all of us together."
"The conversation has to move beyond bathrooms," Vannasdall said. "The real issue is cultural acceptance."
It's not just bathrooms
Biology class can be alienating for transgender and nonbinary students when teachers only speak of heterosexuality and make binary gender references.
But now there is an excellent website that explains the importance of a more inclusive biology curriculum: genderinclusivebiology.com.
"To support all students, present and future, we must adapt existing biology teaching to grow a gender-inclusive curriculum," the site states. "The need for gender-inclusive biology instruction is now."
Designed for science educators, support staff, families and the public at large, the website includes lesson materials, videos for the classroom, scientific evidence in nature, a section on professional development for educators, links to printable information and resources, ways to adapt the biology curriculum to conform to state standards, and examples of policies from various school districts around the country.
In addition, the site also discusses how to use proper scientific language. For example, teachers should say that testes produce sperm and ovaries produce eggs, rather than men or males produce sperm and women or females produce eggs.
High school biology teacher Sam Long said at a conference last year that the content for gender-neutral biology is based on empirical evidence and research, that students learn about the naturally occurring diversity of gender and sexuality in human and nonhuman species, and lessons celebrate diversity as a valuable asset in societies.
For the broader high school campus, the site provides evidence that Gay-Straight Alliance clubs decrease anxiety and depression among LGBTQ youths.
But genderinclusivebiology.com is not just for the education community.
The site offers short, fascinating videos, such as "Are There 'Male' and 'Female' Brains?" and "What It's Like to Be Intersex."
Unlearning bias
"The media representations around trans people have been horrific up until very recently, and most of us have learned from that media representation," said San Diego's Kathie Moehlig of TransFamily Support Services. "So the unlearning process takes a lot of different venues and a lot of different perspectives."
It's an ongoing education, she said. People need to uncover their own implicit biases and unlearn all the things they've learned.
"What I find working with families is there's not just one approach," she said. "You have to come at it from a lot of different ways."
For transgender advocacy, the gender-affirming community can benefit from Moehlig's "How to Be a Better Ally" training. The next session is in August and anyone interested can sign up on her website.
"We do a lot of work in schools, work with employer programs, trainings at houses of worship, and other places," she said.
To support transgender individuals and their families, Moehlig also offers a program titled "Navigation for the Journey," which supports the transgender community with whatever their needs may be — "whether it's for schools, helping kids come out to their parents, getting referrals to mental health and medical providers, helping them fight their insurance companies, helping them with legal issues and gender and name changes, or other needs," she said.
Pronoun police
Aidan Key is the founder of Gender Diversity, a nonprofit based in Seattle that provides support and education for schools, workplaces and health care providers, as well as individual consultations.
Among his other responsibilities, Key works with parents of transgender youths. Although he said he is not the "pronoun police" because his groups are for parents to express themselves honestly, he and others encourage parents and supporters to try to use more inclusive language.
Experts say it's the one action people can take that helps validate transgender people. One person described using the wrong pronouns as like "a knife to the heart."
Advice includes using "parent-child" rather than mother-daughter or father-son, and be careful of gender stereotypes in language.
"Actions and words may seem harmless but they have an impact," said Benjamin Kennedy, transgender activist and social justice educator.
The public needs to become accustomed to using the word "they" to refer to the singular, especially after Merriam-Webster Dictionary declared this use of "they" to be the Word of the Year in 2019.
Planned Parenthood serves transgender and nonbinary patients with health care needs, and the nonprofit is asking patients which pronouns they use, out of respect.
"Asking about pronouns is both functional and respectful," reads the Planned Parenthood message. "We want to use the name and pronouns that are affirming to all people. By asking and honoring people's pronoun requests, we show respect and we honor their identity."
The rules of grammar should be violated, because the vulnerable nonbinary community is asking for this, and "respecting pronouns is a logical and empathic demonstration of support," Planned Parenthood states.
Although it may feel awkward, "it is more important to show support than it is to die on the sword of subject/verb agreement."
Cultural acceptance
A three-pronged approach provides resources for transgender support: 1) for transgender individuals and their families, 2) for providers of services (teachers, health care workers), and 3) for the general public (those who have little or no interaction with transgender people).
Understanding the transgender community and learning how to be an advocate is increasingly important as efforts by anti-transgender activists continue to be made to delegitimize this population.
Despicably, even some radical feminists are working with conservative legislators to thwart the advancement of transgender rights.
June is National PRIDE month. As June comes to a close, let's not end our focus on the needs of the LBGTQ community — particularly the "T" — and work to increase our awareness, compassion and support.
As Arcadia's Vannasdall said, what's needed most is cultural acceptance.
Gender identity, as apart from assigned sex at birth, is a real thing. Attempts to deny this only serve to divide us and create hostility against "the other."
As one wise person said when asked how they felt about "the other," the reply was, "We are all human. There is no 'other.'"
Events
San Diego Pride online — sdpride.org — for PRIDE-themed events starting July 11, continuing all week, and culminating in a virtual PRIDE parade and festival July 18.
From Gender Diversity — virtual PRIDE events from now through Aug. 23 — www.genderdiversity.org/events.
Websites
thecentersd.org — San Diego LGBTQ community center
transfamilysos.org — guidance and support for trans youth and families
transfamilies.org — a program of Gender Diversity
plannedparenthood.org — health care for transgender individuals
pflag.com — SD County support for LGBTQ with locations in North County
genderspectrum.org —training for leaders to develop gender-inclusive environments
transstudent.org — trans youth support and services
translifeline.org — connects trans people to resources they need
thetrevorproject.org — support for LGBTQ youth in crisis
glsen.org — end bullying and harassment of LGBTQ youth
www.darlenetandogenderblog.com
---
Marsha Sutton is a local education journalist and opinion columnist and can be reached at suttonmarsha[at]gmail.com.
Columns represent the views of the individual writer and do not necessarily reflect those of the North Coast Current's ownership or management.
encinitas current, cardiff current