Education Matters: San Dieguito board hopefuls present differing priorities
The race for San Dieguito Union High School District's Area 4 seat offers voters stark choices. With three candidates hoping to replace retiring school board member Joyce Dalessandro, the election could turn the tables on a union-dominated school board.
Although school board races are technically nonpartisan, this one, as with many others, is decidedly not.
Democrats Amy Caterina and Jane Lea Smith have differing opinions on the issues confronting the district, as does Republican Michael Allman.
Area 4 stretches from the city of Del Mar to the eastern edges of the district and includes Torrey Pines High School.
The information provided here, edited for clarity, was presented to me by all three candidates either by email or telephone conversations.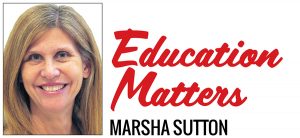 Personal
Michael Allman holds a Bachelor of Science in chemical engineering from Michigan State University and an M.B.A. in finance from the University of Chicago. He has lived in the San Dieguito district for the past 22 years, now in the Crosby area at the east end of Area 4.
His career experience includes working as a chemical engineer, business analyst, consultant and business executive and is currently a technology entrepreneur, CEO, investor and professional board member, having served on more than 30 boards of directors of both for-profit and nonprofit organizations.
Allman listed the following organizations' boards he has served on: Southern California Leadership Council, Los Angeles World Affairs Council, Lincoln Club of San Diego, New Majority of San Diego County, Old Globe Theater, San Diego Opera, California Chamber of Commerce, American Gas Association, San Diego Zoological Society, Metropolitan YMCA and Sempra Energy Foundation.
Allman has two grown children who attended district schools, but he questioned the relevance of this information.
"It implies that if you don't have a child in the district, or never did, that somehow you aren't qualified to sit on the board," he wrote in an email. "That makes no sense to me. You don't have to have a child enrolled in the district to see how dysfunctional the board is, and how badly they are in need of new leadership."
Amy Caterina has owned and operated a corporate communications consulting firm serving biotech companies since 1997 and has lived in the district, Del Mar Heights area, for 22 years. She holds a bachelor's degree in international business and has two children who recently graduated from Canyon Crest Academy. (Update 10/14/20: Amy Caterina has dropped out of the race and backed Michael Allman)
Her volunteer experience includes being a current member of the CCA Site Council and a co-founder of the education advocacy group San Diego Schools.
She previously served as a board member for the CCA Foundation, Del Mar Schools Education Foundation and Del Mar Hills PTA — as well as volunteering for the San Diego River Park Foundation and the Torrey Pines Foundation.
Caterina also volunteers for the San Diego Imperial County Boy Scouts of America as a Merit Badge Counselor and is a board member for the Lymphedema Advocacy Group.
Jane Lea Smith earned a bachelor's degree in psychology from UC San Diego and a master's degree in special education from National University. She is currently a medical device research consultant and before that worked for 16 years as a special education teacher and administrator, with a mild-moderate credential and a focus on kids with learning disabilities and social/emotional issues.
Smith has lived in the San Dieguito district, Del Mar Heights area, for the past six years and has a daughter in 11th grade at Canyon Crest Academy. Her volunteer contributions include being a parent liaison for the CCA water polo team, CCA Grad Night committee chair, and administrator of a San Dieguito River Valley Conservancy program.
Why are you running?
Allman: I want to give back to our community, and I want to ensure that parents in our district have a board that is responsive to their needs and the needs of their children.
My long-term platform is to focus on the A-B-C's of education: Academic Excellence, Budget Accountability and Community Partnership.
Today, the most important issue facing our district is how we return our children to school as quickly and as safely as possible. A vast majority of parents want to have their kids learning in school. I started a Facebook group called SDUHSD Families for School Reopening, and it grew from zero to over 1,400 members in less than two weeks. This is a vocal and engaged group of parents who see firsthand the issues with only a distance learning model.
The solution here is obvious. We need to open the schools for in-person learning, while at the same time have a distance learning option for those who do not wish to send their children to school. What is frustrating is that we don't have to invent everything ourselves. Other school districts have a plan. We can pick the best of the breed and develop a plan that fits our schools.
(The board's) governance, leadership and communication is failing, and we need a change.
Caterina: I am running to bring balance and oversight to the district.
Teachers and staff have their unions (the San Dieguito Faculty Association and the California School Employees Association) to represent their interests, but the board majority (Areas 2, 4, and 5) does not adequately represent parents and students. The board majority is comprised of trustees who are indebted to the SDFA and the CSEA for the majority of their campaign contributions and/or direct or indirect expenses.
The SDFA's investment in the board has paid off handsomely. Since 2012, the majority-controlled, SDFA-endorsed board has voted to approve excessive raises for district employees in the amount of $72 million (or $12 million per year).
I support the unions. Teachers and staff need representation, but the board should operate independent of the unions.
The board should ensure that the district is fiscally responsible, acting within the guidelines of state Education Code and within the policies and procedures that the board establishes.
My philosophy of life is based on mutual respect, trust and integrity.
Smith: I'm running for trustee because I care about the future of our schools and want to ensure a successful future for all our students. I feel a sense of connection to the district that has benefited our family throughout our daughter's middle and high school years.
My general approach to problem-solving, to a commitment to making data-driven decisions, to considering budgets, to respectfully communicating with all stakeholders, bringing people together — all of those skills ground me in what I think I would be as a trustee in terms of my vision for the district.
Vision is one of the things I've been thinking about. I would love it if we could revisit and look at our district from a visionary perspective. I think that's the role of the board. There are five members on the board with five different perspectives. I feel like probably an update is due — a focus on social and emotional needs for kids is a huge issue.
What would you bring to the district if elected?
Allman: I have over 40 years of broad business experience. I know and understand the important role the school board plays in the governance of the district, and the importance of having a strong and independent board.
As a former chief financial officer and chief audit executive for a Fortune 500 company, I understand financial statements, budgets, accounting and internal controls. I can get to the bottom of the district's finances and ensure that the public understands precisely where their money is being spent.
I will be an independent member of the board who will always put students and parents first. In addition, I will bring a commitment to transparency, inclusion and open communication to the district.
Caterina: If elected, I will bring independence, experience and knowledge to the district. I am ethical and fair. I believe that our district should put students first and a vote for Amy Caterina will give parents a seat at the table.
Smith: I will contribute a collaborative spirit, balanced perspective and solution-focused approach. These are challenging times, and board members need a colleague who understands the complexities of supporting the academic and social-emotional needs of a diverse student population. With my experience as an involved district parent, special education teacher, school administrator and research consultant, I have the background and skills to meet that challenge.
What changes would you like to see?
Allman: Better governance, improved communication, leadership, board member independence, a commitment to excellence and accountability.
Caterina: School boards should set policy, provide oversight and direction for the district. Our board majority is beholden to the teachers union, so there is no oversight or balance. Policy is based on what the teachers union wants, but not always what is best for students.
SDFA controls three of five trustees on the Governing Board (Areas 2, 4, 5). With Areas 2 and 4 up for election, it is imperative that the union-endorsed candidates do not get elected. A vote for Amy Caterina is a vote for balance.
Smith: Our district is suffering from a focus on individual communication activities rather than an overall community engagement strategy. Division and mistrust thrive when communication is ineffective. I will strongly advocate for a comprehensive plan that:
Articulates a commitment to community outreach;
Outlines reasonable timelines and procedures for community review and input;
Formalizes a structure for documenting input from parents and students;
Provides regular updates on board actions.
What are the strengths of the district?
Allman: Generally good academic outcomes. Great teachers. Committed and engaged parents.
Caterina: The district's strength is the high quality of education.
Smith: Across California, San Dieguito has earned a reputation for excellence. Our programs demonstrate a strong commitment to meeting the needs of diverse learners. This is a true strength.
In addition, we are fortunate to have involved parents who generously support our students and expect the best from our schools. Our dedicated teachers, site administrators and support personnel are committed to meeting the academic and social-emotional needs of our students.
What are the weaknesses of the district?
Allman: Poor board governance procedures, lack of effective communication, lack of leadership, lack of board member independence, too much teachers union influence, lack of accountability, dishonesty.
Caterina: The district's weakness is lack of independence on the board.
Smith: We do not have a strong communications strategy, including effective procedures for transparency and community engagement. This presents a significant weakness and makes it difficult for our board to unite behind clear priorities for our students. As evidenced by recent board meetings, our superintendent and our board do not appear to have a truly productive working relationship where full accountability is achievable.
I am also concerned about the long-term sustainability of the district's budget. Although exceeding minimum requirements, our reserves are far below where they should be. Our board needs to set rebuilding the reserves as a high priority.
Why are you the better candidate?
Allman: Smart, dedicated, independent, professional, no axe to grind, not beholden to anyone, experienced, committed to excellence beyond words, not afraid to do what is right and insist on accountability.
Caterina: I have the most direct experience working with the district. I have spent untold hours volunteering in support of our education foundations and PTAs. I regularly attend board meetings and identify and communicate issues of serious concern such as misuse of public funds, misappropriation of public funds, and issues regarding student safety and welfare on campus to the district.
Smith: Our community deserves a committed representative who has proven dedication to students and recognizes the value of a quality public education. And from my work as a special education teacher, I know that an exceptional education means more than just academic excellence.
I am not a single-issue candidate and do not believe that the easiest and quickest solutions are always the best for students. Rather, I advocate for thoughtful engagement in a productive and collaborative process to yield the best outcomes. I believe these qualifications differentiate me from both of my opponents.
How valuable is the teachers union endorsement?
Allman: The teachers union endorsement is extremely valuable to a candidate for school board. With an endorsement from the teachers union comes a substantial level of financial support from the Teacher Union PAC. In the last several election cycles, the teachers union has spent over $50,000 on its favored candidates. These candidates who become board members then vote on the teachers' contract, creating a conflict of interest.
In addition to financial support, the teachers union endorsement ensures vocal support from the teachers. I have heard from many teachers and friends of teachers that there is tremendous pressure for the teachers to fall in line behind the union-recommended candidates. Very few dare to support any candidate not endorsed by the union leadership for fear of retribution.
Caterina: Frankly, I don't find the San Dieguito Faculty Association's endorsement to be valuable at all. It wasn't true in 2018 when, despite heavy spending, only one of three union-endorsed candidates was elected.
I believe that the animosity toward the union is even worse in 2020 due to lack of action during the pandemic. Today, many parents and their students are furious. The district has reported that the union does not want to go back to school until the environment matches that prior to March 13. When will that be? There must be a safe way to return to campus, but there is no will in our district to develop a plan and make it happen.
Our district will be fortunate if we don't lose 10% to 20% of student population due to their inaction which appears to be union-driven. And that loss will cause untold financial hardships for the district.
Both Area 2 and Area 4 union candidates have pledged not to accept any donations from the union. However, note that the union has funded (to date) $3,500 for each candidate in the form of like-kind donations (advertising and promotion).
Currently, the union controls a three-member board majority. Two of these board members are resigning, so now is the moment for the community to regain control of our school board.
Smith: A respectful, collaborative relationship with teachers yields the best outcomes for students and strengthens our ability to withstand adversity without disrupting student learning. My endorsement by the San Dieguito Faculty Association (our teachers) signifies my understanding of this critical need. I believe this foundation of mutual respect offers significant value to our district.
I was a teacher for 16 years and my guess is that's why the teachers union was interested in endorsing me after we interviewed.
Personal thoughts
It's an interesting race. The one Republican, Allman, and one of the Democrats, Caterina, both criticize the union's influence in election politics. The other Democrat, Smith, enjoys the union's endorsement, plus that of the San Diego County Democratic Party, the current incumbent representing Area 4 and a long list of Democrats and current and former union-backed politicians and educators.
If a teachers union endorsement means anything to you — whether pro or con — the choices are clear.
If business acumen matters, and you aren't opposed to furthering the career of a Republican who has shown interest in the past of seeking higher office, then your choice is clear.
If volunteerism in the district and local public schools is important to you, then that choice is also clear, since Caterina by far is the one candidate who has spent a good portion of her time contributing effort and energy to local schools and regularly attending school board meetings, unlike the other two candidates.
Caterina has been involved for years in the district and knows where the bodies are buried. This makes her an undesirable candidate for those who resist change.
To be transparent, it's important to disclose the Jane Lea Smith's husband, Jim Smith, is the Torrey Pines Democratic Club's endorsement chair. And the club has endorsed … big surprise, Jane Lea Smith.
I asked Smith if she felt that gave her an advantage.
"I don't think so," she said. "Why would that give me an advantage? He is one of the most ethical people I know. Let me just answer that question — no."
The board majority is union-controlled, to be sure. That does not necessarily mean that union-backed candidates can't be independent thinkers.
After speaking to her at length, Smith seems a genuinely nice, honest, committed person who would serve with integrity.
Despite the union backing, Smith may be able to be an independent voice on the board. History however says otherwise, but anything is possible.
Yet, the union endorsement is concerning.
There have been too many instances in San Dieguito of poor governance, lack of transparency, disregard for student and parent interests, ambiguous communication and possible Brown Act violations.
This district desperately needs new guidance and better oversight. Who can best perform this task, voters decide soon.
---
Marsha Sutton is a local education journalist and opinion columnist and can be reached at suttonmarsha[at]gmail.com.
Columns represent the views of the individual writer and do not necessarily reflect those of the North Coast Current's ownership or management.
encinitas current, cardiff current