Education Matters: The candidate scramble at San Dieguito
After filing in August to run for San Dieguito Union High School District Trustee Joyce Dalessandro's Area 4 seat, candidate Pratima Gupta suddenly withdrew.
Suspicions began to surface of some unworthy backroom shenanigans.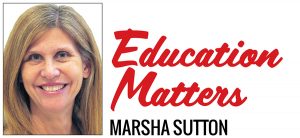 Technically, school board races are nonpartisan, but no one really believes that. In reality, it's quite the opposite. Everything is political.
Gupta, a physician at UCSD Health, was elected in March to serve on the Democratic County Central Committee 78th Assembly District and is considered a rising star in the party.
"She's very impressive," said Will Rodriguez-Kennedy, chairman of the San Diego County Democratic Party. "She would have been a fantastic candidate."
Gupta has lived in San Diego, the Del Mar Terrace area, for about one year. She was born in India, grew up in New York and Los Angeles, and has two children, ages 3 and 7.
Her medical credentials are impeccable.
She holds a master's degree in public health from UC Berkeley and earned her medical degree and did her residency at the University of Southern California.
Gupta is a fellow of the American College of Obstetricians and Gynecologists and is board certified. In addition to seeing patients at UCSD Health, she also provides care at Planned Parenthood of the Pacific Southwest.
In addition to receiving numerous awards and recognitions, she is active in political engagement and serves in the Women's Caucus of the California Democratic Party.
As Rodriguez-Kennedy said, she is impressive.
So why did she withdraw from the race for San Dieguito school board?
Rumors have circulated that she was pressured to withdraw because of her work with Planned Parenthood — an odd disqualifier for someone in the Democratic Party where women's reproductive rights, and in particular a connection with Planned Parenthood, would normally be considered a benefit.
"Planned Parenthood is a consistent ally of the party, a consistent donor to the party, and we work with them on a number of major priorities throughout the state," Rodriguez-Kennedy said. "An association with Planned Parenthood would never be a problem."
Union interference
The San Dieguito Faculty Association (the teachers union) works hard to ensure that school board members are aligned with the union's interests. The thought of losing two of its foremost supporters — Dalessandro and Area 2 Trustee Beth Hergesheimer, who is also retiring — must be concerning for union reps.
Although Gupta declined to speak about her reasons for withdrawing from the race, another candidate for Dalessandro's seat, Amy Caterina, said Gupta told her Duncan Brown, SDFA president, pressured her to quit.
Before delivering remarks to the Aug. 27 Torrey Pines Democratic Club, Caterina sent Gupta a copy of her proposed speech, asking for her approval.
It read in part, "As many of you may know, another member of our club, Pratima Gupta, chose to run for this position. I talked to Pratima, and I was very impressed with her background and her rational (sic) for running for school board. I immediately jumped on the Pratima bandwagon!
"When she called me to tell me that she was considering dropping out, I became very concerned. Why are the Democrats not supporting their candidate? Why is the current board member pressuring the teachers union to ask Pratima to withdraw?"
Gupta replied in an email, "I am okay with you mentioning what happened to me."
I asked Caterina if she would say on the record that Gupta said it was alright to mention this in her speech. "Yes," she said.
The actual presentation Caterina made to the Torrey Pines Democratic Club, which is posted on her website, is slightly different and even more forceful.
The slide referencing Gupta reads in part: "Dr. Gupta chose to run for school board in Area 4. I talked to her and I was very impressed with her background and her rational (sic) for running for school board. When she called me to tell me that she was considering dropping out, and why, I became very concerned.
"Joyce Dalessandro and (a district parent) pressured the teachers union to ask Pratima to withdraw. And Duncan Brown, the head of the teachers union, called Pratima twice to pressure her to resign. Pratima withdrew because she didn't think she could win the election without their endorsements."
Because Caterina said in her speech that Dalessandro prodded Brown to pressure Gupta to withdraw, I asked her directly.
"I can certainly deny that," Dalessandro said. "I did not do that. I don't have knowledge of Duncan Brown calling Dr. Gupta."
In public comment to the school board on Aug. 27, San Dieguito parent Wendy Gumb said in part, "It is my understanding that an SDFA leadership member representative, Duncan Brown, contacted the candidate (Gupta) twice and exerted pressure on the candidate to withdraw from the Area 4 race.
"The candidate who would have been an excellent diverse representative for the community is a huge loss. This continued interference with the election process is a disservice to our students and community. Public schools are for the students, not the union."
Gumb said she was "absolutely certain" that her information was credible.
I contacted Gupta several times to ask why she withdrew. She finally wrote back, "I would prefer to not talk further about this matter at this time. I would recommend pursuing Duncan Brown as he appears to be the link with whom we all spoke to regarding the race."
In addition to his duties as SDFA president, Brown is a counselor at Oak Crest Middle School in Encinitas and, according to Transparent California, received regular pay of $127,750 in 2019 — and more than $153,000 including benefits.
After multiple attempts were made to contact Brown, he still has not responded. I finally simply asked, "Can you please confirm or deny that you asked Dr. Gupta to withdraw from the race?" Crickets.
Endorsements
Because the San Dieguito teachers union is so firmly aligned with outgoing board members Dalessandro and Hergesheimer, it really doesn't matter whether Dalessandro asked Brown to pressure Gupta to withdraw.
All that had to happen was for Dalessandro to announce that she was backing someone else, for the union to fall in line.
Although she said she had no role in Gupta's decision to withdraw, Dalessandro did say that she didn't think Gupta was the right person for the seat.
"Because Pratima was very new to our area, because she had children way below the age of our students, and the sense that it was maybe not something that she planned to do for a long time, I decided that there really were better possibilities out there," Dalessandro said.
Dalessandro, who has served on the school board for 24 years, represents Area 4, which includes Del Mar and most of Carmel Valley and centers around Torrey Pines High School.
Hergesheimer has served on the board for 16 years and represents Area 2, which encompasses parts of Carlsbad and Encinitas and includes La Costa Canyon High School.
Both longtime board members have apparently selected their replacements. Dalessandro and Hergesheimer have thrown their weight behind their choices — Jane Lea Smith for Area 4 and Katrina Young for Area 2.
Both Smith and Young have been endorsed by the teachers union, which is telling.
The San Diego County Democratic Party has also endorsed both union-backed candidates. So has the usual list of suspects, many of whom simply follow recommendations from the unions and the Democratic Party.
About the party's endorsement of Smith, Rodriguez-Kennedy said, "I can't deny that." But he added that the county has more than 55 separate clubs and more than 400 races in the county.
"I can't get involved in every single race in the county," he said, adding that they rely on the clubs to offer recommendations.
Picking replacements
Many years ago, I asked another long-serving San Dieguito trustee why she was running again for another four-year term when she said before that she was ready to retire. She said they couldn't find a replacement.
Is it the last act of sitting board members to recruit and select their replacements? The idea of retiring and letting anyone run who wants to is apparently not something San Dieguito board members do.
Controlling one's legacy by picking one's own replacement just doesn't sit well. Neither does union interference in voters' choice of candidates.
Forms on the San Diego County Registrar of Voters site show that, to date, Young and Smith have each received donations from the San Dieguito Faculty Association totaling $3,533 for direct mail and lawn signs.
Hergesheimer, to date, has donated $200 to Young's campaign and $100 to Smith's campaign.
The union likes control over the board — why wouldn't it?
Both Dalessandro and Hergesheimer supported the 12.5% raise given under then Superintendent Rick Schmitt several years ago, a decision that was trashed by the San Diego County Taxpayers Association and one that continues to cost the district millions of general fund dollars.
They also voted to give current district Superintendent Robert Haley a raise, the day after Gov. Gavin Newsom shut down the state in March because of the coronavirus. This awkward timing meant that no members of the public were able to attend that board meeting to voice their opinions.
And with so many people losing their jobs because of the pandemic, giving a raise at that time was not just bad policy but bad optics.
The many examples of the lack of transparency and possible Brown Act violations that have occurred in the last few years under Haley's watch and a rubber-stamp board are too numerous to list.
A teachers union that controls the school board, rather than the other way around, is an upside-down approach to just governance and does not ensure that student rights are the priority.
Furthermore, a union endorsement doesn't give candidates the benefits it once did. People are beginning to understand that the unions represent adult interests and do not necessarily speak for all teachers — and certainly don't speak for students.
More and more people say they will vote for whoever the union is not endorsing, so a union mailer or lawn sign could become more of a curse than a blessing.
For those seeking teachers union endorsements, maybe be careful what you wish for.
---
Marsha Sutton is a local education journalist and opinion columnist and can be reached at suttonmarsha[at]gmail.com.
Columns represent the views of the individual writer and do not necessarily reflect those of the North Coast Current's ownership or management.
encinitas current, cardiff current