Education Matters: The impact
of a new San Dieguito school board
A new day is dawning for the San Dieguito Union High School District.
After nearly half a century of combined years of service, longtime SDUHSD trustees Joyce Dalessandro and Beth Hergesheimer retired, making room for fresh faces on the school board.
The two staunch supporters of the district's teachers union chose not to seek re-election this year and threw their support behind two union-endorsed candidates, only one of whom won. Katrina Young was elected for school board in Hergesheimer's sub-area and is likely to join with sitting board member Kristin Gibson on many decisions.
In Dalessandro's sub-area, Michael Allman beat Jane Lea Smith, who was the union's choice.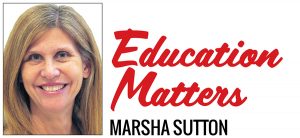 After being on the losing end of many votes for the past six years of her tenure on the board, trustee Maureen "Mo" Muir is expected to be elected board president. She will hopefully enjoy the support of Allman and the fifth trustee, Melisse Mossy — all three of whom have pledged to increase school district transparency, something that has been in short supply these past few years.
It's hard to know where to begin. Listing the board's years of disdain for public transparency and respectful regard for parent and student input is a daunting task.
Limiting the number of public speakers to 10 at the district's virtual board meetings since the March shutdown is a good place to start.
Anyone wishing to address their elected officials at public meetings should be given that right. Limiting the number to 10 is arbitrary and has worked to silence public input. The school board has a duty to listen to everyone who wishes to speak.
Also, not revealing exactly how these 10 speakers are supposedly chosen at random raises suspicions that certain people and particular viewpoints are favored. This needs to stop.
Another issue I've raised repeatedly, to no avail, is the disrespect shown to constituents wanting to tune in to the board's public meetings.
The district's school board agendas post a set start time and then almost immediately the board members and top SDUHSD staff adjourn into closed session. Next on the agenda is a return to open session, with no firm start time.
Without knowing whether the closed session will last three minutes or three hours means that members of the public can't know when open session begins, unless they sit and watch a blank screen for the duration of closed session.
This is not how other districts operate. There's either a posted firm start time for open session or closed session occurs at the end of the open session meeting.
At the time, district Superintendent Robert Haley told me it was allowed under the open meeting Brown Act. It may be legal, but not very customer-friendly.
To leave the time for open session unknown discourages people from coming if they don't know when to be there — which I suppose is the whole point. The attitude seems to be: Do whatever you can get away with.
These are not small matters. They illustrate a clear intent to shield the board from a range of public input.
Closed session decisions
About those closed sessions, too many decisions have been made behind closed doors without notifying the public in advance.
Last year, when Haley was hot to sell the current district office in Encinitas and build a new office palace, complete with over-the-top amenities, it was never listed as an agenda item in open session until September 2019.
And even then, it was listed ambiguously as "District Educational Center" with no backup material, and it was not presented for action or discussion but was placed under Haley's board update at the end of the meeting.
Before it finally appeared on an agenda, board members and Haley, on the public's dime, spent hours and hours discussing the construction of a new district office, even making trips to surrounding communities to tour other facilities as far away as Palm Springs.
As I wrote in a column last year, "Taxpayers can be excused for not knowing that the San Dieguito Union High School District is seriously considering constructing a new district office."
Another example of "Who would know?" — as I titled a follow-up column — was the promotion and associated salary raise of Mark Miller from associate superintendent of administrative services to deputy superintendent.
The June 20, 2019, agenda had an item asking for board approval for contract extensions and annual salary increases for all four associate superintendents equally, including Miller.
It wasn't until the minutes of that June 20 meeting, which were posted two months later, that it was revealed that the board in closed session had approved Miller's promotion.
Had the public been notified, it might have generated considerable feedback from parents who remember Miller's poor handling of the adult transition and special education program after he was hired in 2016.
When I asked Haley why he asked the board to approve the promotion of someone second in command without proper advance notice to the public, he said, "The title change came up in the context of closed session negotiations."
"I don't really care about the promotion," I replied. "What I care about is transparency. And this does not pass the smell test."
What's the purpose of a public agenda if items can be changed secretly in closed session?
The lack of full transparency was not just irresponsible. It felt deliberately deceptive.
Poor timing
Then there were the untimely raises Haley brought to the board just days after Gov. Gavin Newsom shut down California in March due to the pandemic.
Haley's original contract with San Dieguito, signed in October 2018, granted him a salary of $259,000, not including benefits. In June 2019, it was increased to $261,590. With this year's March decision, it's now at $270,746.
The 3.5 percent raise was approved by the school board at its first virtual meeting, for Haley and all four of his associate superintendents.
The item was buried at the end of a lengthy agenda, it happened at the district's first virtual meeting when logistical challenges and technical glitches were occurring, and it came at a time when school shutdowns were generating considerable concern over the economic uncertainty of potential losses in school financing.
There's more. Last spring's debacle over the district's behind-the-scenes decision to change all student grades to pass/no-pass in place of letter grades took the community by surprise.
The subsequent uproar from angry parents and students resulted in several contentious board meetings until trustees reversed Haley's decision, against his wishes.
Also controversial was the board's vote in August to spend $5.2 million, the bulk of SDUHSD's allotment of the state's COVID-19 relief money, to buy Chromebooks for every district student — 13,300 of them.
Many parents spoke out against the use of this money, saying it could be better spent on protective gear, sanitization and deep cleaning, increased custodial staff, more nurses and counselors, personal tutors, more classroom space for physical distancing, or creative ways to provide outdoor learning.
Nevertheless, Dalessandro, Hergesheimer and Gibson supported Haley's move to buy the Chromebooks, which were expected mid-October.
However, the district's communications coordinator, Miquel Jacobs, told me a few days ago that the Chromebooks have been delayed and are now expected in January, with distribution to every student immediately after.
This decision passed on a 3-2 vote, with Mossy and Muir opposed. Newly elected board member Michael Allman was also opposed to this expenditure, suggesting in an August Del Mar Times interview that it was a waste of valuable dollars.
"Purchasing this many laptop computers, in a district where more than 95 percent of families already have computers and tablets, is taking a sledgehammer approach to an issue that deserves a more nuanced approach," he said, months before he was elected.
Reopening schools
Perhaps the most heated issue today is how and when to reopen San Dieguito's schools.
The economy can't recover until schools open. Even hybrid models, where students are taught through a combination of in-person classes and online lessons, are fraught with peril.
In a U.S. News and World Report article last June, Carissa Moffat Miller, executive director of the Council of Chief State School Officers, said, "As long as our K-12 school buildings remain closed, our country's economy cannot get back up and running and our economy will continue to suffer trillion-dollar losses.
"At the same time, we must address the significant academic and social-emotional impacts on students throughout this crisis and help them overcome the considerable learning loss and trauma they have experienced if we are ever to ensure a thriving economy in the years to come."
It seems obvious that education for our children is an essential service.
Further exacerbating the problem is the disparity in income that contributes to greater educational inequity. Wealthier students have easier access to support systems that may include transferring to private schools that are open for in-person instruction and social services that their parents can afford to provide to address isolation and mental health issues.
Despite a recent alarmist headline in a local online paper saying parents and teachers are "horrified" at the prospect of SDUHSD schools reopening, many are not. Rather, some are horrified that the district continues to cave to union demands that no teacher should be required to return to the classroom.
"Educators with serious preexisting conditions or members who have immediate family with high risk health concerns are simply not able to return to a classroom with students," Duncan Brown, San Dieguito Faculty Association teachers union president, explained in an email. "These are teachers who would love to come back, but are unable because of their circumstances."
By not allowing those teachers with health concerns for themselves or their immediate families to be exempt from the requirement to teach directly from their classrooms, Brown argued, the district is forcing them "to choose between their or their family's health and safety or their livelihood."
He has a point. But the problem stems from numerous students and parents who say their teachers are often absent from their teaching duties, give lessons from the beach or their cars, or work only sporadically with unstable networks.
For the mental health and academic success of students, creative solutions have to be found to bring all teachers back to their schools while ensuring that those with health concerns can teach from their classrooms without students present.
Accountability and instructional consistency are at issue.
Working agreement
In a related issue, an "off-site work agreement" was listed as an agenda item for the board's Aug. 18 meeting, which was developed between the district and the union to provide "protocols on providing instruction off-site during distance learning," according to the agenda summary.
Although this was an item of great interest to the community, the actual agreement was not included in the board packet when the agenda was released. The summary said the agreement would be provided to the board at the meeting, not before.
I objected to withholding the agreement from the public, writing to Haley, "For the public to understand what this agreement specifically states so that anyone can comment on it, please provide this information in advance of this meeting and please make it available to the public."
He responded in an email, saying, "The Brown Act does not require back-up information be provided with the agenda. It only requires the posting of items up for consideration by the board. If back-up information is provided for open session items, it must be provided to the public at the same time as it is provided to the board."
Once again, Haley and his former board may have had legal cover, but this is another example of disregard for the public's interests.
"Just because you can (even though that's not so clear), doesn't mean you should," I wrote him. "You have a duty to be transparent in your actions. This is the opposite of transparency."
He replied that they didn't yet have a final document, to which I suggested that the item be postponed for board approval until it is finalized and the public has a chance to review it and make comments before the board votes on it.
A new day
It's been a frustrating time these past few years, holding board President Hergesheimer and Superintendent Haley accountable. Stronger guidance and better oversight are needed.
With a new school board and fresh perspectives, perhaps district constituents can look forward to greater transparency, more fiscal responsibility and an emphasis on the interests of students ahead of adults.
---
Marsha Sutton is a local education journalist and opinion columnist and can be reached at suttonmarsha[at]gmail.com.
Columns represent the views of the individual writer and do not necessarily reflect those of the North Coast Current's ownership or management.
encinitas current, cardiff current