Historically Speaking: The 10th-of-a-second nightmare in Berlin
A 10th of a second during one of history's most dramatic moments kept him awake at night and often seemed like a lifetime to Ralph H. Metcalfe.
Metcalfe was four-times elected Chicago alderman (city council), an eight-year serving U.S. congressman, a Legion of Merit medal-holder as a U.S. Army 1st lieutenant during World War II, and a successful college coach. But it was a 10.4-second space of time in his life that haunted Metcalfe more than anything. He ran one-tenth of a second behind Jesse Owens in the world-famous 100-meter dash at the 1936 Berlin Olympics as Adolf Hitler looked on in shock and disgust.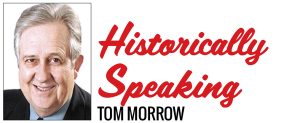 Metcalfe graduated from Marquette University in 1936, and after the Olympics that year, he went on for a master's degree at the University of Southern California. He taught political science and coached track at Xavier University in New Orleans before joining the Army during World War II.
In 1955, Metcalfe won the first of four elections as an alderman representing the South Side of Chicago. As an alderman, he broke ranks with Mayor Richard Daly after a series of police brutality incidents.
In 1970, he was easily elected as a Democrat to the U.S. Congress and was a cofounder of the Congressional Black Caucus in 1971.
But, no doubt, it was that eye-blink of a second that kept him awake at night. Jesse Owens won a gold medal and equaled a world record that summer in Berlin running the 100-meter dash at 10.3 seconds. Metcalfe had equaled that time four years earlier. But, on that summer day in 1936, Metcalfe was right behind Owens for the silver medal at 10.4 seconds.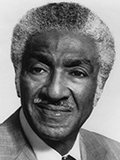 Ironically, Metcalfe broke or equaled world records 16 times at various distance track events. However, only five of them were ever officially ratified by the international governing body, the International American Athletic Foundation.
Metcalfe won four Olympic medals during the 1932 Olympics in Los Angeles. He was regarded as the world's fastest human in 1934 and 1935 after running at the world record time of 10.3 seconds. Metcalfe was convinced to the end of his life that the 100-meter event in 1932 should have been awarded as a dead-heat tie between him and Eddie Tolan.
In all, Metcalfe won 16 national titles in track during his athletic career.
"I have never been convinced I was defeated (during the 1932 Olympics)," Metcalfe said. "It should have been a tie."
Film evidence and that of observers of the race seem to support Metcalfe's verdict.
The American Athletic Union later changed its rules to have the winner being the first athlete to cross the line, not merely breast the tape. It was the latter that fellow sprinter Tolan was judged to have done first. The AAU went further and awarded the 1932 race as a tie, but the International Olympic Committee has never agreed to this change. Additionally, even though credited with same time as Tolan, 10.3 seconds, a time that equaled the then world record, Metcalfe's time was never ratified as a world record.
The next year (1936) at the Berlin Olympics, Owens ran the 100-meter sprint in 10.3 and Metcalfe a 10th of a second behind him. At Berlin, he also matched the 200-meter world record of 20.6 seconds.
He completed the 1932 intercollegiate season by winning the first of three NCAA championships, in both the 100- and 200-yard events. Later that summer, Metcalfe competed in the 1932 Olympics in Los Angeles, racing to virtual tie with Eddie Tolan in the 100 meters. After an exhaustive review, officials awarded the gold medal to Tolan and silver medal to Metcalfe. The Marquette sprinter also earned a bronze medal in the 200 meters at Los Angeles. He ran with Owens, Foy Draper and Frank Wykoff in the 440-meter relay winning a gold medal. Owens and Metcalfe became lifelong friends.
Despite coming in second in Berlin, Metcalfe had much to be proud of. He became the first man to win the NCAA 200-meter title three times consecutively.
Metcalfe died in Chicago on Oct. 10, 1978, of an apparent heart attack during a fifth-term reelection campaign to Congress. The downtown Chicago federal office building was named in his honor upon its completion in 1991.
While he focused on the dead-heat 100-meter sprint he ran with Tolan, that 10th of a second loss to Owens never seemed to bother him — that is probably until the middle of the night as he dreamed about those days of glory.
Young Metcalfe also was an accomplished student and a campus leader. In 1933, he was inducted into Alpha Sigma Nu, the elite Jesuit academic honor society. Metcalfe was also elected president of the Marquette University senior class. He graduated cum laude in 1936.
During his career in track, Metcalfe equaled or bettered 13 world records. That's enough lifetime accomplishments to keep anyone awake at night.
---
Tom Morrow is a longtime Oceanside-based journalist and author who contributes to OsideNews.
Columns represent the views of the individual writer and do not necessarily reflect those of the OsideNews' ownership or management.