Historically Speaking:
The man who would be Bond
The British spy hero James Bond was created by a former Royal Navy intelligence officer. The fictitious Bond was the hero character of Ian Fleming, who was a planner and coordinator of clandestine operations during World War II.
Born May 28, 1908, Ian Lancaster Fleming would've liked to have lived many of the fictional experiences he wrote about in his series of spy novels.
Working for Britain's Naval Intelligence Division during the Second World War is where Fleming got his ideas for creating James Bond. After the war in 1952, the son of a British Parliamentarian wrote his first novel, "Casino Royale." It was a huge success with three printings to cope with the reader demand. In all, 11 Bond novels and two short-story collections followed between 1953 and 1966.
The Bond novels revolved around the author's experiences witnessed in the British Secret Intelligence Service, commonly known as MI-6. Fleming was assigned I.D. code number "007" and given the rank of a commander in the Royal Naval Reserve.
The Bond stories rank among the best-selling series of fictional books of all time, having sold more than 100 million copies worldwide.
Fleming also wrote the popular children's story "Chitty-Chitty-Bang-Bang" for his son.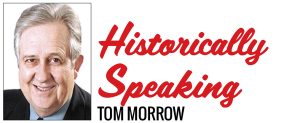 In 2008, the London Times ranked Fleming 14th on its list of The 50 Greatest British Writers Since 1945. Fleming's Bond creation has appeared 25 times in films and portrayed by seven actors.
Fleming, who had inherited wealth going into service in 1939, proved invaluable in MI-6, and excelled in administration. Fleming was used frequently as a liaison with other sections of the British government's wartime administration and was noted for his clever ideas in espionage.
Fleming devised a number of schemes to be considered for use against the Axis powers in order to lure German U-boats and surface ships towards minefields. The most notable of ideas on his list was to plant misleading papers on a corpse that would be found by the enemy. This suggestion was similar to Operation Mincemeat, which later was successful in 1943, to conceal a fake plan for invasion from North Africa.
Fleming's recommendation in the memo was titled "A Suggestion (not a very nice one)," which called for dressing a corpse in a RAF uniform with an attaché briefcase chained to the wrist containing phony invasion plans and setting it adrift by a submarine of the southern Spanish coast. It worked. The Spanish picked up the body and the fake information in the briefcase and turned them over to the Germans. After the war, a book was written, which became known as "The Man Who Never Was." It was made into a post-war movie starring Clifton Webb. In recent years, the story has been put on film, "Operation Mincemeat."
Fleming also worked with U.S. Gen. "Wild Bill" Donovan, President Franklin D. Roosevelt's special representative on intelligence cooperation between London and Washington. In May 1941, Fleming traveled to the United States where he assisted in writing a blueprint for the Office of the Coordinator of Information, the department that turned into the Office of Strategic Services and eventually became the CIA.
In 1941-42, Fleming was in charge of "Operation Golden Eye," a plan to maintain an intelligence framework in the event of a German takeover of Spain and Portugal.
In 1942, Fleming formed a behind-the-lines group known as Assault Unit No. 30 Commandos. The specialist intelligence unit's job was to be near the battlefield front in order to seize enemy documents from previously targeted headquarters. Much to his chagrin, Fleming did not personally fight in the field with his unit but selected targets and directed operations from London. Members of the unit were trained to be highly skilled killers.
The unit's most notable discoveries came during the advance on the German port of Kiel, in a research center for German engines used in the V-2 rocket, Messerschmitt Me 163 jet fighters and high-speed U-boats. Fleming would later use elements of these discoveries by his unit in his 1955 Bond novel, "Moonraker."
In 1942, Fleming attended an Anglo-American intelligence summit in Jamaica and, despite the constant heavy rain during his visit, he decided to live on the island once the war was over. The name of his Jamaican house he dubbed "Golden Eye." It is where he wrote most of his Bond novels. Fleming himself mentioned both his wartime "Operation Golden Eye," described the use of British naval bases in the Caribbean by the U.S. Navy.
Fleming was married to Ann Charteris, who was divorced from her first husband because of her affair with the 007 author. They had one son, Caspar.
Fleming was a heavy smoker and drinker for most of his life and succumbed to heart disease in 1964 at the rather young age of 56. Two of his Bond books were published posthumously; other novelists have since produced Bond novels.
Fleming's creation has appeared in film 26 times, with the first, "Dr. No." Bond has been portrayed by seven actors. The first was the late Sean Connery.
---
Tom Morrow is a longtime Oceanside-based journalist and author.
Columns represent the views of the individual writer and do not necessarily reflect those of the North Coast Current's ownership or management.