Historically Speaking: 2024 could amount to another election debacle
Our midterm elections are in the books for history to judge and most politicos are looking two years ahead to the 2024 presidential election. Twice in the past century, a third-party candidate has spoiled the outcome, denying the odds-on favorite incumbent from victory.
In 1912, Republican President William Howard Taft was running for re-election against new-coming Democrat Woodrow Wilson. Taft was the favorite to win, but popular former President Teddy Roosevelt tossed his hat in the ring creating a third party: The Progressive Party. Better known as the "Bull Moose Party," it split the Republicans, thus handing Wilson the White House.
The same thing happened in 1992 when Republican President George H.W. Bush was running for re-election. Arkansas Gov. Bill Clinton was not expected to defeat Bush. However, conservative candidate H. Ross Perot launched a third-party effort. As in 1912, Perot's 1992 entry split the GOP electorate, handing the presidency to Clinton, who garnered less than 40% of the vote in the election.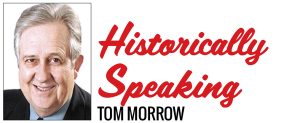 Today, the same scenario is coming into focus two years hence for the 2024 election. If the Republicans nominate someone other than former President Donald Trump, the election could easily be handed to a Democrat because the GOP electorate will be a house divided. If denied the GOP nomination, Trump, no doubt, will lead a third-party effort, causing a repeat of the 1912 and 1992 elections … but no one is talking about that possibility.
Back in 1912, Roosevelt was the leader of the Republican Party. He had served as president from 1901 to 1909, becoming increasingly progressive in the later years of his presidency. But the highly popular Roosevelt created his own undoing by a decision he had made in 1908 not to run for a third term. Roosevelt helped ensure he would be succeeded as president by his close friend, William Howard Taft. Although Taft entered office determined to advance Roosevelt's domestic agenda, he stumbled badly.
At the 1912 Republican National Convention, Taft narrowly defeated Roosevelt for the GOP nomination, so the former president formed a new organization, The Progressive Party.
The new party attracted several Republican officeholders, although nearly all of them remained loyal to the GOP.
The Bull Moose Party's platform was built on Roosevelt's popular domestic program and called for several additional progressive reforms. The platform asserted "to dissolve the unholy alliance between corrupt business and corrupt politics."
In the 1912 election, Roosevelt won 27.4% percent of the popular vote compared with Taft's 23.2%, making Roosevelt the only third-party presidential nominee to finish with a higher share of the popular vote than a major party's presidential nominee. Both Taft and Roosevelt finished behind Democratic nominee Woodrow Wilson, who won 41.8% of the popular vote and the vast majority of the electoral college vote.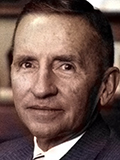 Enter Henry Ross Perot in 1992, who was an American business magnate, billionaire, politician and philanthropist. Perot had become heavily involved in the Vietnam War POW/MIA issue, arguing that hundreds of American servicemen were left behind in Southeast Asia after the Vietnam War.
During the presidency of George H. W. Bush, Perot had become increasingly active in politics and announced his intention to run for president. A Gallup poll showed Perot leading a three-way race against President Bush and presumptive Democratic nominee Bill Clinton. Perot briefly withdrew from the race in July but re-entered in early October after he qualified for all 50 state ballots.
Perot ran for president again in 1996, winning only 8.4% of the popular vote against incumbent President Clinton and Republican nominee Bob Dole.
Perot ran an independent campaign in the 1992 election and a third-party campaign in the 1996 presidential election as the nominee of newly created Reform Party, organized by grassroots supporters of Perot's 1992 bid.
Although Perot failed to carry a single state in either election, both campaigns were among the strongest presidential showings by a third-party or independent candidate in U.S. history. His 1992 effort handed the 1992 election to Democrat Clinton over the favored incumbent President George H.W. Bush.
Perot endorsed Republican George W. Bush over Reform nominee Pat Buchanan in the 2000 election and supported Republican Mitt Romney in 2008 and 2012. He passed away on July 9, 2019.
For 2024, the outcome predictably comes down to former President Donald Trump. If he doesn't split the GOP electorate, it'll be a toss-up between him and whomever the Democrats run. But there are a lot of "No Trumpers" out there, so it's a big unknown whether the GOP will support him or launch a competing candidate. If that happens, it'll ensure the Democrats will retain residency in the White House.
Former President Trump and President Joe Biden should retire and step aside for fresh talent such as Tim Ryan and Harold Ford along with Republican Florida Gov. Ron DeSantis and South Dakota Gov. Kristi Noem, four moderate rising stars in the two parties. These young (by comparison) leaders would pump fresh air into a present-day stodgy political atmosphere.
Hopefully, the history of 1912 and 1992 won't be repeated.

---
Tom Morrow is a longtime Oceanside-based journalist and author.
Columns represent the views of the individual writer and do not necessarily reflect those of the North Coast Current's ownership or management.