Point of View: What does it mean for a reporter to take a 'hit' for the team?
(This opinion piece contains strong language that might offend some readers.)
"These people make stuff up about me and I'm just defending myself — they're doing this because I'm calling out the corruption in this city. I have no regrets for matching and even sometimes exceeding the magnitudes of the attacks that I've experienced on the campaign trail."
This was Encinitas mayoral candidate Jeff Morris' quote in a recent North Coast Current story about the vitriolic nature of this year's campaign. It was a story that quoted three of the candidates for mayor, in general responses, to the nature of the contest.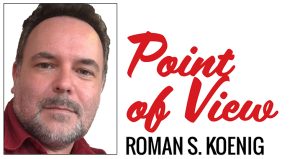 Morris' quote appears to be perfectly fair. He is a political fighter and has never shied away from that, especially on social media. Even he admitted in the story, written by freelancer Stephen Wyer, that the campaign has been "the gnarliest election that I've ever seen."
His inclusion in the report, however, brought this response from him after it was published, in texts shared by the writer and others on social media …
"If you want to post this horseshit after the election, be my guest. Under no circumstances does this go out like this before the election without all hell breaking loose. This is bullshit and lies. … Scrap this bullshit or add the truth and drop the liars."
Beyond his demand to take the story down, he stated something far more ominous.
"You do a hit on me, I do a hit on you."
… "I do a hit on you."
Nowhere does the story threaten Morris or his followers. Yet he threatens "a hit."
As a reminder, here are definitions of the threat of "a hit" from the Merriam-Webster dictionary: "An act or instance of striking or forcefully coming in contact with someone or something : an act or instance of hitting or being hit." The examples given? The physical hitting of one person by another, the aftermath of a bombing, even a reference to syndicate behavior.
Here is more from the text exchange to underscore the point, the words of would-be Mayor Jeff Morris.
"Fuck Roman. You will see fucking hell fury from all of Encinitas if you fuck this town. … You're going to start a war with Encinitas. … I've taken on a lot of people in this fucking town and I have no problem taking you guys on either bro. Tomorrow you'll make headlines."
Understandably, the reporter was shaken by the string of texts, which go on and on, expletive-laden page after expletive-laden page. Especially given the threats of political violence in this country that have now led to acts of such violence.
(As for me, being told to f*** off is irrelevant.)
Now, what was so egregious about the story that Morris felt it was necessary to threaten the reporter? From what can be gathered in the tirade's flotsam, it is quotes like the ones below from those either campaigning or observing from the sidelines.
Here is a sampling …
Former Mayor Kristin Gaspar: "Encinitas is my hometown and there is little doubt that some voices have become increasingly angry during this particular election cycle."
Candidate Cindy Cremona: "Our city does not need more divisive politics, fiery rhetoric or unrealistic solutions."
Candidate Tony Kranz: "At least one of them has not opposed using some pretty nasty rhetoric and images. It's surprising that he thinks that that's going to attract voters, but maybe he'll prove me wrong."
No doubt, there has been a lot of back-and-forth when it comes to heated rhetoric — from silly social media memes and accusations of campaign sign destruction and removal to alleged assaults at community gatherings.
The goal of this opinion piece is not to target one candidate over another about any of that. In fact, that was not the original story's purpose. The goal was to take the temperature of the campaign's overall vitriol. Clearly, the heat broke the thermometer. But a threat against a freelance reporter for even attempting to take that temperature warrants exposure and response.
This opinion piece would have been written if such threats had come from any of the candidates. Michael Blobe, Cindy Cremona, Tony Kranz or Jeff Morris could be a perfectly competent mayor. But no level of competence warrants threats and intimidation of this kind.
This experience has disquieting parallels to a film that I wrote and directed, now in post-production, called "Red Blooded."
Although the film's story is a commentary on the politics of education in today's climate, the lines from three characters come to my mind.
"It's so easy to attack someone, I'll admit there's a thrill to it, to get your way," Lois, the lead character, says at one point. "It's easy to hit someone when you don't think about what it's like to be hit."
In the film, Lois, a high school district board president, targets a student with threats of deportation against his family because of his Dreamer status (Deferred Action for Childhood Arrivals). Even Lois' son gets in on the intimidation as a campus bully.
"They are the people they hate," the victimized student tells his teacher in one scene.
When the student seeks to expose the bullies for who they are, his teacher encourages patience and diligence over hair-trigger actions. There are other ways to uncover the depths of their behavior, she says. "If they don't do themselves in first."

---
Roman S. Koenig is editor and publisher of the North Coast Current.
Columns are the opinions of the writer and do not necessarily reflect the opinions of North Coast Current ownership. Comment below or submit letters to the editor at letters[at]northcoastcurrent.com.
encinitas current, cardiff current