Education Matters: Carlsbad Unified's betrayal of the LGBTQ+ community 
Blaming audio problems, Carlsbad Unified School District school board President Ray Pearson reneged on his prior approval to fly the Pride flag, reading a statement later saying he wasn't clear on what was being requested.
"At the May 17 board meeting," he said at the May 25 board meeting, "I misunderstood the request for flying the Pride flag. I thought the request was for agendizing flying the Pride flag. Not hearing correctly, I raised my thumb in support."
Translation: he did not mean to support displaying the flag.
At the May 17 meeting, under an agenda item titled "Governance Team Reports and Requests," Trustee Kathy Rallings made a request to fly the Pride flag on June 1 in support of the LGBTQ+ school community and asked for consensus from the other board members.
Pearson turned to CUSD Superintendent Ben Churchill and appeared to ask him for advice.
"It would be inappropriate for the board to give staff direction to take action as part of Governance requests," Churchill said.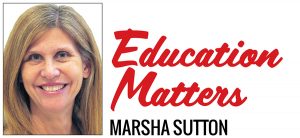 Rallings persisted and asked for "thumbs" on the matter of flying the Pride flag on June 1. (Thumbs up or down are how CUSD trustees indicate their support for simple matters, short of a formal motion.)
But Pearson restated the request, for some reason, and asked instead for consensus to place the item on the next agenda.
So he thought his thumbs-up was to support his statement when it really indicated support to raise the Pride flag — which was also supported by Rallings and Trustee Michele Ward.
 Trustees Gretchen Vurbeff and Elisa Williamson appeared to abstain, from the video of the meeting.
So three in favor. Yay, right?  But no.
Pearson's later backspace-erase on his approval to fly the flag voided the decision.
Rallings made two requests at the May 17 board meeting. The first was to display the Pride flag on June 1. The second was to direct staff to create a policy and process to address requests for displaying other flags besides the U.S. flag and the California flag.
She made no request to agendize the matter. So how did that happen?
Pearson blamed audio issues and told me in an email that "there is at least one other trustee I know that could not hear well."
Ward told me it was clear to her that she was supporting flying the flag and not agendizing the matter. Rallings said the same, and both said they experienced no audio problems at that meeting.
Even though Rallings never asked to agendize the issue, Pearson acting as board president called for a special meeting on May 25 with a published agenda to revisit the request.
Bypassing the specific request on the May 25 agenda to display the Pride flag on June 1, Pearson made a motion, seconded by Williamson, to delay the decision until the creation of a flag policy and process over the summer. Vurbeff supported.
To be clear, this item was not delayed as has been reported — it was rejected. They can't "delay" the decision to fly the flag on June 1 when June 1 has passed.
After public comment and board discussion on May 25, the request to raise the Pride flag at the district office on June 1 was denied.
The May 25 meeting
When requests are made by trustees under the Governance item, no discussion is allowed because the Brown Act requires 72 hours advance notice to the public for any discussion.
At the May 25 meeting, Rallings objected to the decision to place the item on the next agenda and presented several examples in the past that she said were made under the same Governance agenda item that did not require public notice or discussion.
Churchill had no response and later told me he has "yet to go back and research all of the examples she provided."
"All I can really speak to is this particular instance," he said, "and I did feel it would be better if the board put it on a future agenda item to have a discussion rather than simply direct staff."
At the meeting, Churchill said he consulted with an attorney who said holding a special board meeting meets all the requirements to "cure and correct" not having placed the matter on the May 17 agenda for public input and trustee discussion.
"But is it required?" Rallings asked.
"I'd have to go back and ask the attorney," Churchill replied.
Rallings clarified her comments later, saying, "In this case, the board president and superintendent made a unilateral decision to treat this Governance request (flying the Pride flag) different than past requests and ties our hands for the future."
Show you care
Sixteen speakers addressed the board at the May 25 meeting — 14 in favor of the flag display, six of whom were CUSD students.
Student Ava Grosely said that it's not just a flag, that it represents a message that all students are accepted on campus.
Student Kayley Teagle said showing the Pride flag is about creating an inclusive society.
Student Ash Bering said, "The flag will show that you hear us, see us, and respect us — you have the power to show you care."
Sarah Hunter asked trustees to listen to the students "when they share their hearts with you."
Joan Irving, parent of a transgender child, spoke in favor of the flag and said the LGBTQ+ community is seeing "so much hate and anger."
The two adults opposed said the flag could be seen as a divisive political statement.
Speaker Meeg Pincus told trustees that flying the flag is not political, that it is human support and about inclusivity and compassion.
Former CUSD student Sydney O'Brien said not flying the flag "means you do not support them."
And with the vote, that is indeed how it appeared.
"It's really important as Pride month comes up (to show) that we are an inclusive district," Trustee Ward said. "I'm sad that this motion has been put forth."
After the 3-2 vote to reject the flag, audience members shouted "shame" — an appropriate characterization for what happened.
Flag requests
Trustee Vurbeff said a policy was needed first and also questioned if a second flagpole was required, perhaps not realizing that the request was to fly the flag on one day only.
"If we fly the Pride flag, then we have to consider that we would have to fly any flag requested," she said in an email.
"We received emails from people in the community who are Jewish and other groups of people who wanted to have a flag of their choice also flown … It is a complicated matter and it really requires our legal counsel to provide guidance."
I asked Churchill if he had other flag requests, and he said not to his knowledge.
Although at issue was whether to fly the flag at the district office and not at school sites, Churchill said, "We've asked principals to refrain from flying flags other than the U.S. flag and CA flag on their flagpoles, until a policy can be discussed and approved."
In a phone interview, Churchill said he experienced audio problems at the May 17 meeting in the gym at Calavera Hills Middle School, a location that presented audio quality issues "due to the positioning of the speakers and the acoustics of the gym itself."
There were no audio issues on the video though, and he said he was "shocked at how clear things came through on the recording. In real time in that gym we were all struggling to hear, the echoes were so great."
He also said the camera did not show him advising Pearson that he was asking for "thumbs" on Rallings' original request, not to agendize the item.
The second "do-over" meeting on May 25 was called "just to ensure that the actual request was given the opportunity to be published, public comment could be received, and the board could vote on it," he said.
Churchill insisted it was a matter of governance and not necessarily his position on the Pride flag. He said he was focused on a bylaws and policy and procedure perspective and that he did not in any way discriminate against this one particular request.
"I am worried about a slippery slope if we use the Governance requests to take action on things that weren't agendized for the public in advance," he said. "When a majority of the board says, via thumbs, to do something, that's direction."
But that seems a stretch, given that direction to staff in this case was for one person to put up a flag on June 1 at one location and lower it that same day.
Supportive space
Churchill has been recognized as an ally of the LGBTQ+ community, so this development disappointed many.
After Carlsbad High School Vice Principal Ethan Williams made comments at a May 19 Mission Church public meeting where he reportedly said there should be no sexual identity or gender ideology curriculum, nor groups or celebrations on public school campuses, Churchill issued a statement saying, "I wholeheartedly disagree with the comments made, and condemn those comments as they are in conflict with California Education Code and our board's 2021 resolution in support of LGBTQ+ students and staff."
"It is essential that we create a supportive space where LGBTQ+ students and staff feel valued, respected, and free to express their authentic selves," he elaborated.
In making her case, Rallings referenced the resolution CUSD passed on June 23, 2021, recognizing June as LGBTQ+ Pride month.
The resolution lists a number of "whereas" clauses that highlight the struggles and recognize the contributions of the LGBTQ+ community.
Carlsbad Unified, the resolution states, "works to honor all students, staff members and families who identify as LGBTQ+, fostering a welcoming school climate where they can live their authentic lives and be treated with dignity and respect" and is a place where "all students and staff deserve to feel safe and welcome in their schools."
Because other options could have been considered for compromise, it's fair to question whether the three trustees who opposed the flag were using potential, and imagined, legal problems as a cover to mask anti-LGBTQ+ political beliefs.
It's not rocket science to think of alternative motions, such as requesting legal guidance within the month of June instead of over the summer so the flag might have been raised some time during Pride month.
Or they could simply have agreed, if they really supported the LGBTQ+ community, to raise the flag on that one day and still proceed to obtain legal advice and develop a policy later. Sometimes it's better to ask forgiveness than permission.
Any way you look at it, this was not student-centered.
The decision to kick the can down the road sits in sharp contrast to the intent of the district's resolution and rightfully angered LGBTQ+ supporters and students.
As we move into summer, where policies about flying flags will be developed and debated, I fully expect, given the predilection we've just seen from three trustees, that the final policy will prohibit all flags except the U.S. and California flags.
I hope I'm proven wrong.

---
Marsha Sutton is a local education journalist and opinion columnist and can be reached at suttonmarsha[at]gmail.com.
Columns represent the views of the individual writer and do not necessarily reflect those of the North Coast Current's ownership or management.
The North Coast Current welcomes letters to the editor and longer commentaries.