Historically Speaking: Danny Thomas, a man behind the fight against cancer
For television viewers, the name "Danny Thomas" appears on-screen at least once daily. The name appears during St. Jude Children's Research Hospital commercials in a plea for donations. You'll see his name on the side of the hospital building as "Danny Thomas, Founder."
For those under age 50, you probably won't know his name, but during the middle years of the 20th century, he was one of the most popular movie, radio and television performers of his day. Many of us grew up enjoying his comic and music entertainment on radio and TV and in films.
Danny Thomas, born Amos Muzyad Yaqoob Kairouz on Jan. 6, 1912, in Dearfield, Michigan, started out as an actor, singer and nightclub comedian, and later a producer and philanthropist.
He created and starred in the popular and long-running "The Danny Thomas Show," both on radio and television. In addition to guest roles on many of the comedy, talk and musical variety programs of the time, his legacy includes a lifelong dedication to fundraising for charity. Most notably, he was the founder of St. Jude Children's Research Hospital in Memphis, Tennessee, a leading center in pediatric medicine with a focus on cancer. St. Jude now has affiliate hospitals in eight other American cities.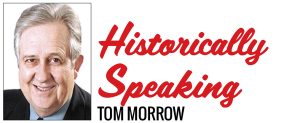 In 1932, Thomas began performing on radio in Detroit at WMBC under his anglicized birth name. After he moved to Chicago in 1940, Thomas did not want his friends and family to know he had gone back into working clubs, where the salary was better, so he came up with the pseudonym "Danny Thomas" (after two of his brothers).
Thomas first reached mass audiences on network radio in the 1940s playing shifty brother-in-law Amos in "The Bickersons," starring Don Ameche and Frances Langford. Thomas also portrayed himself as a scatter-brained Lothario on that show. His other network radio work included a stint on Fanny Brice's "The Baby Snooks Show." In the early 1950s, he made several appearances on the popular NBC radio variety program "The Big Show," hosted by Hollywood actress Tallulah Bankhead.
Already a successful entertainer, Thomas began his film career in 1947, playing opposite child actress Margaret O'Brien in "The Unfinished Dance" (1947) and "Big City" (1948). He then starred in the long-running television sitcom "Make Room for Daddy" from 1953 to 1964. He was the father of three children, Marlo Thomas, Terre Thomas and Tony Thomas. His daughter, Marlo, starred in her own comedy production, "That Girl," during the '60s.
Thomas also had his own radio program, "The Danny Thomas Show." The 30-minute weekly variety show was on ABC from 1942 to 1943 and on CBS from 1947 to 1948. After his two 1940s films, Thomas appeared with Betty Grable in the musical "Call Me Mister" (1951). He portrayed songwriter Gus Kahn opposite Doris Day in the 1951 film biography "I'll See You in My Dreams." In 1952, he starred in "The Jazz Singer" opposite the popular vocalist Peggy Lee. It was a remake of the 1927 Al Jolson original.
A devout Roman Catholic, Thomas was named a Knight Commander of the Order of the Holy Sepulcher by Pope Paul VI in recognition of his services to the church and the community. In 1983, President Ronald Reagan presented Thomas with a Congressional Gold Medal honoring him for his work with St. Jude Children's Research Hospital.
Thomas was one of the original owners of the Miami Dolphins football club, but he sold his share soon after the purchase. He was an avid golfer, claimed a 10 golf handicap, and competed with Sam Snead in a charity event. Two PGA Tour tournaments bore his name. He also was the first non-Jewish member of the Hillcrest Country Club in Los Angeles.
In 1990, Danny Thomas was inducted into the Television Hall of Fame.
Early in his career, Thomas made a vow: If he found success, he would open a shrine dedicated to St. Jude Thaddeus, the patron saint of hopeless causes. After becoming a successful actor in the early 1950s, his wife joined him and began traveling the U.S. to help raise funds to build St. Jude Children's Research Hospital. He fervently believed "no child should die in the dawn of life."
With help from close friends and business associates, in 1962, Thomas founded the institution in Memphis. Since its inception, St. Jude has treated children from all 50 states and around the world, continuing the mission of finding cures and saving children. Patients and their parents are never charged for the hospital's treatment and services.
St. Jude has grown to include eight affiliate hospitals across the U.S. It is a 501(c)(3) nonprofit organization with annual expenses, as of 2018, of more than $1.4 billion funded by nearly $1.5 billion in donations. Further, the World Health Organization has named St. Jude Children's Research Hospital as its first Collaborating Center for Childhood Cancer to help an estimated increase in survival rates on rare pediatric cancer from 20% to as much as 60% by 2030.
In 1991, Bishop Samuel Stritch of Toledo confirmed Thomas in the Catholic Church. Stritch was a lifelong spiritual consultant and friend to Thomas, who would later advise him to locate the children's hospital in Memphis.
Thomas died after a heart attack at his home in Beverly Hills on Feb. 6, 1991. Two days previously, he had celebrated St. Jude hospital's 29th anniversary and filmed a commercial, which aired posthumously. He is interred in a mausoleum on the Memphis grounds of the St. Jude Children's Research Hospital alongside his wife, Rose.

---
Tom Morrow is a longtime Oceanside-based journalist and author.
Columns represent the views of the individual writer and do not necessarily reflect those of the North Coast Current's ownership or management.