MiraCosta College marks 80th anniversary with new facilities, reflections on success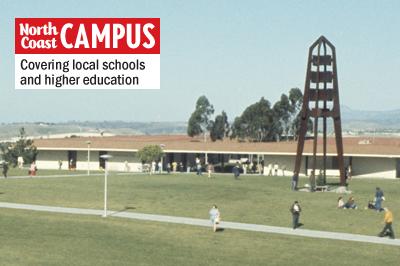 In 1934, actress Jean Harlow was starring on the silver screen, Time magazine's Man of the Year was Franklin D. Roosevelt and the St. Louis Cardinals were the World Series champs. In North County, the new MiraCosta College was opening its doors to slightly more than 100 excited students.
Today, the college has a student body of nearly 15,000 in its credit program and around 2,500 in its non-credit program.
The college, which has its main campus in Oceanside, has been celebrating its 80th anniversary this year with much fanfare.
A lot has happened in the eight decades since the formerly named Oceanside-Carlsbad College opened. MiraCosta recently opened its newest facility — a science building at its San Elijo Campus in Cardiff. One of its plans for 2015 is to open a Carlsbad location for a new Technology Career Institute in a city-owned building where the college will train workers to fill a growing demand for industrial technicians in North County. And next year, it will begin remodeling some of its classrooms.
Additionally, MiraCosta has expanded its Friday and Saturday course offerings, and added new certificate programs in the areas of social media, career technical education and gerontology — all fields that have evolved to suit the technical age and/or the demographics of the population, according to the college.
2014 also marks the 50th anniversary of the Oceanside campus, which opened on Sept. 21, 1964.
From staff to students and the community, the college clearly means a lot to many.
Happy to be at MiraCosta
According to Jonathan Cole, a professor who teaches physics, as well as a new course in climate change being offered for the first time this semester, the college has come a long way.
"The growth in the last 30 years has been tremendous. When I was first hired, there were fewer than 60 full-time faculty; now we have close to 180, along with several hundred associate faculty," he said.
"In 1984, we offered five sections of physics per year; now we offer 21. When I was hired, we had one campus in Oceanside, with additional classes offered at elementary and middle schools and other sites scattered around the district. Now we have three sites, including the San Elijo Campus in Cardiff-by-the-Sea, and the Community Learning Center in downtown Oceanside. It's been really great to see the growth of college offerings and of our presence in the community."
Cole has also served on a broad range of college committees and in various governance roles, including four one-year terms as president of the Academic Senate in 2003-2005 and 2006-2008. He has been at MiraCosta for 30 years and said he enjoys his job; that's why he hasn't move onward.
"Community colleges are very focused on teaching and on student learning, and that's where my main interests lie. MiraCosta is among the best community colleges in the state; I wouldn't want to be anyplace else. Our classes are small enough that I can get to know the students individually. It's rewarding to be able to help students achieve their career goals, and to watch their personal growth as they progress," he said.
A special place
Besides teaching, Cole said, there are plenty of things that make MiraCosta a special place for him.
"I'd say first and foremost it's the people. MiraCosta has attracted great talent," he said. "Our faculty, staff and administrators are dedicated to the community college mission and are very good at what they do. Our campuses are very attractive and well-maintained, and of course the coastal North County location can't be beat."
And what about the students. Have they changed as well over the years? Slightly, Cole said.
"A lot of the basics don't change, but students are obviously much more digitally aware and Internet-savvy than they were in 1984. This has had a big impact on my physics teaching in particular. When I was hired, the physics program didn't have any computers; now most of our labs use computer-interfaced sensors to collect and analyze data," he said.
"It's really had a huge impact on how I teach physics — students can directly and almost instantaneously measure things that used to take long, tedious calculations to figure out," Cole continued. "I think it's given students a much stronger intuitive grasp of fundamental physics concepts."
More generally, students are much more career-focused than they were 30 years ago since he first began teaching, he said.
"The changes in our economy mean that finding meaningful, well-paying employment is much more in the forefront of their concerns. One of the reasons I really believe in community colleges is that they're such a cost-effective way for students to get training and certification in fields that will lead to immediate employment, or to complete the first two years of education before transferring to a four-year school. Students really want to know that they're getting good preparation for that next career step," he said.
A collegial atmosphere
Cheryl Broom, who serves as MiraCosta's director of public and governmental relations, marketing and communications media relations, has been at the school since 2006. She agreed that the venue is a great place to work.
"Students can get a wonderful education at a fraction of the price of a university. Classes are small and students receive individual attention from highly dedicated instructors, most of whom have master's and/or doctorate degrees," she said.
The devoted support staff are friendly and eager to help each student succeed, too, she said. And the atmosphere is welcoming, the grounds are beautiful and students say they feel at home, she said.
Broom has seen some changes, and all for the better, since she first started, she said.
"The school has grown over the years, but each employee feels that their voice is heard and their ideas have merit. There is a real feeling of collegiality here," she said.
Broom said she believes the college has been able to sustain that feeling because it has adapted and evolved as needed.
"At first, we were pretty much just a stepping-stone to a university. We still serve that function, but now we also offer a host of non-credit programs — a high-school diploma program and ESL classes — that accommodate changing community need. We also offer certificate programs that prepare students to jump into a new career — because when the economy changes, we need to be ready," she said.
"We also recognize the unique challenges faced by returning military personnel, and currently we have more than 1,700 military/veteran students, and another 1,000 of their dependents. MiraCosta College has deep ties to the community. We are entrepreneurial in our programming and responsive to our community's needs."
Many milestones
Some of the main milestones in the last 80 years that Broom pointed out include the institution being the first community college in North County in 1934.
"We started in a corner of Oceanside High School; we expanded our district, and built new campuses. We were among the first community colleges in the state to go online. We have a beautiful theater and a new concert hall that are each state-of-the-art, and have hosted world-famous musicians and actors. Our Biotechnology Center is also state-of-the-art, and we've designed it to fit local industry need, in collaboration with industry professionals," Broom said.
"We've also changed our approach and attitude toward respecting our environment. One of our latest notable feats is the construction of a totally self-sustaining science facility on the Oceanside campus," she said. "All of our facilities have been maintained and are upgraded constantly in order to offer classes that prepare students for transfer to four-year universities and to high-tech jobs."
Student becomes employee
Another fan of the college is Michael Nolte, who began as a MiraCosta College student straight out of high school, taking Studio Recording Techniques with David Megill in the summer of 1981. Today, he is a media services tech specialist at MiraCosta.
"I actually received my AA (associate degree) at Palomar College in radio and television communications, but I took as many general education courses as I could at MCC not just because it was more convenient, but because I preferred the campus climate much more than at Palomar," he said.
His main draw to coming to MiraCosta was that he lived nearby, plus he was already familiar with it — "My mom was a student here in the early 1970s, and I'd come to campus occasionally to use the library," he recalled.
He started working at the college as a student in the Media Services department in August 1984, not long after MiraCosta's celebration of its 50th anniversary, and became a staff member in February 1986 in the same department, where he's worked ever since.
"The college has changed quite a bit since I first came here. I've seen the construction of eight major campus buildings, the demolition of one original building and multiple remodels, plus the establishment of the San Elijo Campus and the Community Learning Center," he said.
Some Mira Costa College fast facts
1934: College founded as Oceanside-Carlsbad Junior College; opened to 120 students.
1964: Moved to current location on Barnard Drive in Oceanside.
1965: Changed its name to MiraCosta College (Spanish for "behold the coast.")
1976: District expanded to include areas south of Carlsbad and north of San Diego, including the areas of Carmel Valley and Rancho Santa Fe.
1988: New campus opened in Cardiff to better serve students in the southern part of the college district. The campus is dubbed the San Elijo Campus. It sits directly adjacent to the San Elijo Lagoon.
2000: A permanent location for its Community Education programs was established in downtown Oceanside, to house the college's free, non-credit classes such as its high-school diploma program, ESL, basic education and senior programs.
2014: MiraCosta College celebrates its 80th anniversary of serving the community.
Debbie L. Sklar is a freelance writer in the region