Encinitas 101 honors longtime board member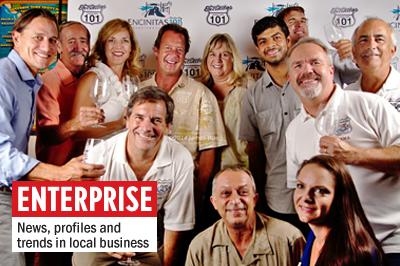 The Encinitas 101 MainStreet Association honored a departing longtime board member Oct. 7 as the organization installed its new Board of Directors during its annual meeting at The Lumberyard Tavern.
Bart Smith and Don Taylor stepped down from the board, Encinitas 101 said in an announcement. Taking their places are previous board member Bev Goodman, owner of Coast Hwy Traders, and new board member Jarrod Harms, owner of Detour Salon. Both were elected by the association's members.
Smith, architect and owner of DZN Partners, received honors in recognition of his 20 years on the board, according to the announcement. Smith's accomplishments include the preservation of the historic boathouses in downtown Encinitas and the facilitation of more than 50 facade grants.

He was named the first inductee into the Encinitas 101 Hall of Fame in recognition of his contributions to the association and downtown district. County Supervisor Dave Roberts issued a proclamation in Smith's honor and announced that the county named Oct. 7 Bart Smith Day.

Encinitas City Councilwoman Teresa Barth presented Smith with a certificate of recognition.
The 2014-15 board is President John DeWald; Vice President Shawn Shamlou; Treasurer Shoja Naimi; Secretary Carolyn Cope; and directors Dave Agyagos, Amie Brown, Bev Goodman, Jarrod Harms, Doug Long, Dave Peck, Shelly Sougias, Lorraine Telnack and Bobby Virk.
Encinitas 101 also presented several annual awards, the organization said. Shamlou was named Director of the Year. Cheryl Ehlers was honored as Volunteer of the Year. Cardiff 101 Main Street and Leucadia 101 Main Street — two other associations in the city serving their respective communities — shared this year's Partnership Award.
The Encinitas 101 MainStreet Association is a nonprofit organization that aims to preserve, improve and promote downtown Encinitas. Online: www.encinitas101.com.