Cool on the Coast: More than 20 sounds, sights and activities this season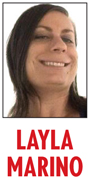 Southern California may not be seen by the rest of the country as the classic picture of winter traditions, but coastal North County has plenty of its own traditions for winter fun with a beach flare. Whether you're interested in holiday events, wintry light shows or concerts and art openings, the coast gets even cooler in December.
The Belly Up, Solana Beach: The folks at the Belly Up spent much of November helping with charities, raising money for surf cleanup and hunger projects. December brings a time to celebrate the season and the holidays, and the lineup this month at the Belly Up features concerts and parties that do just that. Here are a few of the events this month, but to see the full list and for ticket info, go to bellyup.com/calendar#2014-12.
Dec. 10: Tears for Fears — Another beloved '90s act, Tears for Fears, is on their first tour since 2011 and will stop at the Belly Up to perform classics such as "Shout" and "Sewing the Seeds of Love" as well as covers of modern bands' new songs such as Hot Chip's "Boy From School." This tour is adding fuel to the rumors that the band will be releasing its first album in 10 years sometime in 2015, so audiences may also be treated to some brand-new songs from the legendary duo. This show is currently sold out.
Dec. 16: Brian Setzer Orchestra Christmas Rocks Extravaganza — Three-time Grammy winner Brian Setzer has blazed a holiday trail with his own tradition of jive. The Belly Up will host the Brian Setzer Orchestra for its 10th annual Christmas Rocks Extravaganza. Setzer and the 18-piece brass band will play classic songs from the Stray Cats, Setzer's solo catalog and some holiday classics adapted for big band swing. This is a highly anticipated show every year and tickets have sold out quickly, but check your local radio stations to see if you might win a coveted seat for this night of swingin' holiday fun.
Dec. 20: Gnarlywood Presents the 12th Annual Ugly Turtleneck & Sweater Party — Surf and skate moguls Gnarlywood are once again throwing the biggest ugly holiday sweater party of the year. Gnarlywood was ahead of the trend when they created this fun-filled party in 2002, and the tradition continues with lots of ugly sweaters, turtlenecks and other garish holiday oddities that have now become a holiday tradition all their own. Get in on the fun this year and celebrate with drink specials, prizes and, of course, a judging to see whose ugly sweater takes the Christmas cake this year.
Dec. 28: The Aggrolites with the Creepy Creeps — This odd pairing of reggae and surf psychobilly will make for a fun and relaxed respite between Christmas and New Year's. The Aggrolites are touring extensively in 2015, and their Belly Up show kicks off this tour in support of nothing in particular — they just really like touring. Similarly, San Diego-based punky surf band The Creepy Creeps will open the show for the love of gigging. Both bands put on raucous and endlessly fun shows.
Dec. 30: Cracker and Camper Van Beethoven — Two classic indie bands will meet up at this last show before the Belly Up's New Year's Eve bash. Cracker is a raspy '90s pseudo-grunge band that gained pop fame with hits such as "Low" and "Teen Angst (What the World Needs Now)," and Camper Van Beethoven, though slightly less-known, has been gracing college radio stations since the early '80s with its most popular song being "Take the Skinheads Bowling." Both bands have been making a comeback as of late, each releasing a new studio album this year. This show is not to be missed as an indie double bill of these proportions doesn't happen very often, and only the Belly Up can make it so.
Holiday events: From Christmas to Kwanzaa, the North Coast has holiday fun almost every day in December.
Winter fun events: Do you love winter and want to find some events that take a break from the holidays but still celebrate the season? There's plenty to do involving art, nature and lifestyle both for adults and families that make winter pop.
Whether you're looking to get into the holiday spirit, imbibe some great bubbly or see some amazing shows this December, coastal North County has lots of options for everyone. We may not feel the winter chill here in San Diego as much as some other parts of the country, but with so many events, concerts and twinkling lights this season, the coast is still, as always, very cool.
Columnist Layla Marino is a San Diego music and arts writer. Visit dropweirdsci.blogspot.com. Follow her on Twitter at twitter.com/dropweirdsci. Send questions and comments to [email protected].