Encinitas chamber marks 50 years as business booster
Fifty years ago, the first of the "pony cars," the 1965 Mustang, was Ford's most successful launch since the Model A, "The Munsters" were introduced to television audiences, and Encinitas was less than a decade from the beginning of a significant suburban expansion. It was also the era in which the Encinitas Chamber of Commerce was founded.
Established in 1964, the chamber has been advocating for businesses in all regions of Encinitas — Old Encinitas, New Encinitas, Cardiff, Leucadia and Olivenhain. To celebrate its 50th anniversary, business and community members gathered Nov. 7 at the Encinitas Community Center to present the organization's Golden Awards.
Encinitas' first-ever elected mayor, Kristin Gaspar, installed the 2014-16 Board of Directors at the event, and those in attendance honored the award winners: Golden Ambassadors Suzanne Perez-Swanson and Sunshine Smith; Golden Non-Profit San Diego Botanic Garden; Golden Businesses Charlie's Foreign Car Service, Hansen Surfboards, Herman Cook Volkswagen, Nyberg Financial Services, Schmidt Electric and White Property Management; and Golden Volunteer Edgar Engert, known as "Mr. Encinitas Oktoberfest."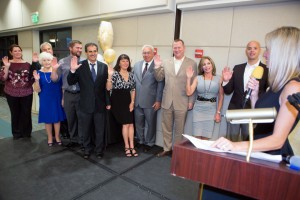 A different chamber
What really makes the chamber different than most is that it treats its members like family, said Mimi Gattinella, Encinitas Chamber of Commerce office manager.
"We are a smaller chamber and we treat our members like family. If you really think about it, when you get to know someone and know what they do for a living, then you are more apt to call them if you need someone that provides the services or products that they do," she said. "We are a laid back chamber of commerce, which mirrors the Encinitas lifestyle."
And while the economy has had its ups and downs, the chamber has remained steadfast in helping its members.
"It was a little scary a couple of years ago when we were soundly in the middle of a recession," Gattinella said. "You can't blame members who are small mom and pop businesses that have to decide whether to pay their chamber dues or their rent. Luckily, we, along with most of our membership, survived and are now back in full swing."
Happy, healthy
Today, there are 300 diverse members of the Encinitas Chamber of Commerce, according to Gattinella.
"Other than some small surfboard shapers, Encinitas has no manufacturing businesses," she noted. "Our businesses are mostly small retail establishments, professionals, restaurants, and bars and grills. Of course, having Scripps Hospital, we also have a healthy mix of medical professionals."
She said that, for her, the best part of being a part of the chamber is the people.
"I'm a people person … that is pretty important to be with the chamber. I like meeting the new members and seeing as many as possible at our monthly mixers," she said. "I also am the person who takes the photos at our ribbon-cutting events, and that is tremendous fun and good PR for our members. The most challenging is putting together the Encinitas Oktoberfest each year. Try throwing a city-wide party for 25,000 people … it results in a few sleepless nights."
Looking ahead
In terms of its future, the chamber plans on being around for many more years to come.
"The economy is roaring back, new businesses are opening monthly. Every town or city needs a chamber of commerce," Gattinella said. "It is extremely important for a vacation destination city to have a source where those visitors can obtain maps and other local information, and in Encinitas, the chamber of commerce has been the de facto Visitors Center for years. We feel that more visitors equates to more revenue for our local businesses, more tax dollars for our city and an overall healthy fiscal future."
By 2024, the Encinitas Chamber of Commerce will be 60, and in 2039, it will be 75. Gattinella said she looks forward to the chamber's tradition of community involvement to continue.
"I plan to be retired by then so it will be up to those running the chamber then to carry on the tradition and to celebrate it," Gattinella said.
Debbie L. Sklar is a freelance writer in the region