New coach, new outlook for San Dieguito Academy boys basketball
Last season didn't go quite according to plan for the San Dieguito Academy varsity boys basketball team.
A year removed from winning 19 games and advancing to the program's first CIF Division III quarterfinals, the Mustangs veered away from their winning ways and finished the 2013-14 season 6-21. To top it off, head coach Jonathon Reynolds had to resign his post due to personal matters.
SDA took a step in the right direction this August when it announced Jason Stewart would be its third varsity head coach in four years. Stewart has coached private high school and club basketball since he graduated from the University of Arizona in 1999, most recently leading the Santa Fe Christian High School junior varsity boys basketball team to four straight undefeated seasons in the Coastal League.
Beyond touting a solid resume, Stewart is a good fit for SDA because he can relate to the instability his players might feel entering this season.
"I sat down with the juniors and seniors and told them I understood their situation," Stewart told the North Coast Current. "I had three coaches in my four years in high school. It doesn't happen too often, but I happen to be in the same shoes."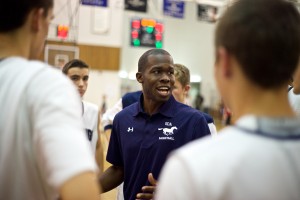 Stewart said he hopes to build this program's stability and consistency so that it can compete with school district rivals La Costa Canyon High School and Torrey Pines High School for the North County's talented crop of young basketball players.
But that's looking toward the more distant future — what about this year? What can high school basketball fans expect from the Mustangs in 2014-15?
"Well, you asked me something that requires a crystal ball, and I don't have one," Stewart said with a bright smile. "We have building blocks that we can definitely use, or in the case of San Dieguito, we have some horses that need grooming."
Building blocks such as 6-foot-4 senior forward/center Philip Paris, a top-notch athlete whom Stewart said will lead the team physically and allow the Mustangs to compete in any game, as well as 5-foot-11 junior guard Garrett Stone, whom Stewart coached in middle school and said has a "championship pedigree."
SDA does, however, lose seven seniors from last season, including 5-foot-8 guard Ty Gibson, who led the Avocado East League with five rebounds per game. They also lose 6-foot-1 guard Brendan Walsh, whose 12 points per game ranked fourth in league last year.
So it seems Paris and Stone will lead a relatively young team through a tough schedule this season. SDA plays in the Avocado East League with five other teams, four of which reached the San Diego Section CIF Playoffs last year: San Marcos High School, Escondido High School, Del Norte High School and Mission Hills High School.
"There's nowhere to hide (in our schedule)," Stewart said. "At the end of the day, we can't be fearful of anything. We have to say, 'It is what it is and let's go for it.'"
Stewart is also excited and humbled by the opportunity to help his players grow as men off the court. He said developing players' character is paramount because it will be important for life — much more important than draining a mid-range jumper.
"Even the great Michael Jordan had to retire," he said. "Who you truly are is going to be the person looking a for a job one day. Who you are is going to be the person that perhaps seeks a relationship one day, or perhaps becomes a father."
The Mustangs opened their 2014-15 campaign with a 2-point loss against school district rival Canyon Crest Academy and a 65-22 loss to Cathedral Catholic High School this week in the 2014 Horsman Automotive-Wolf Pack tournament.
These are the first few games in what Stewart hopes will be a long and meaningful career as the Mustangs' head coach.
"I hope to establish a program where players exemplify integrity, trustworthiness and depth of character," he said. "And I hope that that will be there long after I'm gone, whenever that time comes."
Matthew Bain is a San Diego freelance writer