ENCINITAS: Squeak Carnwath is Lux resident artist through July 11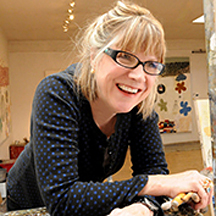 ENCINITAS — Lux Art Institute presents the works of Squeak Carnwath, the final of five resident artists at Lux during its 2014-15 season, June 13 through July 11. Carnwath builds her free-form paintings in layers, incorporating words, phrases and symbols in lush color. Carnwath's exhibit will be on view from June 13 to Aug. 8. A members-only reception is slated for June 12, 6-8 p.m. The public can see her work in progress Thursdays and Fridays 1-5 p.m. and Saturdays 11 a.m.-5 p.m. As part of Lux's Studio Series, the institute will also host a casual wine reception followed by an interactive discussion with Carnwath on June 25, 5:30-7 p.m. Current resident artist Ebony G. Patterson will continue her exhibition through May 30. Address: 1550 El Camino Real in Encinitas. More information: Call 760-436-6611 or go online to www.luxartinstitute.org.
The North Coast Current welcomes your community news. Submit upcoming event announcements to [email protected]. Submit stories and photos to [email protected].