2016 kicks off major construction at San Dieguito Academy
Math and science complex to replace former arts buildings; opening slated for fall 2017
Students, faculty, administration and staff of San Dieguito High School Academy will see some major changes at their campus this year.
The campus, which dates back to the 1930s, is undergoing extensive construction that will result in a new math and science building. The new classroom facilities are slated for completion in fall 2017.
Teacher and former science department chair Russ Davidson provided a mental picture of what the updated science labs will look like when the dust settles and new doors open. Moving away from the "old-school traditional" science labs (with lab tables anchored to the floor), Davidson explained that the new labs will provide a much more modern experience for students and teachers alike.
"The new labs will have movable tables with sinks along the perimeter," he said. "The movable tables will allow the kids to do their work, but we can configure (the classroom) differently … The capability for versatility is there, certainly. Obviously it depends on the size of classes as well as the types of labs activities that you do within each discipline but it certainly allows for a lot more flexibility and creativity on the instructional end."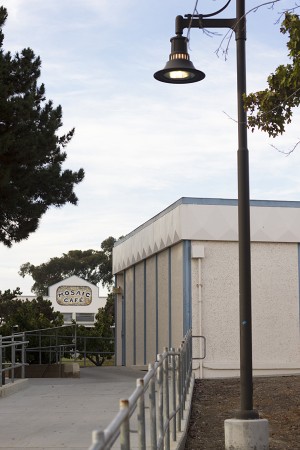 The new classrooms will also be equipped with modern technological features, including wifi — features that the outdated buildings, built in the 1970s, did not provide. In addition to these updated features, teachers and students will enjoy much larger classrooms, as well.
The new layout will combine the formerly separate classrooms and labs — approximately 800 square feet each — into one large 1,400-square-foot lecture-lab combination. This new space will allow for a much more customizable learning — and teaching — experience, Davidson pointed out.
He said instructors will have "the possibility of splitting a class into three different segments, where we lecture, go do a lab, come back and lecture, go do a lab or a portion of it." He also added that "not having to segue into a room saves us valuable minutes because it's already pretty short as it is."
"I think we're doing a very good job of involving the community, involving the staff, involving the administration concerns," Davidson added. "We've even involved student panels about what kind of school would you like, what do you think of these things? We've been talking about this building for five or six years now and the campus changes, and it was very much thought out about what kind of place we wanted to build for future students."
Funds for the project are provided entirely by Proposition AA, which was voted and approved by residents in November 2012.
The $449 million bond initiative is intended to "provide safe, modern schools and prepare students for success in college and careers by repairing and upgrading outdated classrooms and schools, construction and upgrading school facilities, including classrooms, science labs, and libraries, improving safety and security, and supporting career training and math, science, and technology instruction with 21st Century instructional technology and facilities," according to San Dieguito Union High School District information.
Academy Principal Bjorn Paige expressed his excitement about the modern additions to the school and the impact he believes it will have on his students.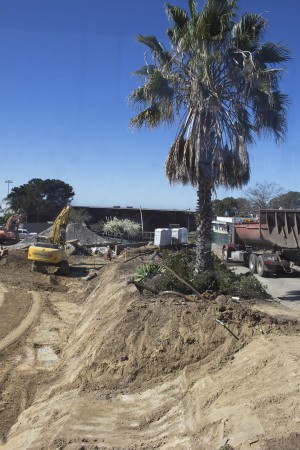 "I think there's a pride in seeing their school — not just the traditional buildings from the 1930s but (these) really beautiful buildings go up … You know, that's their school; that's where they learn," he said. "I think seeing that has a positive impact, too. We're a campus with lots of corners and lots of quirkiness to just the physical campus. We do have buildings that were built in so many decades over the past century and to see this beautiful new building right there in the middle of campus that complements all the other buildings on campus, I think it'll make the kids feel really good."
Until those beautiful new buildings are unveiled, students and staff alike must deal with the usual side effects of construction, including some noise, dust and the plywood walls that have been erected along the perimeter of the construction site, fencing it all in.
The students, however, have seen opportunity in those drab plywood walls, and murals have begun popping up around the construction site — the students' way of making the construction their own.
"As soon as we knew that construction was coming, we knew we wanted to make it ours," Paige said. "It's a pretty artsy school anyway. As you walk on our campus, you see lots of mosaics, lots of murals. It really is just a campus where that student artwork is front and center … We knew we wanted to put some energy into (knowing it was only going to be there for a year and a half) decorating (the plywood walls) and giving the kids the opportunity to create art and make that part of our campus."
The project is the second phase of a master renovation plan for San Dieguito Academy. The first phase included a new athletic field and stadium, as well as new tennis courts. Now that the focus has shifted to on-campus classroom facilities, the plan is to start in the middle and spin out from there, according to school district Executive Director of Planning John Addleman.
"The math and science building, the project we're doing right now, is at the center of the campus where we're taking down some existing 1970s buildings," Addleman stated. "So from that center hub, a future phase will be to spin out to the southeast corner of the campus where we will have a future arts and social sciences and English building so that way we handle classrooms in two phases, this one and the next."
Michele Leivas is a San Diego freelance writer