Cool on the Coast: Halloween is the theme for October
A roundup of events in Encinitas, Carlsbad, Solana Beach, Del Mar and Oceanside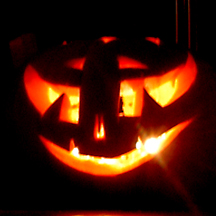 The air may not be crisp just yet and the leaves may not be turning, but fall is well underway in North County. Pumpkin patches have sprung up throughout the county and front yards have begun their annual transformation from manicured to menacing. Whether you're looking for some "spooktacular" family fun or a date night for two, there is plenty to choose from in your neighborhood.
Now through Oct. 31, 7-11 p.m. – Scream Zone: For you thrill seekers and horror aficionados, the Scream Zone opened at the Del Mar Fairgrounds on Oct. 7 and will run daily until Oct. 31. The Scream Zone features three separate (yet equally terrifying) attractions: the House of Horror, the Haunted Hayride or the Karnevil. Tickets can be purchased for one, two or all three of these attractions. According to Scream Zone's website, "Scaredy Cats are welcome to enter The Scream Zone compound at no charge if you want to wait for your children or hang with your friends but are too scared to enter the haunts." Discounted tickets for military personnel can be purchased at military base ticket offices. For more information, visit Scream Zone's website at https://thescreamzone.com.
Now through Oct. 31, 5-8 p.m. – Legoland: Brick or Treat: This month, Legoland extends its park hours every Saturday for the month of October for Halloween festivities, including character meet-and-greets, live entertainment and, of course, trick-or-treating at candy stations throughout the park. Activities will also include craft projects, costume contests and dance parties. For more information about the event, including cost of admission, visit https://www.legoland.com/california/legoland-california/entertainment/events/brick-or-treat-party-nights/.
Friday, Oct. 14, 5:30-8 p.m. – Monster Storytime: The actors of TERI Inc. will hold their "annual supernatural performance" at Oceanside's Star Theatre for a night of old-fashioned, family-friendly Halloween fun. Reception begins at 5:30 p.m.; the performance begins promptly at 7 p.m. Star Theatre is located at 402 N. Coast Highway. General admission for the performance is $15. More information on the show and ticket purchases can be found at http://www.startheatreco.com/box-office.
Friday-Sunday, Oct. 21-23, 10 a.m.-6 p.m. (Sunday, 10 a.m.-5 p.m.) – Harvest Festival: Original Art & Craft Show: If you want to take a break from Halloween but still want to enjoy the harvest season, come check out this three-day festival at the Del Mar Fairgrounds, which features hundreds of booths of handmade art, jewelry and more. Live entertainment, food and beverages will be onsite as well. General admission is $9; $7 for military and seniors; $4 for children. Children 12 and under are free. Fairgrounds parking is $10. For more information on the event, visit http://www.harvestfestival.com/del-mar.html.
Sunday, Oct. 23, 2-4 p.m. – Spooktacular Halloween Treats for Kids: Enroll your kids (ages 8-12) in this two-hour hands-on workshop at Sur La Table in Carlsbad where they'll learn to make three "spooktacular" treats just in time for Halloween. On the menu for this class is: one-eyed monster cookies, chocolate spider web cookies and witches fingers. Cost per child is $49. For more information on the workshop, including additional dates and times, can be found at http://www.surlatable.com/browse/storeCalendar.jsp?storeId=046&&offset=0#calendar.
Tuesday, Oct. 25, 6-8 p.m. – Beer & Pumpkin Carving at Culture Brewing Co.: For those of you who like to add barley and hops to your Halloween traditions, come check out the first "Beer & Pumpkin Carving" event at Culture Brewing Co. Tickets are $25 and will include your pumpkin, carving tools and your first pint of craft beer. To help spark some spooky creativity, Culture will play a Halloween film while you work (and drink – responsibly). Culture Brewing Co. is located at 111 S. Cedros Ave. in Solana Beach. More information can be found at http://culturebrewingco.com/upcoming-events/.
Saturday, Oct. 29, 10 a.m.-2 p.m. – Family Fall Festival: Families are invited to join in the fun at the San Diego Botanic Garden's festival. Little ones are welcomed to wear their Halloween costumes (sorry, grown-ups, you'll have to leave your costumes at home for this one) as they participate in themed crafts, decorate their very own pumpkin and more. Live entertainment will be onsite as will "farm-to-table entrees," provided by the O-Truck. More information on admission, location and other details is available at http://www.sdbgarden.org/family-fall.htm.
Michele Leivas is a San Diego freelance writer