Cool on the Coast: Check out these events for a spirited November
A roundup of events in Encinitas, Carlsbad, Solana Beach, Del Mar, Oceanside and Escondido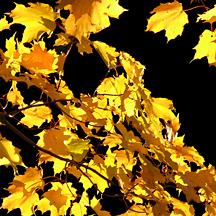 Michele Leivas
November 6, 2016
Hang on for a minute...we're trying to find some more stories you might like.
Halloween has come and gone. The candy has been separated and stashed. And the holiday trifecta is officially upon us. The Christmas enthusiasts have already pulled out the holiday music they've been dying to play since Oct. 1. The foodies are anxiously counting down to the Great Turkey Feast of Thanksgiving, preparing menus and planning table layouts. The rest of us are simply in shock that another year has flown by so quickly as we spy 2017 on the horizon. In between family gatherings, come check out these community events happening this month.
Monday, Nov. 7, 7:30 p.m. — Film Noir Unscripted: Join the actors of Solana Beach's North Coast Repertory Theatre for a night of improv set in the "dark and seedy underbelly" of 1940s Los Angeles. The performance is completely unscripted and actors work entirely off suggestions from the audience as they perform a "hard-boiled, completely improvised evening of seduction and murder." Tickets are still available and pricing begins at $25 (students with ID, military and seniors enjoy a discounted price of $22). Go online to http://northcoastrep.org/season/offnights.html for information on the show and tickets.
Friday, Nov. 11, 11 a.m. — Veteran's Day Salute: The Del Mar Thoroughbred Club, in collaboration with the American Legion, salutes our troops by hosting its annual Veteran's Day Salute at the Del Mar Fairgrounds. Tickets to the event include admission to the racetrack, a barbecue (12:30-3:30 p.m.) and half-off drinks and select beers. Live music will be performed by country artist Coffey Anderson following the races. Admission is $10 (concert admission only); $25 (general admission); or $50 (VIP admission). More event and ticket information is available online at https://www.dmtc.com/calendar/detail/vetsalute.
Saturday, Nov. 12 , 9-11 a.m. — Skate Rising for Girls: This free two-hour workshop is for all those aspiring skater girls who want to refine their skills on the skateboard. This is a revolving event at the Encinitas Community Skate Plaza (425 Santa Fe Drive) on the second Saturday of every month and is open to girls ages 5-18. During the event, participants will also "learn about a need in the community [and] help to address the need through a community service project," according to the event's website. More information on the event and sponsors can be found online at http://exposureskate.org/skate-rising/.
Wednesday, Nov. 16, 5-8 p.m. — Sip & Shop at Flower Hill Promenade: The shops at Del Mar's Flower Hill Promenade (2720 Via De La Valle) are staying open late for a special shopping experience. Participating stores will provide complimentary drinks and snacks for guests, who can also enjoy live music as they shop. This event is one night only. More information on the event's time and location can be found online at http://flowerhill.com/event/sip-shop/.
Saturday, Nov. 19, 7 p.m. & Sunday, Nov. 20, 3 p.m. — La Traviata: Experience the classic opera written by Giuseppe Verdi at the California Center for the Arts in Escondido. Performances are held this weekend, with additional show times slotted for Friday, Nov. 25 (7 p.m.) and Sunday, Nov. 27 (3 p.m.). Tickets are available for purchase online at http://artcenter.org/event/la-traviata/2016-11-19/, with prices ranging from $39 to $150. Discounted tickets ($25) are available for military, students and seniors by calling 800-988-4253 or visiting the box office in person.
Thursday, Nov. 24, 8-11 a.m. — O'Side Turkey Trot: Before you don your Thanksgiving pants and settle down for Thanksgiving dinner, come out and participate in the 11th annual Pacific Marine Credit Union O'side Turkey Trot in Oceanside. This traditional 5K walk/run is touted as "one of the Top Trots in the country by Runner's World Magazine" and invites participants to "move your feet before you eat." The event includes live entertainment throughout the course, and costume contests and free photos, medals and T-shirts are available for participants. Registration is open until Nov. 20. More event information and registration can be found online at http://www.osideturkeytrot.com/.
Saturday, Nov. 26, 12-4 p.m. — Craft Beer, Cider & Food Truck Festival: Come walk, eat and drink off the Black Friday stress at this one-day event at the Del Mar Fairgrounds. Pair craft beers and ciders (including special fall, winter and pumpkin brews) from more than 100 breweries with food from more than 30 food trucks onsite. Access to the festival is included with racetrack admission ($6). Packages of five 7-ounce tastings are available for $20 and full-size brews are available for purchase, as well. Live music will play throughout the event and access to the Beer Fest area is free of charge (and open to guests of all ages). More information on the event is available online at https://www.dmtc.com/calendar/detail/TruckCiderFest.
Saturday, Nov. 26, 5-7 p.m. — Gingerbread Festival: The third annual Gingerbread Festival kicks off on Nov. 26 and runs until Dec. 30 at Carlsbad's Omni La Costa Resort & Spa. Visitors can enjoy gingerbread creations made by "local San Diego bakers, Carlsbad & Encinitas school district students and holiday enthusiasts" in the resort's lobby. For more information, go online to https://www.omnihotels.com/hotels/san-diego-la-costa/things-to-do/resort-activities/holiday-activities.
Sunday, Nov. 27, 10 a.m.-4 p.m. — Festival of Trees: Enjoy a free Family Day for the Festival of Trees at the California Center for the Arts in Escondido. This is the third and final day of the festival and is free after you RSVP for the event. Guests will enjoy a visit from Santa (and photos) and other activities and entertainment, along with admiring the stars of the event: 25 "beautifully decorated holiday trees that will be sold along with a boutique featuring holiday times." For more information and to RSVP for Family Day, go online to http://artcenter.org/event/festival-trees-2/2016-11-25/.
Saturday, Dec. 3, 5-7:30 p.m. — Encinitas Holiday Parade: Come kick off December with the (free) Encinitas Holiday Parade along Coast Highway 101. Early birds can enjoy the tree-lighting ceremony at 5 p.m., with a special guest appearance by Santa over at the Lumberyard (by Starbucks). Parking is limited, but free shuttles will run from Scripps Memorial Hospital Encinitas off of Santa Fe Drive and YMCA/Ecke Sports Park parking lot on Saxony Road. The first shuttle begins at 4:30 p.m.; the last shuttle is at 8 p.m. Contact information: email nbuck@encinitasca.gov or call 760-633-2760.
Michele Leivas is a San Diego freelance writer