Cool on the Coast: February offers romance and fun for everyone
A roundup of events in Encinitas, Carlsbad, Solana Beach, Del Mar, Oceanside and Escondido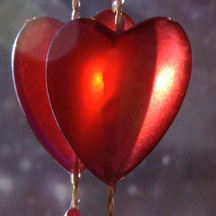 While the rest of the country is still in the throes of winter, North County is beginning to look forward to springtime now that February is upon us. There's still plenty to do this month besides planning elaborate, public declarations of love — or at the very least bringing home flowers and chocolate (I'm looking at you, gentlemen) — for your special someone, however. Check out these events in the North County region to find something that everyone in your family can enjoy.
Tuesday, Feb. 14, 6-9:30 p.m. — Valentine's Tasting Menu: If you're looking for something special to surprise your sweetheart with, check out this dazzling evening of delicious food at Kitchen 1540, located in the L'Auberge Del Mar. The menu includes a four-course menu, with multiple dishes to choose from for each course. Choices include oysters, Foie Gras Torchon, Wagyu Ribeye and several other tantalizing options. Reservations are required and can be made at 858-793-6460. Prices are $89 per person.
Wednesday, Feb. 15, 11 a.m. and 12:15 p.m. — Sensory Friendly KinderKoncert: Bring your little ones to this sensory friendly concert where children are encouraged "to move, dance, clap or otherwise express themselves along with their parents." Hosted by the Museum of Making Music in Carlsbad, this is a free event to families and is designed to "provide children on the autism spectrum a comfortable and friendly environment in which to enjoy the Symphony." Registration is required and can be done by phone (619-615-3911) or online. More details on the event, including registration, can be found at https://www.museumofmakingmusic.org/events/sensory-friendly-kinderkoncert.
Thursday, Feb. 16, 3 p.m. — Cheese Feast @ Del Mar: The title really says it all. Head over to Venissimo at Del Mar's Flower Hill Promenade for this all-you-can-eat cheese happy hour. The spread will include "the featured holiday season cheeses & charcuterie" and a glass of wine for each guest. Tickets are $25 per person. More information on the event and ticket purchases are available at https://venissimo.vendecommerce.com/class-schedule/products/02-16-cheese-feast-del-mar.
Friday, Feb. 17, 10 a.m.-5 p.m., and Saturday, Feb. 18, 9 a.m.-5 p.m. — Junk Bonanza Vintage Market: There is truth to the saying, "One man's trash is another man's treasure" and the Del Mar Fairgrounds' Junk Bonanza Vintage Market is the very embodiment of that adage. This event is perfect for "purveyors & shoppers of vintage finds, beautiful antiques & artisan-repurposed pieces." Magazine signings, painting classes and other activities will be held throughout both days as well. Tickets are $10 per person (children 12 and under are free); fairgrounds parking is $13 per vehicle. Information on the event, workshop schedules and a list of other market activities is available at http://junkbonanza.com/.
Wednesday, Feb. 22, 4-8 p.m., and Thursday, Feb. 22, 6-8 p.m. — "The Lion King, Jr." Auditions: Oceanside's Star Theatre Coast Kids is holding a two-day open auditions event for its upcoming production of "The Lion King, Jr." Auditions are open for young actors and actresses ages 7 to 18. Participants must bring a headshot (school photos are fine) and must "come prepared with 16 bars or one-minute of an audition song in the style of Disney or classic musical theater with CD (preferred) or smartphone accompaniment (please, no background vocals and no a cappella singing)." Those interested must schedule an audition appointment online. Callbacks will be held on Feb. 25. More details on the auditions, scheduling an appointment and the production itself are available at https://www.startheatreco.com/auditions.
Friday, Feb. 24, 10 a.m.-2 p.m. — Go Red for Women Luncheon: Reserve your seat for the 14th annual Go Red for Women Luncheon, hosted by the American Heart Association. The luncheon will celebrate all the work AHA has done to combat heart disease as well as raise awareness of the dangers of heart disease in women and how to prevent it. The Go Red for Women campaign "encourages women and their families to take action and live a healthier life." The luncheon will be held at the Fairmont Grand Del Mar. Tickets begin at $175 per plate and are available for purchase up until Feb. 22. Go to https://ahasandiego.ejoinme.org/MyEvents/20162017SanDiegoGoRedLuncheon/GoRedLuncheonInfo/tabid/770408/Default.aspx for more information on the event.
Thursday, March 2, 7:30-9:30 p.m. — Circus Vargas: Bring the family to check out Circus Vargas. Tent doors open March 2-13 at the Westfield North County shopping center (272 E. Via Racho Parkway, Escondido). Circus performers will transport their audience into the world "Steam Cirque," where steampunk and science fiction reigns supreme. Early birds to the event will enjoy a 45-minute interactive show with performers, where little audience members can learn circus staple trades, like juggling or balancing. More information on the circus, including ticket pricing and purchases, can be found at http://www.circusvargas.com/.
The North Coast Current welcomes Current Events submissions. Email them to [email protected].