Cool on the Coast: From fairs to fundraising, April events spring ahead
A roundup of events in Encinitas, Carlsbad, Solana Beach, Del Mar, Oceanside and Escondido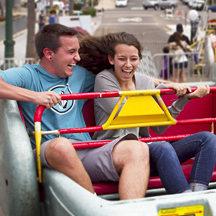 If the Flower Fields of Carlsbad are anything to judge by, spring has definitely sprung in San Diego. While winter doggedly clings to the Midwest and East Coast — and even Northern California — San Diego is enjoying the trademark weather for which it is known. As we inch closer to summer and the endless outdoor events and activities it brings, there are more and more reasons to pack up the family or simply that special someone and enjoy everything your community has to offer.
Saturday, April 15, 10 a.m.-noon – Community Easter Egg Hunt: Hosted by Oceanside's Lighthouse Christian Church (4700 Mesa Drive), this Easter egg hunt is open for children ages two through fifth grade. This free event will also include an arts and craft table, bounce houses and snacks. Information online: http://lightcc.org/events-2/.
Saturday, April 15, noon-4 p.m. – Pairings with a Purpose: Feeding San Diego, "the leading hunger-relief organization in the county," is hosting its second annual charity event, "Pairings with a Purpose," at the Bobby Riggs Tennis Club and Museum in Encinitas. A roster of more than 20 of the county's top chefs will collaborate with recognized breweries and wineries throughout the county to create exquisite pairings for guests to enjoy. Live music and other entertainment will be provided as well. Registration for the event is still open; general admission is $75 per person; VIP tickets are $150. One hundred percent of the event's proceeds will go directly to "will help to support critical programs that provide meals to children and families during the summer months, when thousands of children lose access to school breakfast and lunch programs." Please note, this event is for guests ages 21 and up. More information on the event and ticket purchases can be found at https://feedingsandiego.org/events-campaigns/pairings-purpose/.
Friday, April 21, 7-9 p.m. – Uncorked for a Cause: Grab some of your favorite wine tasting friends and team up for an evening of friendly competition and blind wine tasting to benefit the Boys and Girls Club of San Dieguito. Teams can consist of one, two or three people and "are required to bring 3 of the SAME bottle of wine in order to qualify for the competition." Online registration is open until 11 a.m. the day of the event and is $30 per person. Walk-ups at the door are welcome, but will pay an admission of $40 per person. The event will be held at the BGC San Dieguito's Griset Club and Garden in Encinitas (1221 Encinitas Blvd.). Event details and online registration are available at https://interland3.donorperfect.net/weblink/weblink.aspx?name=E10137&id=35.
Saturday, April 22, 7 p.m. – A Night at the Copacabana: For one night only, Fairmont Grand Del Mar's Club M will be transformed into New York's storied Copacabana. Live music will be performed from 7 to 10 p.m., followed by a DJ from 10 p.m. to 1:30 a.m. If you wish to fully immerse yourself in the theme of the night, come wearing your best showgirl or gangster outfits to participate in the costume contest. More details are available at http://www.fairmont.com/san-diego/dining/club-m/.
Saturday and Sunday, April 22-23, 10 a.m.-5 p.m. – Oceanside Days of Art: Come enjoy a weekend of creativity and artistic expression at the 25th annual Oceanside Days of Art. The festival will be held at the intersection of Coast Highway and Pier View Way and is free to attend. The two-day art festival "has live stage performances, children's and adult's hands on art activities, street chalk artist, painting and sculpture demonstrations, and a delicious variety of food choices in the food court." The Oceanside Museum of Art is offering half-priced admission that weekend as part of the festivities to its indoor exhibits and will also be hosting children- and family-friendly art projects on its terrace. More information on the event can be found at http://www.ocaf.info/oceanside-days-of-art/.
Saturday and Sunday, April 29-30, 10 a.m.-4 p.m. – Canine Companions Benefit: Artist Cathy Cary is opening her Escondido art studio and gallery (2048 Ridgecrest Place) for a two-day charity benefit to support the Canine Companions for Independence, a non-profit organization "that enhances the lives of people with disabilities by providing highly trained assistance dogs and ongoing support to ensure quality partnerships." A $10 donation is suggested at the door; Cary has promised a $5 match for every donation she receives through the weekend. Live music and appetizers will be provided for guests as they tour the studio and accompanying gardens. Information on the event, the studio and the artist can be found at http://cathycareygallery.com/Events/Index.php.
Saturday and Sunday, April 29-30, 9 a.m.-5 p.m. – Encinitas Spring Street Fair: Since 1983, Encinitas has welcomed thousands of guests to this annual (free) event, which showcases local artisans, merchants, restaurants and musicians. A six-block stretch of South Coast Highway is blocked off to car traffic and is transformed into a corridor of vendor booths for guests to peruse as they stroll up and down the panoramic downtown location. The Pacific Ocean is just two blocks away if you need to take a break from the crowd. More information online: https://encinitas101.com/2017/01/29/hello-world-4/.
Sunday, April 30, 10 a.m.-4 p.m. – Spring Bridal Bazaar: This annual bazaar is San Diego's one-stop shop for everything you could possibly need to plan your dream wedding has consistently been voted "best bridal bazaar" by San Diego brides each year. Brides- and grooms-to-be can speak with the "nearly 200 of San Diego's most trusted wedding professionals" who will be in attendance at this event, which will be held at the Del Mar Fairgrounds. Find everything you need from vendors to photographers to florists and everything in between. Tickets can be purchased online for $12 or pay $15 at the door. Children 12 and under are free. Event details and ticket purchases can be found at http://www.bridalbazaar.com/.
The North Coast Current welcomes Current Events submissions. Email them to [email protected].