Greg Joumas: Ad exec known for Jack in the Box campaign
Advertising executive and Olivenhain resident Greg Joumas, known for enhancing the development of the "Jack" character in TV commercials for the San Diego-based Jack in the Box restaurant chain, has died. He was 54. A memorial mass with his cremated remains will be held June 24 at St. Mary Catholic Church, 30 South Lafayette Ave., Royal Oak, Michigan. Burial will be in Florida in a private ceremony.
A sister, Barbara Arnold, of Brown City, Mich., said Joumas died of natural causes. He was seen at his Olivenhain home picking up the Sunday newspaper on May 7. He was found deceased in bed on May 9.
Joumas graduated from Dondero High School in Royal Oak, Michigan, class of 1980, followed by earning a bachelor's degree in advertising from Michigan State University. His career included working in advertising positions with ad agencies and companies in Southfield, Michigan, Chicago, San Francisco and then San Diego.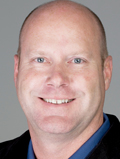 Joumas joined Jack in the Box in June 1999 as division VP of advertising and marketing communications and he held that title until he left the company in October 2009. Although the "Jack" character returned to advertising campaigns in 1995, Jack in the Box officials confirm that Joumas was instrumental in overseeing the award-winning advertising campaign during his decade with the company.
Joumas was the youngest of five siblings. He is survived by sister Barbara Arnold and brothers George Joumas of Scottsdale, Arizona; Ray Joumas of Haymarket, Virginia; Ray Joumas of Concord, Massachusetts; and 12 nieces and nephews. Greg Joumas' wife, Lisa, passed away at age 49 in May 2013.
In San Diego, Joumas served as president, chairman and chairman emeritus of SDX, formerly the San Diego Advertising Club. He joined the San Diego Ad Club board of directors in 2006 and served as president in 2008.
Joumas was a 2008 recipient of the Silver Medal Award, a lifetime achievement award for outstanding contributions to the advertising industry, from the American Advertising Federation, a national advertising industry trade group. He also served as a judge for several advertising competitions, including Effie Worldwide.
"Greg had friends in the advertising industry all around the country," said Sheila Fox of Fox Marketing Network and former Ad Club/SDX executive director. "He was the guy who brought such high-profile personalities as Dan Wieden (Wieden + Kennedy), Jeff Goodby (Goodby Silverstein & Partners) and Mike Hughes (Martin Agency) to San Diego for unforgettable evenings of conversation as part of the Ad Club's Legends Series. Greg loved being part of the Ad Club board and creating events to bring together the advertising community here in San Diego. He also enjoyed mentoring the young up-and-comers from Ad 2 San Diego and helping to shape their careers."
After Jack in the Box, Joumas consulted in various advertising roles. In 2010, he joined Bailey Gardiner as senior VP of client services and then transitioned into the same position when the agency changed its name to i.d.e.a. He left i.d.e.a. in 2012.
"Greg was a consummate ad man," said Jon Bailey, founder and chief relationship officer of i.d.e.a. "His experiences working on brands like Jack in the Box, Jeep, Kia, Little Caesar's and more all led to a remarkable repertoire of stories from around the world. Enormously affable and likable, Greg was respected for his career accomplishments and particularly for his willingness to share his expertise and mentor young professionals getting started in the advertising business. He led the San Diego Ad Club as president of the board for two important years, bringing the organization much-deserved national acclaim and notice. He will be greatly missed as friend and colleague to many."
Joumas also served on the board of several community nonprofits, including the Century Club, host of San Diego's annual PGA golf tournament, and the National Multiple Sclerosis Society.
"Greg joined our board of trustees in 2010 and he generously gave of his time and treasure to improve the lives of those affected by multiple sclerosis," said Richard Israel, chapter president of the National MS Society in San Diego. "His empathy ran deep for people facing difficulties."
The family requests that memorial donations be sent to the San Diego Advertising Fund for Emergencies (www.SafeSanDiego.org). SAFE is a volunteer, nonprofit organization providing confidential financial assistance to San Diego-area advertising and marketing professionals and their families facing a life crisis emergency.
Obituaries are submitted for publication by families and outside agencies, and are not produced by the North Coast Current. To submit a free obituary, email [email protected]. Paid obituaries, where loved ones can submit material tailored to their specific needs, are also available.