New Ecke school principal to start July 1
Encinitas trustees OK hiring of Amanda Rothengast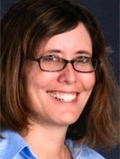 Paul Ecke Central Elementary School will officially have a new principal starting July 1, the Encinitas Union School District recently announced.
The appointment of Amanda Rothengast to the position was approved by the EUSD Board of Trustees at its June 6 meeting. Rothengast grew up in coastal North County, attending school in Del Mar, according to an EUSD announcement.
Rothengast comes to Encinitas from the Hoover School in the Redwood City School District, where she served as principal for nine years. With more than 20 years in education, she received a bachelor's degree in American Studies and Spanish from UC Davis.  She also holds a master's degrees in Language and Literacy and Educational Administration from San Francisco State University.
In 2016, Rothengast was named Region 5 Principal of the Year in San Mateo and San Francisco County by the Association of California School Administrators.