July games, races, pro surfing keep summer super
A roundup of events in Encinitas, Carlsbad, Solana Beach, Del Mar, Oceanside and Escondido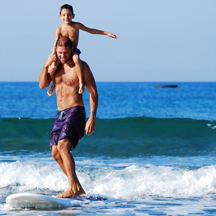 Michele Leivas
July 14, 2017

July in San Diego is synonymous with a few things: fireworks, beach days and, of course, Comic-Con. While thousands flood downtown San Diego, check out some alternatives in North County that are decidedly less crowded but just as fun (and a lot less expensive). From music to horse races, art to marathons, there is no shortage of fun to be had beyond the realm of comics this month.
Monday, July 17, 6-8 p.m. — Library Got Game: Board game enthusiasts should definitely clear their calendar this evening for a night of adult fun at Carlsbad's Georgina Cole Library (1250 Carlsbad Village Drive). Featured games include Walking Dead Bang, dice and cards games, Harry Potter Hogwarts Battle decks, Deadpool Yahtzee, Telestrations, Tickets to Ride and Scrabble. The event is free but registration is required. To register, call the library's information desk at 760-434-5091.
Wednesday, July 19, 11:30 a.m. — Opening Day at Del Mar Racetrack: It doesn't feel like summer until you can bust out those fancy hats for opening day at the Del Mar Racetrack. Gates open for the 2017 season at 11:30 a.m. with post time first race scheduled for 2 p.m. Big hat lovers can enter the Opening Day Hat contest between 11:30 a.m. and 3 p.m. in Plaza de Mexico for a chance to win spectacular prizes befitting of spectacular hats in one of five categories. Those seeking a more VIP Opening Day experience can purchase tickets for The Party on Opening Day. For $35 per person, these tickets will get you exclusive access to the Stretch Run, dance floor and games tent, private cash bar of more than 20 craft brews and signature cocktails, photo booth, activities and more. More information on Opening Day, The Party and the Opening Day Hat Contest (including ticket purchases) can be found here: https://www.dmtc.com/calendar/detail/opening.
Thursday, July 20, 5:30 p.m. — Encinitas Cruise Nights: Bring the family for an evening of live music, classic cars and hot rods at Encinitas Cruise Nights. These vintage automobiles will line Coast Highway between D and K streets every third Thursday of the summer months for a fun (and free) evening for all to attend.
Thursday, July 20, 6 p.m. — Steam Powered Giraffe — The Singing, Musical Automatons: Head over to the California Center for the Arts Escondido for a one-of-a-kind evening of "robot pantomime, puppetry, ballet, comedy, projections, and music" as performed by San Diego's own robot band. General admission tickets begin at $25 per person with a VIP option for $80, which includes exclusive access to the band's sound check and a VIP goodie bag. Performers will be available after the show for autographs. Doors open for the VIP sound check at 5:00 p.m.; general admission doors open at 5:30 p.m. For event details and ticket purchases, go to http://artcenter.org/event/steam-powered-giraffe-2/.
Saturday, July 22, 8:30 a.m.-2 p.m. — Kids Obstacle Challenge: Parents and kids can get their marathon on in this one-day event at Kit Carson Park in Escondido. The Kids Obstacle Challenge is "an adventure and obstacle course event series for kids ages 5-16, with 10-15 fun and challenging obstacles and lots of mud." As a bonus, the fun isn't just for kids: Parents can run with their children for free. Registration is $46 per child and ends on July 21. It includes one kid ticket, free parents, a race medal and race photos. Additionally, each participant will receive a goodie bag and post-race snacks. Unlimited re-runs will be available for $5 for those who had so much fun, they want to do the whole thing over again. Starting times begin at 8:30 a.m. and continue every half hour until 2 p.m. Participants are requested to arrive one hour before their start time. For event information and registration, go to http://www.kidsobstaclechallenge.com/sandiego.
Sunday, July 23, Noon-3 p.m. — Family Fun Festival: Bring the family for an afternoon of good old-fashioned family fun at the Flower Hill Promenade in Del Mar. This free event offers all the usual trademarks of a good time for the little ones including: petting zoo, pony rides and face painting. While you're there, be sure to explore five "uniquely themed playhouses designed and built by local teams of architects and builders," which will be auctioned off to support local charities. Bids can be placed online at https://www.auctria.com/ev?site=62262d8d-6924-4653-8a62-00f23929374d from July 23 to 30. Free parking is available in the parking structure behind Whole Foods. While the event is free, registration is required. To register or learn more about the event, go to https://www.eventbrite.com/e/inbloom-playhouse-auction-and-family-fun-festival-tickets-32129451053.
Tuesday, July 25, 6-9 p.m. — A Bottle of Wine for Two: This evening of art and wine at Cardiff-by-the-Sea's Wine Steals is a perfect alternative to the typical Taco Tuesday activities. Bring your wife, husband, boyfriend, girlfriend or best friend and be ready to try your hand at recreating an original piece of artwork. No experience is necessary and instructors will walk all aspiring artists step-by-step through the creative process. Wine and snacks are available for purchase from Wine Steal's menu. Tickets are $35 per person and include all the materials required for the evening (except for wine and food). To register, click here: https://sites.cimplebox.com/events/registration.aspx?s=3712&c=1999&eid=328200&r=0.8151664.
Friday-Sunday, July 28-30, 8 a.m.-6 p.m. — Supergirl Pro: With three days to choose from, surf enthusiasts have plenty of time to come check out 100 of the world's best female surfers compete in the Supergirl Pro competition. Watch these fearless competitors battle it out on the water at Oceanside Pier and cheer on crowd favorites, including defending champion Coco Ho and former champions Malia Manuel, Lakey Peterson, Courtney Conlogue and Sage Erickson. Be sure to check out the Festival Village, which will include a brand-new Food Truck Experience, live music, a beer garden and more. Event details, including a full schedule for the entire weekend, is available here: http://supergirlpro.com/.
Saturday, July 29, noon-6 p.m. — Gourmet Food Truck Festival: Skip breakfast and come hungry for the seventh annual Gourmet Food Truck Festival at the Seaside Concert area at Del Mar Racetrack. Forty food trucks are expected, offering delectable bites from "gourmet chefs serving their eclectic bests at super prices." Access to the event is free with paid racetrack admission; children under 18 are free with accompanied adult. For more details on the event, go to https://www.dmtc.com/calendar/detail/truck.
The North Coast Current welcomes Current Events submissions. Email them to [email protected].