New principal joins Oak Crest Middle School in Encinitas
North Coast Current
August 7, 2017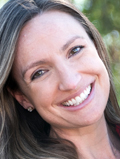 Oak Crest Middle School in Encinitas is set to start the academic year under new leadership, the San Dieguito Union High School District announced.
Brieahna Weatherford, until recently a vice principal at San Dieguito Academy, started her job as principal at Oak Crest on Aug. 1, according to the district's announcement. Weatherford replaced Ben Taylor, who was principal at Oak Crest since 2015.
Weatherford began her teaching career in the San Dieguito district as a summer school math teacher, substitute and adult education teacher, later serving various roles at Escondido High School. She went on to serve as assistant principal at Mission Vista High School in Oceanside, part of the Vista Unified School District, before returning to San Dieguito in 2015, when she was hired as a vice principal at San Dieguito Academy.
Weatherford recently completed her doctorate in educational leadership from UC San Diego, according to the district. She received her bachelor's degree from UC Santa Barbara, and teaching credential and master's degree from National University.