San Dieguito Academy opens new math and science building
Encinitas high school to hold ribbon-cutting Sept. 29
There's a new math and science facility at San Dieguito High School Academy. The building officially opened this fall semester and is now being used to hold the school's classes in those disciplines.
A ribbon-cutting ceremony for the building will be held during the lunch hour, around 11:30 a.m., on Tuesday, Sept. 29. Work on the 17-classroom facility was completed in August, capping about 18 months of construction.
The two-story structure — which is centrally located on the Encinitas campus and replaced an early 1960s complex for art, theater, speech and related disciplines — houses 11 science classrooms, eight general purpose classrooms and two teacher workrooms. Compared to the old science and math facilities, the new building has much more space and updated equipment. That includes additional sinks for science classes, chemical storage for the school's chemistry labs and two large prep spaces that essentially run the length of the building on each floor, said Mike Coy, San Dieguito Union High School District's chief facilities officer.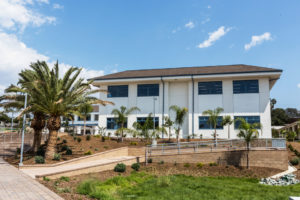 But aside from having more room and additional facilities for instruction, the new building has brought many of the school's science and math classrooms thoroughly into the digital era, according to Principal Adam Camacho.
"All of the instructional technology that you could ask for in a 21st century classroom is dialed in," Camacho said.
The technology additions range from building-wide Wi-Fi to whiteboards that can digitally transcribe notes and drawings to a computer. In the science classrooms, many of the facilities are akin to "what you'd find in a university," Camacho added.
Most of the school's buildings are decades old and some have historical significance. That means, for some staff, some of the most noticeable features are also the simplest. According to math teacher Paul Brice, some of the bigger additions for him are the building's bathrooms and storage space.
"My other classroom had nothing, it was just four walls and a ceiling," Brice said. "And no built-in storage, no water, no plumbing. So that's a huge upgrade."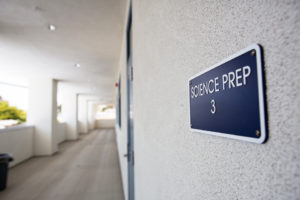 The new building is just one of several simultaneous projects funded by Proposition AA, a $449 million bond initiative passed by voters in November 2012.
Over the summer, eight out of the 10 schools in the San Dieguito Union School District had some construction or renovation occurring, seven of which were multi-million-dollar projects, according to Coy.
The district recently marked the opening of the fully rebuilt Earl Warren Middle School in Solana Beach with a ribbon-cutting Aug. 25.
There are also plans for a new performing arts center at Torrey Pines High School, a science wing at Oak Crest Middle School and various minor renovations throughout the district's schools.
At San Dieguito Academy, specifically, the district recently completed a host of technology infrastructure upgrades across the campus, with other renovations currently ongoing. The school also has more buildings in the works, including a new culinary arts facility, which should be completed by November and opened by the end of fall break, Coy said.
Additionally, the district has already broken ground on a 33-classroom arts and humanities building that will house the school's English, art and social science departments. That building will be over 40,000 square feet and has a tentative completion date of June 2019, according to Coy.
Caetano Garcia, a freshman, has his homeroom in the new math and science building. Although he never had classes at the old facilities, he says the new classrooms seem like a "huge upgrade."
"The building is freshly painted and some classrooms even have ocean views," Garcia said. "It's really amazing and I think was a great addition to the school."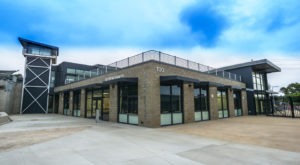 Principal Camacho has been serving in the district for 18 years, but this is his first semester at San Dieguito High School Academy. Camacho was formerly the principal at Earl Warren Middle School before taking over for his predecessor at San Dieguito, Bjorn Paige, in July.
While at Earl Warren, Camacho said he oversaw the demolition of an old campus, the design and building of an interim campus, and the construction of an entirely new campus. Now, at San Dieguito Academy, Camacho has taken on another role with significant construction-related duties.
"(Construction) is something I have experience with, and a process that I really, really enjoyed having a part in," Camacho said.
Although he has not been at San Dieguito for long, Camacho said that he was able to share some of the validation with those who had been working on the math and science building for longer. Even during pre-semester activities for incoming freshmen, he said students were amazed at the new construction.
"Even back then, just to see the jaw-dropping expressions, and just to be a bystander and hear some of the comments," Camacho said. "That's the most validating part. That's why we do what we do."
Mike Peterson is a North County freelance writer