Old-school bookselling is new again at revived Crown Books in Encinitas
In a busy strip mall on the north end of El Camino Real, a familiar bookstore from the '80s and '90s has opened its doors once again in Encinitas.
Just this past June, Crown Books, once the third largest bookstore chain in the nation, opened its fourth location in Southern California. There are now three stores in San Diego County and one in Los Angeles.
Crown Books filed for bankruptcy in 2001 and had to liquidate its assets, including its name, which then went up for sale at a business auction.
"A local bookstore here in San Diego won the bid," said Kelvin Thurston, manager of the Encinitas store and 17-year employee of Crown Books under owner Andy Weiss.
Weiss owned A & S Bargain Books with his wife, Solange, and when he won the right to use the name Crown Books, he combined his business model of buying, selling and trading books with the well-known name of Crown Books to forge a new road of selling printed books in this now-digital era.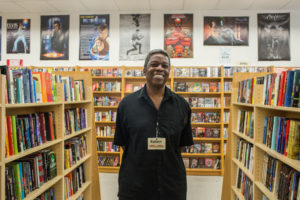 According to Thurston, A & S Bargain Books dealt primarily with what was known as remainders.
"Remainders are what is overstock from the publishing companies," Thurston said. "Original Crown Books sold a large percentage of remainders as well."
Since Weiss already had extensive knowledge in operating a book business that was similar to what Crown Books had always done, he was able to combine that with allowing people to not only buy discount books, but also sell or trade their own books to the bookstore.
"In here, this is actually a bookstore," said Todd Yargeau, a customer browsing the shelves on a Tuesday afternoon. "This is a little therapeutic."
Since e-readers, for example Kindle or Nook, hit the scene in the 2000s, the business of printed books faced a challenge and cities across the country saw their bookstores go under. With the accessibility that an e-reader gives, anyone can read anything from a number of digital devices.
"That's really changed the market and made it more difficult to be profitable," Thurston said.
Pew Research Center conducted a survey and published its findings in an article in 2016 that showed while more Americans are using e-readers, tablets or smartphones, it's still books in print that are more popular.
According to Pew, 65 percent of Americans had read a printed book in the previous 12 months, and that figure is "more than double the share that has read an e-book." Seventy-three percent of Americans have read a book in some format in the previous 12 months, and that number is largely unchanged from 2012.
The 2016 survey and report also found the same data that previous Pew studies have found, which is college students, young adults and women are still among those Americans that "read at relatively high rates." Women are still more likely to read books than men and women are also more likely to read a printed book.
"I would rather have something three-dimensional," Yargeau said as he held a book in his hands.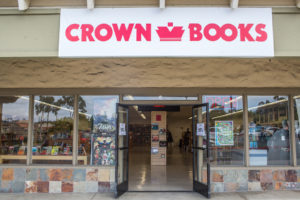 According to the study, even though people are still choosing printed books when it comes to reading, there has been a shift when it comes to reading digitally. More people are reading from their phones or tablets than ever before as opposed to a designated e-reader.
Because reading books has gone digital, Thurston said he and Weiss often discuss what the vision is for Crown Books in this new digital world. Both have recognized since the bookstores that specialized in being a buy-sell-trade have gone away, that hasn't necessarily meant the customers have gone away as well.
"Not only have the larger book store companies closed down, but a lot of the small, independently owned bookstores have closed down as well and they did a lot of the buy-sell-trade," Thurston said. "But now they're not there anymore. So, people who are used to buy-sell-trade in the local area have found us."
Thurston said that even though the Encinitas location has only been open for a few months, it is doing more buy-sell-trade than its other two locations in San Diego County.
There's only one small problem. The Encinitas location, 260 N. El Camino Real, Suite G, is on a temporary lease, which means if another business wants that spot and is willing to pay the full rent, Crown Books will have to pack up and move.
"When you offer to take over a location as a temporary location, then they automatically give you a lower rate," Thurston said.
Thurston doesn't think this means Crown Books in Encinitas is going anywhere any time soon, especially since it seems to be serving the local community and has brought something back that's been missing in recent years.
Standing in between the aisles of books, Yargeau said he would take books over a Kindle anytime.
"I've always been a paper person," Yargeau said. "I'll die being a paper person."
Meghan Lanigan is a local freelance writer