No Go: Disappointment, questions remain after unconfirmed Amazon Encinitas store announcement
Within the past week, Encinitas residents and city officials went from excitement to confusion about whether or not Amazon was opening an Amazon Go store in downtown Encinitas at the previous Whole Foods Market location in the Pacific Station center on South Coast Highway 101.
It began at the start of November with a poster in the window of the now-vacant Whole Foods and ended with a statement from Amazon officials to local media saying that it was not bringing Amazon Go to Encinitas and the company had no association with a website bearing its name. That website, www.amazonencinitas.com, is no longer operational. According to an Internet domain registration search, the website domain was claimed for one year starting Oct. 28 with a privacy block in Canada.
"It's very strange," said Irene Pyun, interim executive director of the Encinitas 101 MainStreet Association. "Somebody out there just made a website."
Pyun also referred to the poster and said she originally thought it was taped to the inside of the window, but then realized differently.
"It was on the outside," Pyun said.
Encinitas Mayor Catherine Blakespear said in an email statement for this story that she was disappointed and wondered if "some hopeful resident was trying to plant the idea for consideration."
"It would be a great fit for our community," Blakespear said.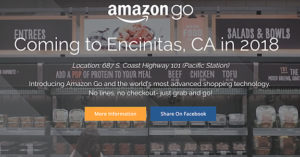 Pyun mentioned something similar — guerrilla marketing. This form of marketing uses unconventional tactics in hopes of achieving bigger results.
Pyun wondered if Amazon, or someone else, could be using this type of marketing "so everyone is aware of what Amazon Go is."
According to Amazon's website, "Amazon Go is a new kind of store with no checkout required."
The idea is that shoppers will never have to wait in line. Amazon calls it the "Just Walk Out Shopping experience," where a person can use the Amazon Go app, enter the store, take (or put back) products, and the app will keep track of purchases and charge the Amazon account holder accordingly without the shopper ever having to interact with a checkout clerk.
"It's a logical assumption it would be true," Encinitas Chamber of Commerce CEO Bob Gattinella said about the possible Encinitas Amazon Go location.
For Gattinella, all the information seemed to line up. Amazon bought Whole Foods this year. The Encinitas location has been closed since February and Gattinella said he thinks Amazon is still paying the rent.
"If Amazon needed to do a test location, the Encinitas location would make sense," Gattinella said.
According to Retail Insite, a commercial real estate company in Solana Beach, the former Whole Foods location is still up for lease. The 25,000-square-foot location is 13 times bigger than the Amazon Go Seattle location, which is currently 1,800 square feet.
The Seattle store opened December 2016, although not to the public but instead to Amazon employees in order to test the technology before having it go mainstream. According to Amazon's promotional video for the Seattle store, a grand opening was slated for some time in the beginning of 2017, but that has not happened.
The Pacific Station center is owned by the Loja Group and is managed by Capital Growth Properties Inc. Calls to Capital Growth Properties Inc. went unreturned.
Gattinella said he has a lot of hope that Amazon will put something where the Whole Foods store was, whether it be an Amazon Go store or a drop-off/pick-up location.
"Our 101 area could use another boost," Gattinella said. "I would never say never."
Meghan Lanigan is a local freelance writer