Cool on the Coast: January, with a side of coffee or tea
A roundup of events in Encinitas, Carlsbad, Oceanside, Escondido and the region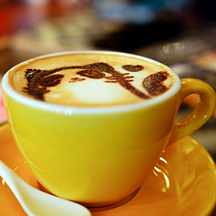 It's the season for resolutions, clean slates and the kind of optimism and confidence only a fresh new year can bring. Whether your "new year, new me" mantra involves hitting the gym and eating healthy or simply recommitting yourself to the goals you were already pursuing in 2017, there is nothing quite like facing a brand-new year and wondering what it has in store for you. To get you started with new experiences in the new year, here are some community events happening in your area the rest of this month.
Sunday, Jan. 21, 8-11:30 a.m. — VCTA Daley Ranch Hike: While the Midwest is enduring subzero temperatures and the East Coast is shoveling itself out from under a mountain of snow, why not enjoy the temperate winter weather of San Diego? Come join the Valley Center Trails Association for a "mild to strenuous" 7-mile hike at the Daley Ranch to get your Sunday started right. Make sure to bring plenty of water, appropriate hiking shoes, sunscreen and a walking stick (recommended). This is a free event and no registration is required. The hike leaves the Caballo trailhead at Daley Ranch in Escondido at 8 a.m. For more information about the ranch and its trails, click here. (http://www.vctrails.org/)
Tuesday, Jan. 23, 9 a.m.-12:30 p.m. — Succulent Mushroom: The San Diego Botanic Garden kicks off the new year with several adult workshops including this three-and-a-half-hour session creating your own succulent mushroom to take home. This workshop is taught by the San Diego Botanic Garden Succulent Wreath Team and registration includes all necessary materials. Participants are asked only to bring a small pair of clippers or scissors. Registration deadline is Jan. 19 and costs $45 for members; $54 for non-members. For more information on this and other events at the botanic garden, click here. (http://www.sdbgarden.org/classes.htm)
Friday-Sunday, Jan. 26-28, varied times — San Diego Caffeine Crawl: This event is perfect for anyone who considers caffeine a vital part of their day. Check out the fifth annual San Diego Caffeine Crawl: More than 25 local coffee shops and vendors (no national chains — this event celebrates local, small businesses only) are lined up on this three-day event offering nine routes throughout Carlsbad and Oceanside. Each stop on your route features 3- to 6-ounce coffee or tea samplings, some offering unique food pairings with their drink. The San Diego Caffeine Crawl allows you to "pick up some killer swag, and meet new people who love coffee as much as you do." Tickets range from $21 to $37 per person, depending on the route you select. For event information, including route details and ticket purchases, click here. (https://www.caffeinecrawl.com/san-diego-2018.html)
Saturday, Jan. 27, 10:45 a.m. — The Silly Sock Run Walk 5K: Why not wrap up the first month of 2018 by running (or walking) for a good cause? The Silly Sock Run Walk 5K is raising funds to support Clubfoot CARES, "a U.S. based non-profit advocacy group dedicated to promoting public awareness of clubfoot and The Ponseti Method to treat clubfoot, as well as educate and empower patients and their families." This disorder affects one in 1,000 children in the country. Registration for the event is still open online. The cost is $20 for adults; $15 for children (ages 3 to 17). Any family registering four or more members will receive a $15 discount at checkout. The event has several routes to suit all participants: a run, walk, jog, stroll, one-mile route, 5k and a kids' dash. Check-in is at 10:45 a.m. at Kit Carson Park in Escondido. For details and registration, please click here.
Tuesday, Jan. 30-Thursday, Feb. 1, varied times — Shen Yun Chinese Music and Dance Show: Immerse yourself in the entrancing dance and music of a lost civilization — a glimpse at a culture that was nearly stamped out by the Chinese communist regime because it was seen as a threat to its rule. A group of Chinese performers gathered in 2006 to create this show with the mission of sharing its culture, dance and music with the world. Shen Yun returns to the California Center for the Arts in Escondido for a three-night engagement at the end of the month and tickets are still available for purchase online. Showtimes are 7:30 p.m. Tuesday and Wednesday and 2 p.m. on Thursday. If you're unable to attend a performance in Escondido, the group will move on to the San Diego Civic Center for another three nights beginning Feb. 2. For more information about the show or to purchase tickets, click here. (http://www.shenyunperformingarts.org/escondido/california-center-for-the-arts-escondido)
The North Coast Current welcomes Current Events submissions. Email them to [email protected].