Cool on the Coast: Celebrate summer's start with these June events
A roundup of events in Encinitas, Carlsbad, Del Mar, Oceanside, Escondido and the region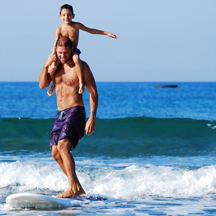 Schools are out and so is the sun. The kickoff to summer has begun and it's time to start those time-honored summer activities: the beach, Sea World … the usual suspects. While you're mapping out your activities for the week, however, don't forget to check out some of these events happening around your community.
Now through July 4 — San Diego County Fair: How Sweet It Is: It isn't summer without at least one visit to the San Diego County Fair. Rides, shopping, music and — most importantly — fair food (fried everything) awaits guests at the Del Mar fairgrounds. This year, the fair's theme is "How Sweet It Is." "You'll leave the ordinary world behind the minute you step into this magical sweet spot overflowing with opportunities to truly savor summer with the excitement of a wide-eyed kid," fair organizers describe. "Whether it's sampling chocolate bubbling from a fountain, soaking up the glittery ocean views from atop the Ferris wheel, discovering how nature's sweet fruits grow and ripen, or enjoying the Fair's golden-ticket entertainment, your toughest decision will be choosing what to indulge in first." The fair launched June 1 and will run through Independence Day. It will be close the first four Mondays and three Thursdays of its tenure. For more information about the fair, events, concerts and tickets, go to https://sdfair.com/.
Saturday, June 23, 10 a.m.-noon — Cancer Survivors Day: Scripps Memorial Hospital Encinitas hosts a celebration for individuals, friends and families who have faced and beaten cancer. June is Cancer Survivor Month and similar celebration days are popping up across the nation. This event in Encinitas is "a time to recognize our nation's 15 million cancer survivors, to focus on issues of survivorship and to acknowledge the medical professionals dedicated to cancer treatment, research and support services." The event is free to all who wish to attend, however registration is required. To register or to get more information about the event, call 800-727-4777.
Saturday, June 23, 10 a.m.-4 p.m. — Fairy Festival: Load up the kids for a magical day at the San Diego Botanic Garden. The enchanted Fairy Garden has loads of activities for children to enjoy. Fairy princesses will happily pose for photos with your little ones and even sprinkle them with fairy dust (if they want some). Children can build a fairy garden house, a princess castle or even a fairy glitter necklace — or any of the other craft projects that will be available. Once the photos are taken and the crafts are made, stroll through the Fairy Land Market for some charming trinkets to take home with you. Food and beverages will be available for purchase as well. Entrance to the Fairy Festival is free with paid admission to the gardens. San Diego Botanic Garden is part of the Blue Star Museum program, so all military families (active duty, National Guard and Reserve members) are free until Labor Day. For more information about the event or the gardens, visit http://www.sdbgarden.org/index.html.
Saturday, June 23, 9 a.m.-1 p.m. — Encinitas Historical Bus Tour: A perfect day for you history buffs or anyone who's interested in learning more about the local history you live in and drive by each day. Hosted by the Encinitas Preservation Association, this tour will kick off at the 1883 Schoolhouse (390 F Street) and include more than 60 locations of historical importance to Encinitas' history. You'll return to the old Schoolhouse at noon, where your tour will wrap up with a complementary lunch, included in your reservations. Tickets are $65 per person and can be purchased online. To buy your ticket or for more details about the tour itself, go to https://www.eventbrite.com/e/encinitas-preservation-association-historical-bus-tour-2018-tickets-46026938813.
Saturday, June 23, 11 a.m.-2 p.m. — Art & Gold Leaf with Duke Windsor: Spend a morning at the Escondido Municipal Gallery to learn more about "the history, tools, materials and beginning techniques in the use of gold leaf in art." Participants will also be able to experiment with their own application of the medium using traditional methods. It is recommended that students bring one of their existing artworks to build on during this workshop. No experience is necessary. Cost is $30 (members) or $45 (non-members). A $15 material fee applies to all participants. For more information or to book your reservation, visit http://escondidoarts.org/cal/duke-windsor-art-gold-leaf-workshop/.
Sunday, June 24, 10:30 a.m.-3:30 p.m. — North San Diego Certified Farmers Market: What better way to get your weekly supply of fruits and veggies (and any other shopping you might find along the way) than strolling outside in the sunshine at the North San Diego farmer's market in Escondido? Held every Sunday year-round (except Easter Sunday), this market is held on the Sikes Adobe Historic Homestead (close-toed shoes are recommended). Come chat with dozens of local vendors while you browse through their merchandise and get your Sunday started off on the right foot (no pun intended). For more information about the market, including directions, visit http://www.northsdfarmersmarket.com/.
Sunday, June 24, noon-7 p.m. — Wine Tasting at Rancho Guejito Winery: The historic Rancho Guejito Vineyard was established in 1845 and is "home to one of the earliest vineyards planted in California." The vineyard is now open to the public for tastings these two Sundays, offering tractor tours of their vineyards, live music and gourmet food trucks to accompany tastings of their more than 20 varietals. The vineyard is located three miles east of the San Diego Zoo Safari Park on Highway 78. For more information on the winery, go to https://www.ranchoguejitovineyard.com/.
Saturday, June 30, 7 p.m. — Gabriel "Fluffy" Iglesias: Of course there are dozens of live performances to choose from during the San Diego County Fair, but comedy aficionados will surely love an evening with Gabriel Iglesias. Iglesias is "one of America's most successful stand-up comedians performing to sold-out concerts around the world, and accumulating more than 300 million YouTube views." Tickets are still available and can be purchased online. To buy your tickets or to see a full lineup of fair performances, visit https://sdfair.com/what-to-see/.
The North Coast Current welcomes Current Events submissions. Email them to [email protected].