Encinitas council, high school board brace for first district votes
As two Encinitas governing bodies prepare to hold their first elections by district this November, candidates and other officials are weighing the issue of respecting defined community interests versus the broader regions they represent.
In 2017, Malibu law firm Shenkman & Hughes, which wasn't available for interview, sought legal action against the city of Encinitas claiming that it didn't proportionally represent minority populations under the California Voting Rights Act.
The threat of a lawsuit resulted in the city adopting district representation for City Council seats rather than an at-large vote. The San Dieguito Union High School District, which has headquarters in Encinitas but represents a wide swath of coastal North County, also opted for elections by district.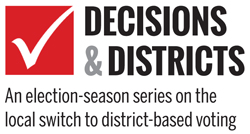 Now that local elections are coming up, newcomers' and incumbents' attitudes on the electoral change range from gung-ho to begrudging acceptance.
For City Council incumbent Joe Mosca, moving to a district system would've been unlikely without the threat of a lawsuit.
"There really didn't seem to be a problem being addressed, but now that we've done it and moved into districts for compliance with state law, I think it will work well for the city," Mosca said.
To Mosca, minority representation hasn't been an issue in the past, so he wasn't exactly trumpeting the move to districts.
"The at-large system was working, it is not discriminatory, so there was no reason to move. So no, I don't believe we would have moved to district-based elections without that impetus," Mosca said.
Not all candidates are trepidatious about the change in electoral system. Anthony "Tony" Brandenburg, former judge and Mosca's opponent for District 4, which covers southeastern Encinitas including Olivenhain, sees district representation as key to preserving Encinitas' communities.
Directly voting for your specific neighborhood acknowledges and ensures respect for the needs of the entire community, from Brandenburg's perspective, creating a truer form of representation.
"You got to remember where we were and what our community was and where we'd like to be. We don't want to be a Pacific Beach or a Manhattan Beach," Brandenburg said. "We want that same kicked back and easy feeling, but at the same time reasonably grow and progress."
On the other side of this, Mosca's concern is that organizing districts around communities of interest results in city councilors focusing on their districts and divorces them from the city as a whole.
"Of course as City Council members we want to think about the entire city, but with districts, there's much more of a focus on the neighborhoods within your district," Mosca said. "That doesn't mean the citywide issues aren't important to me — they are — the issues I hear more about are impactful to my district."
While Brandenburg looks to serve the interests of the individual communities in Encinitas, he said he doesn't shy away from admitting that he's "old-school," and plans to preserve his district, specifically from high-density housing.
"We don't want anything to do with multiple dwelling units," Brandenburg said. "It really goes against the whole principle of Olivenhain."
Candidates for District 3, serving Cardiff and portions Old Encinitas and Olivenhain, are also up for election this November. Incumbent Mark Muir and competitor Jody Hubbard did not follow up on requests for comment.
This year's race for Encinitas mayor is an at-large election, which means the entire city votes for the office. Two candidates are running, incumbent Catherine Blakespear and competitor John Paul Elliott.
High school district prepares for new process
The San Dieguito Union High School District also faces the switch to a district trustee system for its school board.
For Amy Flicker, PTA member and District 1 school board candidate, the new election system is a chance to zero in on her district and refine her campaign by limiting the area of focus.
"Having five defined trustee areas, logistically, I think helps all of us as candidates, and I think it helps all of our campaigns," Flicker said.
With this, Flicker said she looks to focus her campaign on listening to parents and teachers who vote in her district through direct campaigning, as well as students.
"I'm planning on sitting down with people often and listen over the next 90 days to what their needs are and what their concerns are," Flicker said.
Of course, current school board members have concerns about leaving an at-large election system, similar to those of Joe Mosca. Beth Hergesheimer, the district's board president, is one of those concerned trustees.
Though her election bid isn't until 2020 and, like Flicker, she sees the benefit in a more focused campaign, an at-large system is better suited to a school district the size of San Dieguito, as she explained in an email.
"San Dieguito UHSD definitely considered the possibility of a lawsuit in their decision to change from 'at-large' to 'area' representation," Hergesheimer said in the email. "My concern is that the unintended consequence may be to divide leadership rather than help decision-making focus on what is best for the entire school community."
Those concerns don't escape Flicker, and she admits that how a district system affects San Dieguito is yet to be seen.
"In theory, by making this move we're really placing a premium on geographic diversity, and the hope is that it'll lead to demographic diversity, but we simply haven't had enough time to tell how true that is for our district," Flicker said.
Joel Vaughn is a North County freelance writer