Coaster and Amtrak service closed Jan. 12-14 for railroad work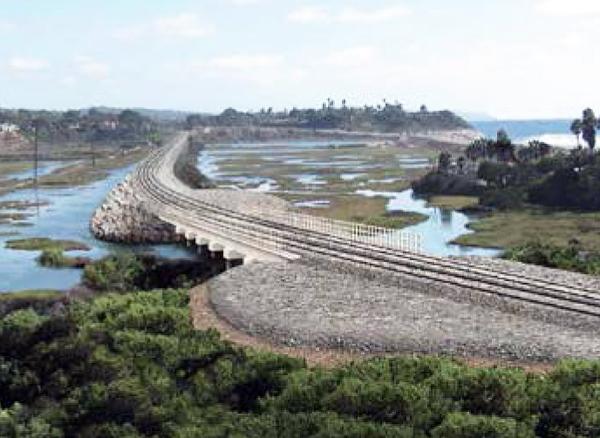 Coaster and Amtrak Pacific Surfliner train service will be suspended Jan. 12-14 for ongoing work on the rails, according to a San Diego Association of Governments notice.
There will be no passenger or freight service during the shutdown, with regular passenger rail service resuming for the morning commute on Monday, Jan. 15, SANDAG stated.
Among the projects underway along the route:
Carlsbad: Poinsettia Station improvements — Crews will assemble new segments of track between 7 a.m. and 3:30 p.m. Nearby residents may experience construction noise.
Cardiff: Chesterfield Drive rail crossing — Construction crews are set to repave areas of the Chesterfield Drive crossing otherwise inaccessible without the full weekend closure. The Chesterfield Drive crossing itself is fully closed through Jan. 23.
Cardiff: San Elijo Lagoon double track — Rail grinding and stabilization work will be done along the route. The maintenance process restores and removes irregularities from worn tracks, according to SANDAG. The project is expected to be completed by spring.
In addition to the rail work, crews will begin placing temporary concrete barriers along the inside shoulder of Interstate 5 from Manchester Drive in Cardiff north to Palomar Airport Road in Carlsbad as part of ongoing freeway projects.
The barriers will be installed over five weeks beginning Jan. 6 from 9 p.m. and 5 a.m. and will remain for about 18 months, according to SANDAG. The barriers will help construction crews work safely inside the median.
Intermittent nighttime lane closures will be needed as part of the installation, although no full freeway closures are expected, SANDAG stated.
More information online: keepsandiegomoving.com/North-Coast-Corridor/NCCHome.aspx.