ENCINITAS: 'Art Night' showcases artists and galleries Feb. 23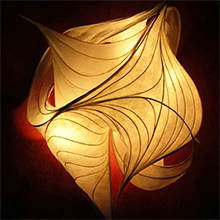 Hang on for a minute...we're trying to find some more stories you might like.
ENCINITAS — Enjoy an evening of art Saturday, Feb. 23, from 6 to 9 p.m. as Encinitas civic and local art galleries open their doors for "Art Night Encinitas." The event, launching a bimonthly showcase, will celebrate the city's diverse visual art scene at seven participating locations and is free to the public. A series of newly installed Lightsculptures at the Encinitas Library by artists William Leslie and Alessandra Colfi will be unveiled at the event. The city's three civic art galleries have 47 exhibits by local artists scheduled this year, according to a city news release. A free shuttle will transport attendees to the civic art galleries. Participating galleries and artists include: Civic Center Art Gallery at City Hall, featuring artists Kelsey Overstreet and Lily Pourat; Encinitas Library, featuring Dean Andrews, Carol Lang, William Leslie and Alessandra Colfi; Encinitas Community Center, presenting Cherie Gollaher, Kim Simas and Margot Villa; Lux Art Institute, presenting Courtney Mattison; Art N Soul on 101 with various artists; First Street Gallery, featuring Jim Hornung and Mario Romero; and Corner Frame Shop with Jim McConlogue. More information and map, go online to www.encinitasca.gov/visualart, or contact city arts program manager Jim Gilliam at jgilliam@encinitasca.gov or 760-633-2746.
The North Coast Current welcomes your community news. Submit upcoming event announcements to currentevents@northcoastcurrent.com. Submit stories and photos to news@northcoastcurrent.com.
encinitas current