ENCINITAS: See Italian film 'The Order of Things' March 14 at La Paloma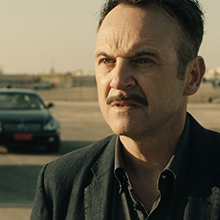 ENCINITAS — The San Diego Italian Film Festival invites moviegoers to see "L'ordine delle cose" ("The Order of Things") at 7 p.m. March 14 at the La Palomar Theatre, 471 S. Coast Hwy 101 in Encinitas. The film, in Italian with English subtitles, follows Corrado (Paolo Pierobon), a policeman for the European task force in charge of immigration control, on a field assignment in Libya, where he meets Swada (Yusra Warsama), a young Somali woman who has left her war-ravaged country in order to try and reach Europe. With their destinies linked, Corrado finds himself faced with a choice — respect his orders and the law or save Swada's life. The film is directed by Andrea Segre and written by Marco Pettenello and Segre. Tickets are $12 general admission or $8 for film festival members, students and military. More information online: www.sandiegoitalianfilmfestival.com/film/lordine-delle-cose-2.
The North Coast Current welcomes your community news. Submit upcoming event announcements to [email protected]. Submit stories and photos to [email protected].
encinitas current