Respite from recent rains opens window for painted ladies
Encinitas and San Diego region see proliferation of butterflies as they migrate north
A swarm of travelers is riding in on light Santa Ana winds along the North Coast following this winter's record rainfall.
Painted lady butterflies, which have been observed in spots throughout the county over the past few weeks, arrived in even more numbers in Encinitas and surrounding communities Thursday, March 14, as Santa Ana breezes developed and temperatures rose after waves of storms brought rain throughout the winter.
"A wet year means more food, more host plants for the butterflies to lay their eggs on," Tom Merriman, one of the directors of Butterfly Farms in Encinitas, explained in a phone interview Thursday.
The butterflies are moving north from the Sonoran desert near the Mexican border, Merriman said.
The wet winter has resulted in a desert flower super bloom, which has helped contribute to the butterflies' numbers, migrating in the millions or more throughout California.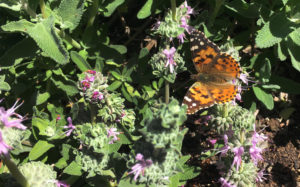 "The conditions were just perfect," Merriman told KGTV 10 News on March 6. "I mean there could be over a billion of them, we don't know. I'm hearing people from Palm Springs to Vista."
Butterfly Farms continues to field plenty of questions from residents and media.
"It's been pretty much nonstop," Merriman told the North Coast Current.
While a local migration of this size is not common, the butterflies themselves are.
"It's maybe the most common butterfly in the world," Merriman said Thursday. "So they're everywhere."
The butterflies are found on every continent except Australia and Antarctica, according to Butterflies and Moths of North America.
"From the deserts of northern Mexico, the Painted Lady migrates and temporarily colonizes the United States and Canada south of the Arctic," the organization explains on its website. "Occasionally, population explosions in Mexico will cause massive northward migrations."
The butterflies are also called cosmopolitans because of their proliferation across the globe, the organization notes. Butterfly watchers might hear them referred to as the thistle butterfly because of the caterpillars' preferred food.
Painted ladies' migration can carry them as far north as Canada, but once the local larval food sources run out and the butterflies stop laying eggs, their numbers will start to drop. Merriman said that likely won't be for a while yet.
"This could go on for a couple more weeks, easily," he said.
The weather should continue to favor sightings over the next several days as high pressure enters the region, according to the National Weather Service. Temperatures are expected to reach the high 60s to high 70s throughout San Diego. Offshore winds will also continue.
Rain could return to by the middle of next week, the National Weather Service predicts.
The spring equinox is March 20.
encinitas current