Cool on the Coast: Encinitas, Solana Beach fairs bookend April and May
A roundup of events in Encinitas, Carlsbad, Solana Beach, Del Mar, Oceanside and the region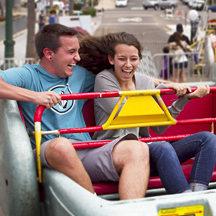 After an abnormally wet and rainy winter season, the North Coast is finally reaping the benefits in the form of a strong, blooming spring. Embrace the spring season with some annual events, family outings and entertainment festivals.
Saturday and Sunday, April 27-28, 9 a.m.-5 p.m. — Encinitas Spring Street Fair: The 36th annual Encinitas Spring Street Fair aims to please goers with hundreds of vendors that will supply food, beverages, arts and crafts. Additionally, there will be a child and pet friendly beer garden that will feature vendors such as Saint Archer, Iron Fist Brewing Company and The Lost Abbey. As always, music artists will be in attendance, playing everything from neo-folk and indie rock to worldbeat and soul. For more information, visit https://local.encinitaschamber.com/events/details/encinitas-spring-street-fair-2-days-5071.
Saturday, April 27, noon-8 p.m. — In Your Neighborhood Block Party: Visit Pour House Oceanside for a day of music supported by local merchants. Businesses in attendance will include Real Surf Shop, Panels Coffee & Comic Books, Riot Nuts specialty food and many more. Grub, brews and businesses will be complimented by a large assortment of music acts. The Paragraphs, Cheyenne benton, Western Settings and more will supply a wide variety of music genres to enjoy. The event is free for all age groups. More information online: https://visitoceanside.org/events/in-your-neighborhood-block-party/.
Saturday, April 27, through Sunday, May 5 — April in Bloom: The Forum Carlsbad will be the site of a collection of various spring-themed events and activities. Opening day will kick off with a Runway Fashion Show that will allow attendees to check out spring and summer looks from The Forum's clothing stores. Attendees will also have the chance to win prizes and nab a goody bag. The accompanying Live Butterfly Encounter and Makers' Market will take place daily from 10 a.m. to 5 p.m. Sunday; times will be 11 a.m. to 5 p.m. For further details, visit https://www.eventsforumcarlsbad.com/.
Thursday, May 2, 5-8:30 p.m. — Taste of Cardiff 2019: Experience the 10th annual Taste of Cardiff with the very best of food, drinks and live music. Enjoy food from local restaurants such as Cicciotti's, Pacific Coast Grill and FroYo By-the-Sea. Add on to the fun with sip stops including but not limited to Ballast Point, Duckfoot Brewing, Kombucha Kulture and Coronado Brewing. Sip and taste tickets respectively will be $30 while all-access tickets will come in at $40. Ticket prices will increase by $5 on the day of the event. For ticket purchase and vendor registration information, visit https://www.cardiff101.com/events-list/taste-of-cardiff-2019.
Saturday, May 11, 10 a.m.-4 p.m. — Chocolate Festival: Head on over to the San Diego Botanic Garden for a family-friendly day of chocolate. In addition to children's activities, the event will also have chocolate demonstrations and vendors who will supply chocolate tastings and Mother's Day gifts. The Rush Coffee, Belinda's Familia and Devil Dogs BBQ will comprise the food trucks in attendance. Tasting tickets will start at $1 and will be sold on site the day of the event. More information online: https://www.sdbgarden.org/chocolate.htm.
Saturday, May 11, 5 p.m. — Night Nation Run San Diego: The World's First Running Music Festival is coming to Del Mar for a night of spectacle. The course will feature live DJs, light shows, selfie stations for a fun and casual 5K run. Gates will open at 5 p.m., the pre-party will begin at 6 and, finally, the first wave of runners will get the green light at 7:30 p.m. Once the course is completed by runners, they'll be greeted by the main stage which will host multiple DJs and finish the night with a surprise headliner. The base ticket price is $60 and includes a race packet, glow necklace and access to free giveaways and the "After After Party." For registration, visit https://nightnationrun.com/san-diego/#.
Friday-Sunday, May 17-19 — Rasta Paw Reggae & Arts Festival 2019: This music and arts festival is a great chance to have some fun for a good cause. Admission is $10 on Friday and Sunday and $35 on Saturday. All proceeds will go toward nonprofit organizations Spay Neuter Action Project (SNAP) and I stand With My Pack (ISWMP). This year's festival will host a total of 14 reggae bands on top of local grub and brews. For ticket purchase, visit https://www.eventbrite.com/e/rasta-paw-reggae-arts-festival-2019-tickets-55472191819?aff=ebdssbcitybrowse#tickets.
Saturday and Sunday, May 18-19, 9 a.m.-9 p.m. — Fiesta del Sol 2019: The Solana Beach Chamber of Commerce hosts the 40th installment of Fiesta del Sol, a free two-day arts and music festival that's studded with something for everyone to enjoy. Children can take part in games, rides, arts and crafts and the Solana Beach Fireman's Pancake Breakfast on Sunday. Local artists and food vendors will be in attendance alongside music acts that will play rock, reggae, jazz and various other genres. For more information, visit https://www.sandiego.org/members/visitor-information-centers/solana-beach-chamber-of-commerce/events/fiesta-del-sol.aspx.
The North Coast Current welcomes Current Events submissions. Email them to [email protected].
encinitas current