Culinary show 'Lick the Plate' to air on 100.7 KFMB starting June 3
Popular local culinary radio show, podcast and column "Lick the Plate" has gained a new outlet in San Diego as of June 3 — FM radio station 100.7 KFMB.
Host and author David Boylan launched the column in 2011, which has been a staple in the Encinitas-based newspaper Coast News since then. The radio show is already heard in other markets, from Detroit and Traverse City, Michigan, to Windsor, Ontario.
In a May 24 news release, Boylan said that KFMB is a strong fit for the show's format.
"I am a huge fan of Chris Cantore and his co-host Meryl Klemow, Robin Roth, Mikey Esparza, Rick Lawrence and program director Mike Vasquez," Boylan said of the station's on-air talent and management. "They all have an authentic appreciation of a wide variety of music and that resonates with me as well as with a large segment of the listening audience."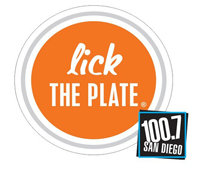 The show's landing at KFMB comes amid recent industry shifts in San Diego radio.
Last December, "Lick the Plate" had been announced to join AM sports station Mighty 1090 starting in January. The longtime station abruptly shut down in April, however.
In early 2018, KFMB television and radio stations were acquired by TEGNA from longtime owner Midwest Television. Since the purchase, TEGNA has been developing its own imprint on the stations.
"We are committed to providing our audience with great music and compelling content," Mike Vasquez, 100.7's director of radio programming, said in the May 24 announcement. "Food is a very popular content category with our audience, so Lick The Plate makes perfect sense for our station."
"I've been a big fan of Lick the Plate and have followed it closely over the years," 100.7 General Sales Manager Brian Busta added. "Bringing the show to KFMB makes sense on many levels and we are excited to add this innovative content to our programming mix."
"Lick the Plate" will air on 100.7 KFMB at 7 p.m. beginning June 3 with five episodes Monday through Friday and repeat broadcasts at 10 p.m. The show will also be available as a podcast on the station's website, www.1007sandiego.com.
encinitas current, cardiff current