Rhoades School announces second Encinitas campus for middle grades
Location is former site of Rancho Encinitas Academy
An additional campus is in the works for The Rhoades School in Encinitas, the school announced May 23.
The new 5,300-square-foot middle school campus, set for opening Sept. 3, will be located at 910 Encinitas Blvd., the site of the former Rancho Encinitas Academy. The campus will accompany the private school's current facility at 141 S. Rancho Santa Fe Rd.
The facility is slated to feature newly renovated learning facilities tailored to disciplines including arts, STEM (science, technology, engineering and math) and physical fitness, according to the school's announcement.
In addition, the new campus will have:
A science lab;
Engineering maker space;
Art, music and dance studios;
An amphitheater;
Basketball and volleyball courts, and a parcourse;
A sustainable garden and greenhouse;
Horseshoes and sports table games;
Indoor and outdoor dining spaces.
"We are delighted to grow into our future and expand our rich and robust academic programs at this new campus," Head of School Regina McDuffie said in the announcement. "The new facilities will offer our middle school program the space and flexibility needed to expand and deepen our curriculum through academics, service learning, and entrepreneurship."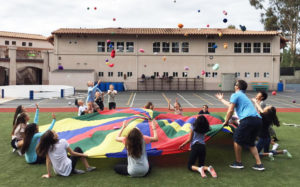 In a May 20 announcement to parents shared on the school's website, McDuffie stated that the new campus will also allow more space for The Rhoades School's kindergarten through fifth-grade programs at its longtime campus bordering Olivenhain and Rancho Santa Fe.
"Flexible scheduling, in conjunction with more classroom space, will allow us to expand and deepen our programs such as service learning, entrepreneurship, and a focus on our local community as an extended classroom," McDuffie told parents in her note. "We will also expand our collaboration with local professionals and businesses in the area to address real world issues. We are excited to partner with other Nobel Middle Schools to further extend this learning."
The new campus will have a capacity of up to 120 middle-school students, the school reported. There are currently 90 students in grades six through eight.
The Rhoades School, part of Nobel Learning Communities Inc., has served communities in the region since 1980. Nobel is a network of 200 private schools, including preschools, elementary, middle and high schools in 19 states.
More information online: www.RhoadesSchool.com.
encinitas current, cardiff current