San Elijo Lagoon Conservancy's new name: Nature Collective
The San Elijo Lagoon Conservancy marked its official transition to a new name — the Nature Collective — with a sunset celebration on May 17 at Seaside Beach in Cardiff.
The name change coincides with the organization's growth beyond preserving the San Elijo Lagoon to broader conservation efforts, the organization explained in an announcement.
"In the history of our nonprofit land trust, tonight is one of the most exciting milestones we are sharing together," Nature Collective Executive Director Doug Gibson said at the event. "The name, Nature Collective, reflects our growing impacts in San Elijo Lagoon, and beyond. We would not be here without the passionate and collective support of our many partners and conservation leaders."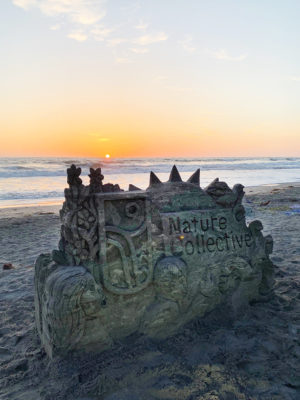 The Friday beach celebration included the revealing of a plant- and animal-themed sandcastle with the organization's name as a drum circle performed.
The nonprofit San Elijo Lagoon Conservancy was founded in 1987 by community volunteers who were concerned about the health of San Elijo Lagoon, according to the Nature Collective's announcement.
In the decades since, the newly named Nature Collective has worked with local, regional and state authorities, in addition to private groups and individuals, to expand San Elijo Lagoon's area and restore its ecosystem.
Most recently, the group marked the opening of the Cardiff State Beach Living Shoreline project on May 22 and broke ground on the Harbaugh Seaside Trails project in March. The organization also continues to work with regional transportation authorities on the BuildNCC project, which includes a multistage lagoon restoration effort.
For more information, go to the organization's new website, www.thenaturecollective.org.
encinitas current, cardiff current