Cool on the Coast: Usher in summer this June with events in Encinitas, Del Mar, Carlsbad
A roundup of events in Encinitas, Carlsbad, Del Mar and the San Diego region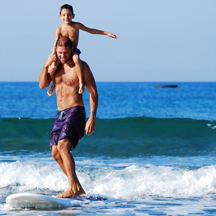 With summer on the horizon, it's high time to start scouting for activities and events that will help you kickoff the sun-filled season with a bang. As you chart your own plans for the remainder of June, keep an eye out for these upcoming community events.
Wednesday, June 12, 5-10 p.m. — Arts & Beer Night Market: If you're looking for a good time free of charge, consider checking out the Arts & Beer Night Market at AleSmith Brewing Company, 9990 AleSmith Court, off MiraMar Road, in San Diego. The brewing company will offer 20 beers on tap for the event. More than 35 artists will be in attendance displaying and selling their respective works alongside food trucks which will be offering everything from seafood and tacos to burgers and donuts. Lizabeth Yandel, Riss and The Resinators will supply the event's live music.
Wednesday, June 12, 6-8:30 p.m. — San Diego Magazine's 2019 Best Restaurants Party: A celebration of San Diego's finest restaurants, San Diego Magazine's 2019 Best Restaurants Party will bring local top chefs together for an evening of diverse dishes. Guests will have the opportunity to divulge on unlimited samples of bites and beverages. The event's lineup will be available with the release of the magazine's June issue. General admission is $65 and includes a one year subscription to the magazine. For ticket purchase, visit https://www.eventbrite.com/e/san-diego-magazines-2019-best-restaurants-party-tickets-53320527132?aff=ebdssbdestsearch.
Friday-Sunday, June 14-16 — San Diego International Beer Festival: For everything beer and brew related, head on over to the Del Mar Fairgrounds for one of California's largest beer festivals. This year's San Diego International Beer Festival will have nearly 200 breweries in attendance. In addition, guests will also be able to visit the beer stage to learn about the science behind the beer or get some tips and tricks on unconventional food and beer pairings. The general admission ticket is $60 and gives guests a souvenir tasting glass, unlimited 1-ounce samplings and admission to the San Diego County Fair. For ticket purchase, visit https://sandiegobeerfestival.com/tickets.
Saturday, June 15, 1-4 p.m. — Del Mar Farmers Market: Searching for in season foods that are organic and pesticide free? Fresh and locally produced food is readily available at the Del Mar Farmers Market. The certified and nonprofit farmers market offers fruits, vegetables, eggs, seafood, fruit juice, kombucha and a plethora of other foods and beverages for shoppers to purchase. If you can't make this session of the market, no worries. The market runs every Saturday until July 6 at the Del Mar Civic Center, 1050 Camino Del Mar. More information: https://delmarfarmersmarket.org/.
Thursday, June 20, 5-8 p.m. — Summer Solstice 2019: Ring in the summer with popular Del Mar eateries and some of San Diego's most distinguished wineries and breweries. Restaurants in attendance include, but are not limited to, Pacifica Del Mar, The Butchery, Beeside Balcony, Darshan Bakery & Cafe and Searsucker San Diego. The 21-and-up event will also feature the likes of Fallbrook Winery, Saint Archer Brewing Company, Oak + Elixir and Latitude 33 Brewing Company. Tickets are $90 and can be purchased at https://www.eventbrite.com/e/summer-solstice-2019-tickets-47956508207.
Thursday, June 20, 5:30-7:30 p.m. — Encinitas Cruise Nights: An eclectic lineup of cars will take to the streets of downtown Encinitas for this June's installment of cruise nights. There isn't much to this free event besides checking out classics, hot rods and flashy foreign cars while taking in the vibe of live music alongside main street. If you can't make this date, Cruise Nights will return on the third Thursday of each summer month. More information online: https://encinitas101.com/.
Friday and Saturday, June 21-22 — California Wine Festival: The two-day California Wine Festival is going to bring a summer wine tasting experience backed by hundreds of selections from California's most distinguished wineries. Vintage and rare wines will be accompanied by cold and hot gourmet appetizers from experienced chefs. Tickets start $80 for the Saturday session, include all wine and food samples and an 18-ounce souvenir glass. The event happens at Park Hyatt Aviara, 7100 Aviara Resort Drive. Tickets for designated drivers are $35. For purchase, visit https://nightout.com/events/california-wine-festival-carlsbad-june-21-22-2019/tickets.
Saturday, June 22, noon-7:30 p.m. — Summer Fun on the 101: Summer Fun on the 101 will bring music and fun for all ages for its 10th anniversary at Leucadia Roadside Park. The free festival will host jazz, reggae, rock and soul bands and music artists such as The Anodynes, New Leaf and the Peter Sprague Group. An unannounced special guest will also be performing for attendees. There will be various activities for children to participate in as well as a craft beer and kombucha garden for those 21 and up. More information online: https://www.leucadia101.com/events/summer-fun-on-the-101-2019.
Saturday, June 29, 7 a.m.-5 p.m. — Switchfoot Bro-Am Beach Fest: For a festival filled with food, music and surf, make sure to check out the 15th annual Switchfoot Bro-Am Beach Fest at Moonlight Beach in Encinitas. The event's surf competition will feature pro teams, challenged athletes, surf jousting and Rob Machado Juniors. Switchfoot will be the primary performing act alongside some special guests. Attendees will be able to chow down on a variety of foods from several different vendors. The event is free, although, attendees can register with a donation that is put towards local youth initiatives. For registration and more information, visit https://tickets.broam.org/#/event-details/2019broambeachfest.
The North Coast Current welcomes Current Events submissions. Email them to [email protected].
encinitas current, cardiff current