Work begins on major addition to MiraCosta College's Cardiff campus
MiraCosta College announced in August that work is beginning on a new Student Services and Administration building at its San Elijo campus in Cardiff.
The new building will serve as the central hub for student services, according to MiraCosta College's website. The campus will host a groundbreaking for the $11.8 million project on Oct. 10.
Kristen Huyck, public relations director for the Oceanside-based college district, described the building as a "single-story, 10,200-square-foot building that will house a centralized location for students to access services." She said that services such as counseling, financial aid, a bookstore and a testing center will be provided. In addition, a new quad area will be constructed as well as an ADA-compliant student drop-off and walkways.
"Student safety is integrated into the project scope," Huyck said.
The Cardiff campus is an extension of the MiraCosta Community College District.
"In 1980, MiraCosta purchased a 47-acre site near the San Elijo Lagoon on Manchester Avenue in Cardiff, which would later serve the southern portion of the district," Huyck explained.
The MiraCosta Cardiff campus opened in 1988 and, according to Huyck, 2,500 students attended the first semester, 1,000 students more than initially expected. In the 2018-19 academic year, Huyck said, 4,000 students enrolled at the Cardiff campus, compared with the Oceanside campus, which had 13,265 students enrolled.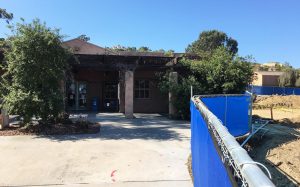 The original 1980s-era Administration building is scheduled to be demolished and replaced with the new facility, according to project plans listed under Measure MM, a bond program approved by voters in 2016 for improvement projects throughout the district.
The new Student Services building's construction was "conceptualized and designed with student use in mind," Huyck said. The project was identified as a priority in MiraCosta's 2016 Facilities Master Plan and is a part of the college's annual five-year Capital Construction Plans, which are documents "approved by the Governing Board and filed with the State Chancellor's Office," Huyck explained.
In July, the MiraCosta Community College District posted a notice to contractors regarding the plans for the project. The district then began accepting bids from general contractors. Barnhart-Reese Construction Inc., a San Diego-based firm, ended up becoming the project's general contractor.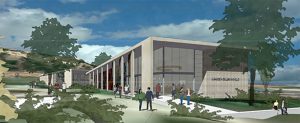 The college's website explains that construction of the new facility is funded through the district's capital improvement program, which utilizes funds from Measure MM. The measure allows for $455 million in local general obligation bonds, allowing for classrooms and career training facilities to be constructed and upgraded with the latest technologies to improve educational and job training opportunities.
Tim Flood, vice president of Administrative Services for the MiraCosta Community College District, said that Kitchell, a programming management firm, will oversee the construction project. According to Flood, Kitchell helps coordinate projects financed by Measure MM.
Flood said that all the blueprints for the project have been completed and that construction of the Student Services building is currently underway.
Dana Smith, dean of the San Elijo campus, said she believes that the new Student Services building will help the campus grow. In regard to the new building, Smith said that it is visually appealing and will serve as a "one-stop shop" for student services, counseling and administration.
The San Elijo campus has not been involved in a construction project this major since 2008, when the campus' Student Center was completed.
According to Flood, while the Student Services building is centered around administration, records, student support and registration, the Student Center was "the student life section," where students could dine and congregate. It was also an area built to promote club programs and provide conference rooms.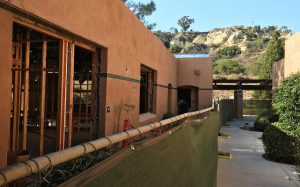 The funds from Measure MM will also be used to make further improvements to the MiraCosta College District, Huyck said. Upgrades will be made to modernize "instructional technology for improved student learning," improve access for students with disabilities, enhance facilities provided by the Veterans Center such as counseling, support services and job placement, and roofing and flooring repairs.
Flood said that the Student Services center will be the "last main construction project" for the San Elijo campus. After its completion, the campus will focus more on renovating its classrooms and modernizing them with new technologies.
"The goal is to update," Flood said.
Facilities such as Building 500 will be upgraded with new computer labs; equipment; electrical, mechanical, and plumbing systems; and roofing.
Tom Macias, MiraCosta district facilities director, stated in a district news release that it is "cost effective to convert the existing education spaces into new learning spaces." Rather than build a new building from scratch, Macias said, it is better to improve a building's infrastructure.
The construction of the Student Services building is expected to be completed by September or October of 2020, according to MiraCosta's project timeline. For more information and updates on the building's construction, visit www.miracosta.edu/officeofthepresident/measuremm/.
Chase Spear is a local freelance writer
cardiff current, encinitas current