North Island Credit Union seeks toys for military families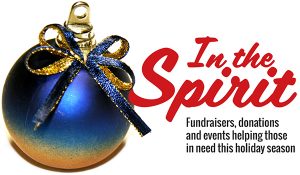 North Island Credit Union, in partnership with Support The Enlisted Project, has launched a holiday toy drive to benefit STEP's annual Sharing the Joy program.
Now through Dec. 20, credit union members and the community at large can drop off new, unwrapped toys or gifts at all 11 North Island Credit Union branches in San Diego County during business hours. The branches serve as collection points for the toys, which will be donated to military families in need.
San Diego-based STEP is an organization that assists junior enlisted service members and transitioning veterans and their families achieve financial self-sufficiency.
"North Island Credit Union's roots are in serving our local military, and we're honored to support the great work that STEP is doing to make the holidays a special, joy-filled time for our active service and veteran families," California Credit Union CEO Steve O'Connell said in a news release announcing the toy drive.
North Island Credit Union is devision of California Credit Union.
More information about STEP is available online at www.stepsocal.org.
This news brief is published as part of the North Coast Current's In the Spirit holiday community coverage. Email fundraising, donation and event notices to currentevents[at]northcoastcurrent.com.
encinitas current, cardiff current