Harbaugh trails now open at San Elijo Lagoon in Solana Beach
The Nature Collective recently celebrated the opening of the Harbaugh Seaside Trails, inviting residents to tour its latest addition to the San Elijo Lagoon experience, the nonprofit announced Feb. 25.
The organization will offer guided sunset-time tours of the trails, located at the southwest end of the San Elijo Lagoon Ecological Reserve in Solana Beach, on Feb. 29 and March 12 and 18. About 200 donors attended a ribbon-cutting and tour on Feb. 22.
"We saved these views together," Nature Collective Executive Director Doug Gibson said in the group's news release. "Today we celebrate that generations will cherish what we refused to lose for our collective love of nature and community."
The trails are named for the late George and Betty Harbaugh, San Diego philanthropists whose estate donated $1.15 million toward the Nature Collective's purchase of the property for preservation as open space.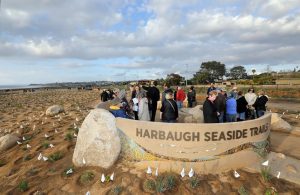 "It has been an honor and privilege to work with the Nature Collective and our community to preserve this amazing property and to make it accessible now and for future generations," Harbaugh Foundation Director Joe Balla said in the Nature Collective's announcement.
More than 8,000 native plants now grow on the site, with a wave-shaped trail that winds through the 3-acre property, the organization described. A donor monument includes tiles set into a wildlife-themed mosaic structure. Features also include the shell-shaped Myron + Joan Overlook, which offers unobstructed views of the lagoon and coastline.
The Nature Collective, formerly the San Elijo Lagoon Conservancy, purchased the land along Coast Highway 101 with the help of donors. Volunteers planted native vegetation during fall 2019.
Completion of the trails coincides with the ongoing restoration of San Elijo Lagoon between Cardiff and Solana Beach. The restoration is taking place in conjunction with Build NCC transportation projects across the lagoon.
More information online: https://thenaturecollective.org/.
encinitas current, cardiff current