Encinitas cancels events as county, state issue coronavirus guidelines
The city of Encinitas announced March 12 that it will cancel several upcoming events as the California Department of Public Health and San Diego County continue to monitor the COVID-19 coronavirus pandemic.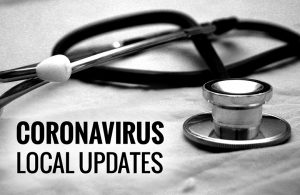 The cancellations are in wake of state and county policy updates on March 12 regarding public gatherings.
Encinitas has canceled the following events, according to the city's latest update:
March 13: Music by the Sea Concert at the Encinitas Library.
March 18 and 25: Wednesday @ Noon concerts at the Encinitas Library.
March 21: Surf Rider Moonlight Beach Clean Up.
March 29: Encinitas Half Marathon; rescheduled for March 2021.
The county ordered the legally enforceable postponement or cancellation of all gatherings of 250 people or more. Gov. Gavin Newsom's office announced a similar updated policy. County officials also advised residents to practice social distancing — staying at least 6 feet away from individuals in smaller gatherings. People ages 65 and older and those with underlying health conditions are advised to stay at home.
"Protecting the public's health is our number one priority and we're using every tool at our disposal to slow the spread of COVID-19," Public Health Officer Dr. Wilma Wooten said in a county update. "The swift action to ban mass gatherings is one of several social distancing strategies that can be used to slow the spread of the COVID-19 pandemic."
"Changing our actions for a short period of time will save the life of one or more people you know," Newsom said in a statement.
In a March 12 news conference, county officials announced that five new presumptive positive cases had been logged in San Diego, bringing the total number to seven. Officials noted that local transmission, as opposed to travel-related or other outside cases, appears to be occurring.
As stated in the update from county health officials, the five new recorded cases are:
"A woman in her 70s who travelled in the Diamond Princess cruise ship and is at home under isolation."
"A woman in her 70s who is an evacuee from the Grand Princess cruise ship and is in a local hospital in isolation."
"A man in his 40s who is under isolation at home and traveled to Colorado."
"A man in his 50s who is in isolation at a local hospital and also traveled to Colorado (no connection)."
"A man in his 60s who is in a local hospital in isolation."
San Diego County posts updates at this website: www.sandiegocounty.gov/coronavirus.html.
encinitas current, cardiff current