Comic-Con canceled
for first time in 50 years
San Diego Comic-Con has been canceled for 2020, the first time in its 50-year history that the event has been put on hold, organizers announced Friday, April 17.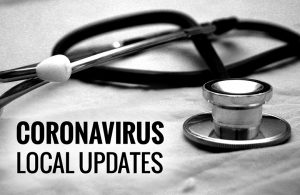 The event, which had been scheduled for July 23-26 at the San Diego Convention Center, was closed in the midst of the COVID-19 coronavirus, San Diego Comic Convention stated in a news release.
Coastal North County artists such as Encinitas illustrator Mary Fleener attend the convention as guest speakers and profiled artists. Carlsbad artist and designer N.C. Winters profiled his work at his own booth at the 50th Comic-Con in 2019.
"This is the place to celebrate the stuff you like," Winters told the North Coast Current at the time. "It's overwhelming. It's a sea of humanity and bodies. So many are here because they're in love with it."
Organizers said they held off canceling the 2020 event hoping that coronavirus restrictions would ease enough by summer. State and local officials have said that restrictions will continue in some form for at least several months.
"Continuous monitoring of health advisories and recent statements by the Governor of California have made it clear that it would not be safe to move forward with plans for this year," organizers acknowledged in their news release.
"Extraordinary times require extraordinary measures and while we are saddened to take this action, we know it is the right decision," organization spokesman David Glanzer said in the announcement. "We eagerly look forward to the time when we can all meet again and share in the community we all love and enjoy."
The event is a boon to the region's summer economy.
About 135,000 attendees come to San Diego for the annual event, according to the San Diego Convention Center, bringing an overall regional boost of more than $140 million to the economy. More than 64,000 hotel room nights are booked, and about $3 million in hotel and sales tax revenue is generated.
Comic-Con's sibling convention WonderCon Anaheim, which had been scheduled for April 10-12, was canceled earlier.
Comic-Con 2020 badge holders can request a refund or transfer to Comic-Con 2021, organizers said. OnPeak, Comic-Con's hotel affiliate, is canceling hotel reservations and refunding deposits made through them as well.
Comic-Con will return to San Diego for July 22-25, 2021. WonderCon is scheduled for March 26-28 next year in Anaheim.
More information is available online at www.comic-con.org.
encinitas current, cardiff current