County orders halt to COVID-19 antibody tests at Encinitas site
Health officials seek documentation of veracity
San Diego County health authorities ordered the closure of a drive-through COVID-19 testing site in Encinitas over concerns about its antibody serology test, officials said at their Wednesday, April 15, update.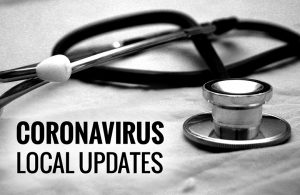 The site opened Monday in the MiraCosta College campus parking lot in Cardiff. The location was one of two operated by COVID Clinic in Southern California and was the group's only site in San Diego County, according to COVID Clinic's website.
The county contacted MiraCosta officials, asking them to end the activity, although the college hosted space for the site and was not responsible for the testing services. Authorities had also been in contact with the clinic regarding the tests being offered, said Dr. Eric McDonald, the county's director of epidemiology and immunization services.
County health officials sought the closure because COVID Clinic needed to provide required documentation showing the veracity of its coronavirus antibody test. The site offered nasal swab tests for $75 and antibody tests for $125, according to COVID Clinic's website.
"We worked with the individuals who run this clinic and asked them to provide some information to us about their CLIA certificate, that stands for Clinical Laboratory Improvement Amendment," McDonald explained during Wednesday's briefing in answer to reporters' questions. "It's a specific program that governs the quality of laboratory services."
In addition to the certificate, McDonald said, the county also sought the name of the laboratory director and the lab information that validates the tests that are actually being used.
"We have yet to get that information, so we issued an order … directing them to no longer do that test," McDonald said.
The clinic was ordered closed in its entirety as of Wednesday. By around 4 p.m., there was a line of cars at the entrance to the clinic, although a digital traffic sign stated that the clinic's testing was full.
County officials worked with regulators in the California Department of Public Health's Laboratory Field Services, McDonald said.
"We brought this to their attention and were concerned that their rules and regulations weren't being followed according to state law," McDonald explained, "so we are working with the COVID Clinic to get that documentation, and when they provide it to us, and it is satisfactory, we will allow them to continue that operation."
As of 8 p.m. Wednesday, COVID Clinic had not yet responded to an emailed request from the North Coast Current seeking information about the testing site and county action. The clinic also had not responded to email contact on Monday seeking information about the site's services.
In a statement provided by MiraCosta communications director Kristen Huyck, the college reiterated that it was not responsible for the clinic or testing, and that the college approved the Cardiff parking lot location in an effort to allow a public service. The space was approved using the college's civic permit process.
"To support the community good during a pandemic, MiraCosta College waived the rental fee associated with use of the parking lot as the renting entity, COVID Clinic, indicated the clinic would be self-contained, provide traffic control, uphold safety standards, and other provisions for their employees and participants," the statement read.
The clinic was approved to use the lot through Friday, according to the college.
"On Wednesday afternoon, after being contacted by San Diego County Public Health to cease the COVID Clinic operations, MiraCosta College took swift action," the college stated. "Within minutes of receiving a letter from Dr. (Wilma) Wooten, Director of Public Health Services County of San Diego Health and Human Services Agency, summarizing the unresolved communication with the county, MiraCosta College notified the organization that they must cease testing as soon as possible; no later than the end of business today, April 15."
San Diego County Sheriff Bill Gore said his agency will monitor the clinic's closure order.
"If they disobey that, then I guarantee you enforcement action will be taken," Gore said at Wednesday briefing.
The accuracy of antibody tests for COVID-19 is critical, McDonald said.
"
It's important to know the timing of the symptoms and the timing of the test to be able to interpret it; that's number one.
— Dr. Eric McDonald, San Diego County director of epidemiology and immunization services
"It's important to know the timing of the symptoms and the timing of the test to be able to interpret it; that's number one," he explained. "Number two is some of these tests have to really … give us the information that we want. What we want is, were you exposed to this specific coronavirus."
An antibody serology test might not be accurate enough depending on the circumstances.
"There are other coronaviruses that may cause what we call cross-reactivity," McDonald continued. "That is, if you were exposed, say, to a coronavirus that causes the common cold, a serology test might actually just tell you that and not what you really need to know about this specific virus. And that requires some very sophisticated laboratory work, and the FDA has authorized laboratories to do this work and to use these tests under specific conditions, some of which lead to an emergency use authorization."
San Diego companies are part of the FDA's emergency effort, McDonald noted.
"The FDA maintains a list, and companies that are working on this now, including those in San Diego, are in fact working diligently on this problem and in fact providing the scientific evidence that's required to field these tests so that doctors can rely on them, and then eventually give this information to the FDA."
McDonald said he did not want discourage the use of drive-through testing as an option in general. It's the type and quality of test, and the accuracy of the information that a test provides, that's at stake.
"I think some of the drive-through testing sites in San Diego County have been set up in conjunction with laboratories in San Diego using the PCR (nasopharyngeal) test, so I want to make sure that we don't paint with a broad brush all drive-through activities as being of concern," he said. "In fact, I would say that most of the activities we have in San Diego meet the current definitions of what tests should be used, and we are working together with our local healthcare providers to make sure that all of the important safeguards are met to be sure that the tests are in fact providing the information that we ask them to provide."
At Wednesday's briefing, county Public Health Officer Dr. Wilma Wooten reported that 27,884 COVID-19 tests had been taken countywide, with 2,012 positive cases.
There were 488 COVID-19 hospitalizations with 173 patients in intensive care as of Wednesday, the county reported. There have been 70 deaths.
In coastal North County, there are 50 cases in Carlsbad, 43 in Oceanside, 34 cases in Encinitas, 14 in Rancho Santa Fe, 10 in Del Mar and 6 in Solana Beach. The county provides a detailed, updated map online (click here for access).
encinitas current, cardiff current