Encinitas residents gather to protest death of George Floyd
Event in support of Black Lives Matter, a vigil for lives lost
Nearly 400 Encinitas residents gathered at the Cardiff Kook statue Sunday, May 31, to add their voices to growing nationwide protests over the death of an African-American man in Minneapolis police custody.
People lined the intersection of Coast Highway 101 and Chesterfield Drive at about 5 p.m. as drivers honked their horns as they passed by. Although the death of George Floyd served as an impetus for the event, it was also held in honor of Black Lives Matter and as a vigil. Large boards were covered with the names of people who have died in law enforcement custody and other incidents.
The Encinitas protest followed a skirmish Saturday night between people putting up a memorial at the Cardiff Kook and a woman attempting to tear it down, according to social media accounts, which included video of the incident.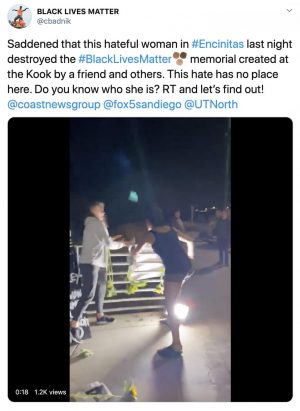 The gathering also came after a tense Saturday night of rioting and looting across the country — including in La Mesa in east San Diego County. Participants in Encinitas' protest saw it as a counterpoint to the violence.
"(Organizer) Mali Woods-Drake and her group responded to Saturday night's shocking events with a beautifully executed and enlightening vigil that focused on what matters — black lives," participant Scott Chatfield told the North Coast Current. "It made me proud to be an Encinitan."
Search the #encinitas hashtag on Twitter to find several shared images and videos of the event.
The gathering was part of a growing movement of outcry over the death of George Floyd, who was shown on video struggling to say "I can't breathe" while his neck was compressed under the knee of police officer Derek Chauvin on May 25. Floyd died. The officer has since been fired and charged with third-degree murder and second-degree manslaughter in the incident.
Peaceful protests across the United States have been overrun by rioters for several nights, including in La Mesa.
Late Saturday night into early Sunday morning, Chase and Union Bank branches in La Mesa were destroyed by fires set by rioters and looters, who also hit City Hall, small businesses and a Vons.
The La Mesa protest had started peacefully and included a brief blockage of Interstate 8.
Protesters gathered in downtown San Diego on Sunday. A portion of Interstate 5 was blocked for a time, and law enforcement used tear gas and flashbang devices at one point.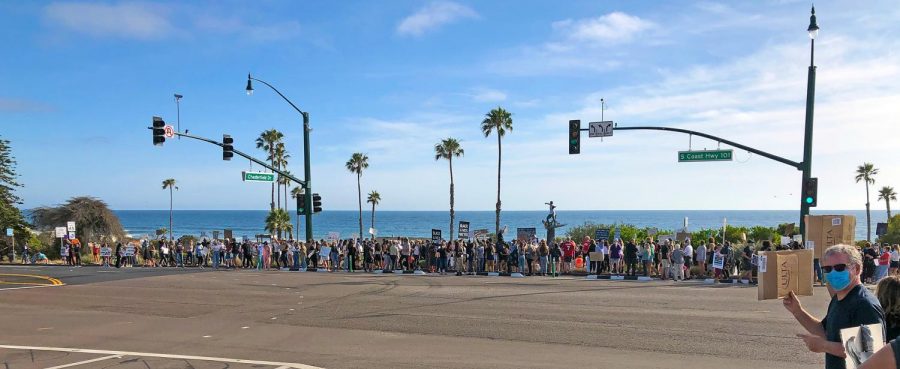 encinitas current, cardiff current