Smoke from Navy ship fire reaching up the coast, authorities warn
Firefighters continue to battle blaze onboard amphibious assault vessel based in San Diego
Smoke from the USS Bonhomme Richard fire in San Diego is reaching up the coast today, as far north as Encinitas and Carlsbad, the National Weather Service advised this morning.
The pollution level from the fire prompted a health advisory July 13 from the San Diego County Air Pollution Control District.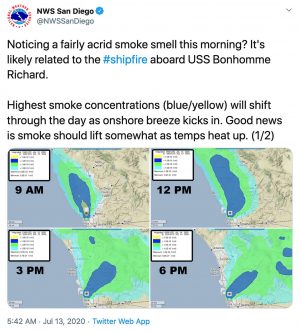 "Due to the ship fire burning in San Diego harbor, localized areas of smoke have occurred in areas of San Diego County," the district warned in a statement. "As a result fine particulates, or PM2.5 concentrations, may reach unhealthful levels in some smoke impacted areas."
As of noon, residents had reported an acrid smell from the fire for several hours in many parts of San Diego County, including the coast. Weather Service maps forecast the cloud to shift throughout the day depending on wind patterns and temperatures.
"Highest smoke concentrations … will shift through the day as onshore breeze kicks in," the Weather Service stated in its tweet.
The Air Pollution Control District warned residents that even minor smoke levels could result in moderate to unhealthy effects for people sensitive to poor air.
"In areas where you smell smoke it is advised that you limit physical activity,"the district advised in its statement. "If possible, stay indoors to limit your exposure to fine particulate matter."
The amphibious assault ship, based in San Diego, caught fire after an explosion Sunday, July 12, Navy authorities reported. Thirty-four Sailors and 23 civilians were injured, mostly the result of smoke inhalation and heat exhaustion, Naval Surface Forces announced Monday.
encinitas current, cardiff current